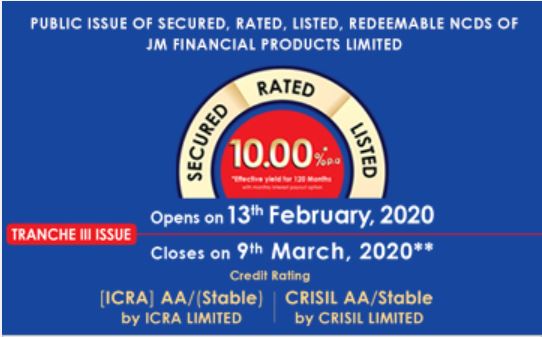 JM Financial Product Ltd NCD 2020 Public Issue: JM Financial Product Ltd NCD Details, Features, Credit Rating, Reasons to Invest, Price, Date, Allotment Status, Listing, Reviews, Status & How to Apply?
Non-convertible debentures are those which cannot be converted into shares or stocks of the company.
Investors who park their money in nonconvertible debentures enjoy fixed interest rate up to maturity and after that return of the principal.
JM financial product limited is a non-deposit taking NBFC authorized by RBI.  The company deals in providing financial services mainly in the area of vehicle leasing and lease syndication.
The company offers a spectrum of financial services through participation in securities lending, distribution, issuance, and syndication.
If you are keen to know regarding the "JM financial product NCD" then you are surely at the right place.
These Nonconvertible debentures are the best option to invest money as interest rates offered by the fixed deposits are not promising which is inducing the investors towards these high returns NCD.
Read our post till then end to learn whether you should consider investing in such high-risk NCD even after IL&FS scam.
About JM Financial Product Ltd.
JM Financial product company came into existence in the year 1984 under the brand name JM financial.
The company offered secured and unsecured loans to the clients. The company principally in the area of four asset classes which are fixed income division (Real estate financing), fixed income division (structure financing), SME financing and capital market financing.
FID (structured financing)
It comprises structured lending to companies in different sectors for secured lending, subordinated or mezzanine financing, promoter financing, property collateral, syndication and acquisition financing.
2. FID (real estate financing)
It includes loans against commercial property or residential property or projects or land or shares.
3. SME Financing
In this segment, the loan is provided to small and medium enterprises for the project, institutional, and working capital purposes against education institutional and property lending.
4. Capital market financing
In capital market financing, loans are provided for ESOP financing, buy now sell later, arbitrage, margin trade financing, public offer financing, broker financing, and personal purposes.
The company also offers unsecured loans to customers if the creditworthiness of the customer is good and the purpose is acceptable. It has also ventured into housing finance business and real estate broking business under the brand name of JMFHL and Dwello, respectively.
The competitive strength of the company is stated as follow
Diversified Product portfolio
Good track record
sound credit profile
Multiple funding sources
firm lending good profile
good position in the industry with growing trends
JM Financial NCD 2020 Detail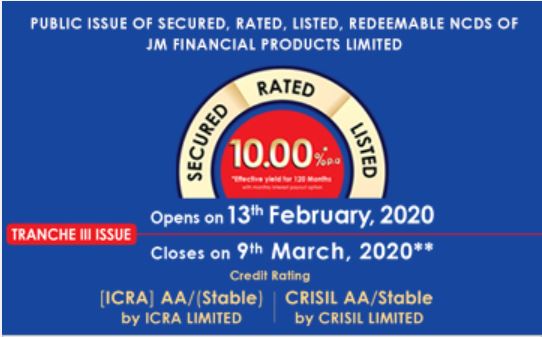 JM Financial Products Limited's Tranche III Issue for Secured NCDs – To open on February 13, 2020
Effective yield of up to 10.00% p.a.*
Ratings – [ICRA] AA (Stable) by ICRA Limited and CRISIL AA/Stable by CRISIL Limited– indicate high degree of safety regarding timely servicing of financial obligations
Tranche III Issue – Public Issue of NCDs of face value of Rs. 1,000 each with a Base Issue size of Rs. 100 crore with an option to retain oversubscription upto Rs 200 crore aggregating upto Rs. 300 crore ("Tranche III Issue") which is within the Shelf Limit of Rs. 2,000 crore
Minimum application size Rs. 10,000 collectively across all series and in multiples of one (1) NCD of face value of Rs. 1,000/- each thereafter
Tenor ranging from 24, 40, 60 and 120 months
Allotment on first-come, first-serve basis**;
Investors can apply for NCDs only in dematerialized form
No TDS applicable for NCDs held in dematerialized form
JM Financial Products Limited NCD – Issue Details:
Issuer
JM Financial Products Limited (View Report)
Issue Type
Secured, Rated, Listed, Redeemable Non-Convertible Debentures
Issue Period
Issue Opens: Tuesday, Feb 13, 2020
Issue Closes: Wednesday, Mar 09, 2020
Coupon Rate
10% p.a

*

Issue Size
Base Issue of Rs. 200 crores with an option to retain oversubscription up to Rs. 300 crores aggregating up to Rs. 500 crores ("Tranche II Issue Limit") which are within the Shelf Limit of Rs. 2,000 crores
Face Value
Rs. 1,000 per NCD
Minimum Application Size
10 NCDs (Rs. 10,000) and in the multiple of One NCD thereafter
Credit Rating
"[ICRA] AA by ICRA" and "CRISIL AA/STABLE" by CRISIL
Mode of Allotment & Trading
In Dematerialised Form
QIB
10% of issue size
Non Institutional
10% of issue size
HNI
40% of issue size
Retail Individual
40% of issue size
Listing
NSE and BSE
Depositories
NSDL & CDSL
Registrar
Karvy Fintech Private Limited
Book Running Lead Managers
A. K. Capital Services Ltd., JM Financial Ltd. & Trust Investment Advisors Private Ltd.
Interest Rates for JM Financial Product 

Ltd NCD
Coupon Rates for Eash Series
Issue Structure:
https://www.youtube.com/watch?v=HQ55lxZjZho
How is the company doing in terms of the financials?
Diversified Product portfolio
Good track record
sound credit profile
Multiple funding sources
firm lending good profile
good position in the industry with growing trends
The object of the JM Financial product limited NCD
The net proceeds acquired through this issue will be utilized in the following activities
For the purpose of onward lending, financing, for repayment, Prepayment of interest and principal of the existing borrowing of the companies
General Corporate Purposes
Why invest in J
M Financial product limited
 NCD
?
The rating of the NCD by NCRA and crisil indicates a high degree of safety regarding timely services of the financial obligation.
It has been rated " CRISIL AA STABLE" by crisil
Lucrative interest
(NCDs) are one of the best ways of diversifying your investment portfolio. They are becoming an increasingly popular investment instrument
These are good if you are looking for a constant stream of income. Do remember that few NCDs offer you to return interest and principal at maturity itself. Hence, in such a situation, they act like typical FDs for you.
There will not be TDS (Tax Deducted at Source) for these NCDs if you held them in Demat format. Hence, in this feature, they have an edge over Bank FDs.
There will not be TDS (Tax Deducted at Source) for these NCDs if you held them in Demat format. Hence, in this feature, they have an edge over Bank FDs.
It will provide diversification to your debt portfolio
Why not invest in JM Financial 2020 NCD?
In an event of nonperformance of the company or for some reason if the profits of the company are reduced then there could be a delay in the interest payment or repayment of capital NCD. It is suggested that one should invest in the company which is flourishing and witnessing great profits
Don't go over-enthusiastic in investing a huge throw of your money, after all, you parking money to one single company is not a great idea. Also avoid locking in your money for a very long time of, say, 8 to 10 years.
This NCD is thinly traded. You may face liquidity issues.
How to Apply JM Financial Products NCD?
One of the chief concerns running in the mind of investors is how to apply for these NCD?
You can apply to these NCD in Demat form only. If you have a Demat account, you can log in to your account and go to IPO/NFO/NCD section and apply for the same. The process of applying NCD would be through ABSA (Your amount would be blocked initially and upon allotment, your amount would be deducted and NCD unit allotment would be done, else your amount would be unblocked) You can reach out to any of the lead managers.
How JM Financial Product Ltd NCD interest is taxed?
The mode of applying for these NCD is through Demat, there would not be any tax on these non-convertible debentures.
It is immaterial whether the company will deduct TDS or not, one has to mention the interest in their income tax return and pay tax based on the individual tax bracket.
When JM Financial Product NCD of 2020 would get listed on BSE/NSE?
The NCDs are proposed to be listed on the BSE stock exchange.
Should you invest in JM Financial Product NCD 2020 Issue
It is advised to invest wisely and consider several factors before parking your hard-earned money. Do not invest blindly
Hence, I thought to suggest a few more points here
NCDs are not similar to bank fixed deposits, where you invest and month receive interest payments and at the end, you get the principal
Credit rating may change anytime. if you look upon the recent scam where IL&FS issue. It was highly rated and suddenly downgraded within a few months.
Take a calculated risk
Company's financials may change without our notice
Company Contact Information
JM Financial Products Limited
7th Floor, Cnergy,
Appasaheb Marathe Marg Prabhadevi
Mumbai, Maharashtra 400 025
Phone: (+91 022) 6630 3030
Email: investorrelations.products@jmfl.com
Website
:
https://jmfinancialproducts.com/
For further information, please contact:
Ms. Manali Pilankar, Corporate Communications
Tel: +91 22 6630 3475
Email: manali.pilankar@jmfl.com
Nishit Shah, CFO – JM Financial Products Limited
Tel: +91 22 6630 3522
Email: nishit.shah@jmfl.com
JM Finacial NCD 2020 Registrar
Karvy Computershare Private Limited
Karvy Registry House, 8-2-596, St. No. 1,
Banjara Hills, Hyderabad – 500 034
Andhra Pradesh, India
Phone: +91-40-23312454
Email: jmfpl.ncd1@karvy.com
Website: https://karisma.karvy.com/
Conclusion
I hope the doubts of the viewers regarding Is it worth to invest in JM Financial NCD 2020 Issue? Who can invest? What are the risks? is escalated up to now.
There are strings of NCDs coming up every month in the market. At the same time some dismissive news also for few NCDs (take an example of the IL&FS saga). In such a situation, is it worth to consider these JM financial NCDs worthy to invest?
Many Investors may be eagerly looking for high fixed return products (especially the pensioners) to compensate from the low yielding bank FDs. However, try to understand the risks involved in such products at first.
Before jumping into understanding this JM Financial NCD 2020  I have already written a detailed post on this aspect
Final Words
Dear Readers
I hope you find this post on JM financial product NCD issue informative. Since the NCD issue process is similar to the IPO process, you will have to have a Demat account with a brokerage house to buy an NCD.
My advice to you is to discuss your choice and preference with the financial advisor before making any decision.
Always Remember that "An Investment in knowledge pays the best interest".
Don't blindly invest. The purpose of today's blog is to spread personal finance awareness and assist investors in making well-informed decisions.
Please, note that the reviews provided in this blog are clarification meant for guidance and reference of a reader and take a wise decision.
These should not be construed as a legal opinion or investment advice.
Thanks for reading & have a great day:)