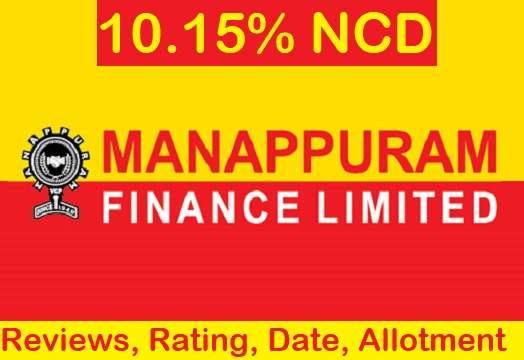 Manappuram Finance NCD FEB 2019 Public Issue: Manappuram 2019 NCD Details, Features, Credit Rating, Reasons to Invest, Price, Date, Allotment Status, Listing, Reviews, Status & How to Apply?
As we all know plenty of NCD is all set to be launched. One among is Tranche II of Manappuram Finance Secured NCDs. Yes, you heard it right, Manappuram finance NCD 2019 would open for subscription on 28th January 2019.
The interest rate proffered by the fixed deposits schemes may have touched the lowest levels which compel the investors to look out for other better investment options.
The Manappuram Finance NCD offers is all set to propose 10.15% interest rates which are hard to resist by the investors.
Lucrative interest rate from NCD would definitely attract the investors. Should you invest in manappuram NCD.
Stay tuned with us till the end to know details about Manappuram Finance NCD 2019 also check New NCDs in 2019.
So, without any further ado, let's begin
Features of Manappuram Finance Limited NCD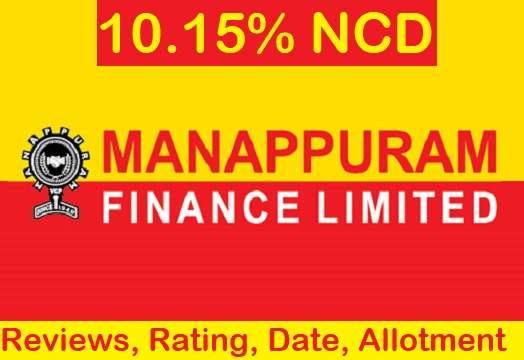 Issue start date: 28-Jan-2019
Issue end date: 27-Feb-2019. However, based on oversubscription it can get close before that.
Tranche II NCD's are available in 7 options. It offers NCD for 3 years, 5 years and 86 months (2,617 days).
Interest rates are between 9.35% to 10.15%.
These are secured NCDs.
Interest payable every month, every year and on a cumulative basis depending on the option chosen by the investor.
The face value of the NCD bond is Rs 1000.
The minimum investment is for the 10 bonds. Means, you need to invest for a minimum of Rs 10,000. Beyond this, you can invest in multiples of 1 bond.
These NCD bonds would be listed on BSE. Hence, these are liquid investments
NRI's cannot apply to this NCD subscription.
These NCD's are rated as CARE AA/Stable by CARE Ratings and BWR AA+ Stable by Brickwork Ratings.
The Current Tranche II issue size Rs 150 Crores with an option to retain another Rs 587 Crores totaling Rs 737 Crores.
Edelweiss Financial Services and AK Capital Services are the Lead managers to the issue.
Manappuram Finance NCD 2019 Issue Details
 Issuer
 Manappuram Finance Limited
 Type of instrument/ Nature/ Name
of the security/ Seniority
 Secured, redeemable, non-convertible debentures
 Issue Size
 Public issue by the Company of secured, redeemable, non-convertible debentures of face value of Rs.1,000 each for an amount aggregating up to Rs.1,000 crores
 Issue opening date
 Monday, 28th January 2019
 Issue closing date**
 Wednesday, 27th February 2019
 Allotment
 Compulsorily in dematerialized form
 Face value
 Rs 1,000 per NCD
 Issue Price
 Rs 1,000 per NCD
 Minimum Application size and in multiples of NCD thereafter
 Rs.10,000 (10 NCDs) collectively across all Series and in multiples of Rs.1,000 (1 NCD) thereafter across all Series
 Listing
 The NCDs are proposed to be listed on BSE. BSE shall be the Designated Stock Exchange for the Issue. The NCDs shall be listed within six Working Days from the Tranche II Issue Closing Date.
 Rating

Rating agency
Instrument
Rating symbol
Date of credit rating letter
Brickwork Ratings
India Private Limited
Secured, redeemable nonconvertible
debentures
'BWR
AA+'/Stable
August 29, 2018, revalidated by letter dated October 11, 2018 and further revalidated by letters dated December 24, 2018 and January 21, 2019
CARE Ratings
Limited
Secured, redeemable nonconvertible
debentures
'CARE AA'/
Stable
August 20, 2018, revalidated on September 17, 2018 and further revalidated by letters dated October 8, 2018, December 26, 2018 and January 21, 2019
Interest Rates for 

Manappuram 

Finance NCD 2019
Series 
I 
II 
III 
IV 
V 
VI 
VII
 The frequency of Interest Payment
Monthly
Monthly
Annual
Annual
NA
NA
NA
 Tenor
36 months
 60 months
 36 months
60 months
 36 months
60 months
2,617 days
 Coupon (%) for all Investor categories *
9.35%
9.75%
9.75%
10.15%
NA
NA
NA
 Effective Yield (per annum) (Approx.) for all Investor
categories *
9.75%
10.19%
9.74%
10.14%
9.75%
10.15%
10.15%
 Redemption amount (Rs. per NCD)
1,000.00
1,000.00
1,000.00
1,000.00
1,322.30
1,622.38
2,000.00
 Redemption Date (Years from the Deemed Date of
Allotment)
36 months
60 months
36 months
60 months
36 months
60 months
2,617 days
 Minimum Application and in multiples thereafter
Rs. 10,000 (10 NCDs) collectively across all Series and in multiples of Rs. 1,000 (1 NCD)
thereafter
 Interest type
Fixed
 Put and call option
NA
 Mode of Interest Payment
Through various options available
ABOUT MANAPPURAM FINANCE LIMITED
Manappuram Finance Limited is one of the leading and topmost names in nonbanking finance corporation NBFC.
The company lends loans against the pledge of household and/or used gold jewelry and provide short-term personal and business gold loans primarily to retail customers who require immediate availability of funds, but who do not have access to formal credit on an immediate basis.
Its Gold Loan portfolio as of March 31, 2018, consists of approximately 2.25 million customers aggregating a principal amount of ₹ 117,349.82 million in Gold Loans, which accounted for 76.21% of its total loans on a consolidated basis.
As of June 30, 2018, they disbursed Gold Loans to customers from a network of 3,331 branches of the company in 28 states and union territories of India, including 2,236 branches in the southern states of Andhra Pradesh, Telangana, Karnataka, Kerala and Tamil Nadu.
Source:- Bloomberg
What are NCD Bonds?
NCD are fixed income instruments that are issued by high rate top companies.
Such NCD bonds usually come up with a lucrative interest rate.
Investors are forever lookout for improved and sustainable schemes.
Non-Convertible Debenture or NCD is a scheme that proved to be a dark horse as they started delivering smaller but steady returns over time
Like any other traditional fixed deposit, NCD too is a fixed income investment with a specific term and interest term.
There is no doubt in saying that, investors enjoy supreme returns, liquidity, low risks
Let us now draw light on the Features of Manappuram Finance NCD Jan 2019.
How the NCD issue is allocated to various investors?
Let's take a look at the Manappuram Finance NCD issue to break up
Retail Portion – 50% of the issue
HNI – 30% of the issue
Qualified Institutional Portion – 10% of the issue
Corporate Portion – 10% of the issue
Credit Ratings for Manappuram Finance Tranche II NCD
Here are the credit ratings.
The Secured NCDs have been rated by CARE as AA/Stable.
The Secured NCDs have been rated by BWR AA+/Stable.
The rating of the NCDs by CARE and Brickwork indicates a high degree of safety regarding timely servicing of financial obligations.
When Manappuram Finance NCD Jan 2019 is proposed to be listed on stock exchanges?
The Manappuram NCD is all set to be listed on BSE.
The NCDs shall be listed within 6 Working Days from the date of the Issue Closure.
How is the company doing in terms of profits?
Investors should always gauge whether the company is making considerable profits. This would create confidence among the investors that would be paid from such profits without any delay or issue.
Let us have a glance at the company's profit
Year ended Mar-2016 – Rs 337 Crores
Year ended Mar-2017 – Rs 726 Crores
Year ended Mar-2018 – Rs 700 Crores
Manappuram Finance NCD Jan 2019- Taxability
The investors would apply for these non-convertible debentures through the demat account, hence there would not be ant TDS deduction. Income tax on the interest will solely depend on the individual tax slab. Means whether the company deducts the TDS or not, you should show the interest income on the income tax return and pay the necessary tax.
If you plan to sell the Manappuram NCD before the one year and there are some short term gains you are required to pay short term gains which are based on your income tax slab.
If you are selling the Manappuram NCD on or after one year then there are long term gains which would be 20% on the indexation method or 10% without indexation method
Why to Invest?
investors should keep in mind that informed decision will help you gain profits.
Let us find out why the investor should consider investing their hard earned money in such NCD
The company has witnessed consistent and remarkable profits in the last 3 years. Its profits were at Rs 337 Crores in FY16 Vs Rs 700 Crores in FY18.
These Nonconvertible debentures usually offer lucrative interest rate where you can avail interest rate up to 10.15%
In an event of nonperformance of the company and the company gets closed for some reasons, NCD investors would be getting preference in the repayment of capital along with interest.
Hence, it is regarded as safe to invest in secured NCD.
Why not invest in NCD?
IL&FS have created a fuss in the minds of the investors whether to invest in such NCD companies.
The Company and its director are involved in certain legal and other proceedings including criminal proceedings in India and may seem certain liabilities as a result of the same.
The company failed to maintain its growth
volatility in the market price of the gold may adversely affect the financial condition of the company, cash flows and results of operation
Its business is subject to various rules and legislation. it is to be noted that future regulator amendments have a material adverse effect on its business.
The financial performance is vulnerable to the interest rate risk. in case the company fails to manage or a company's inability to maintain the interest rate risk
The company may not be able to realize the full value of the pledged gold. Which exposes us to the financial losses
Company and its subsidiaries are subject to the inspection from RBI and NHB. The company non-compliance with RBI or NHB operation may hamper its subsidiaries business.
A few of its subsidiaries and group companies have incurred losses, which may have an adverse effect on its reputation and business
Microfinance loans proffered by its subsidiary, AML, are unsecured and are susceptible to various operational, credit and political risks which may result in increased levels of NPAs, thereby adversely affecting its business, results of operation and financial condition.
 The new Bankruptcy Code may affect its rights to recover loans from borrowers.
its subsidiary, MHFL being an HFC, has significant exposure to the real estate sector and any negative events affecting this sector could adversely affect its business and result of operations.
You can refer to the prospectus of the company to read about the internal and external factors
How to Apply for Manappuram Finance NCD?
Manappuram Finance NCD is available only in the demat form. You can consider applying online or approach any registered broker for the same.
The procedure for applying NCD would be through ABSA (Your amount would be blocked initially and upon allotment, your amount would be deducted and NCD allotment would be done, else your amount would be unblocked) You can reach out to any of the lead managers websites to know more details on how to apply them.
Should you Invest in Manappuram Finance NCD Jan 2019?
Manappuram Finance offered secured NCD. Investing in such NCD would be of higher risk, especially when companies are facing a liquidity crunch. Do you still want to invest in such NCD then?
These NCD's are for 3 years, 5 years and 86 months (7+ years). Do you want to park your money in high-risk NCD for the long term of 5 or 7+ years? Parking money in high-risk options for a long time is not advisable as no one can predict what happens to companies in the long term. You can look for investing in 3 years secured NCDs as these are for short term and they are secured in nature.
Manappuram Finance offers to yield up to 10.15% interest per annum. There are banks that would still provide 7% to 8% on their fixed deposit which carry little lower risk compared to the NCD. if you have a high-risk appetite then investing in such NCD would be a great choice
Its NPAs are very high compared to other companies in NBFC companies in India. In the future, there could be an issue in delays in payment of interest if they start writing off money and their profits shrink. Are you convince or okay with this?
Final Words
I hope you had a great time reading about the Manappuram Finance NCD. If you like it, please share it among others via social media.
We at Investor academy aims to deliver you with the best and updated information.
stay tuned for other posts.
Last, but not least, do not forget to like and subscribe us.
Thanks for Reading!