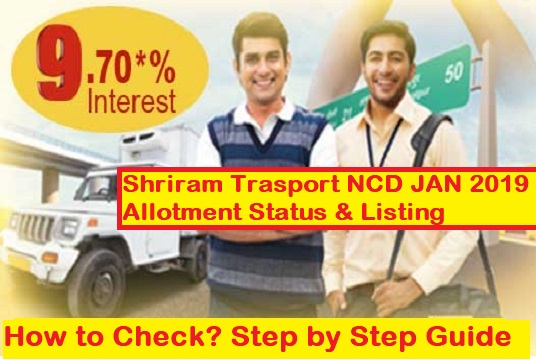 Shriram Transport Finance Company Limited NCD 2019 Public Issue: STFC NCD Allotment Status, Listing Date, & How to check?
Shriram transport finance company has recently proposed with the 3rd tranche of public issue of secured, redeemable, non convertible debentures of face value of Rs 1000 each, for an amount of Rs 200 Crore (Base issue size) with an option to retain superscription up-to Rs 500 crore aggregating up to tranche III issue limit of Rs 500 Crore.
The issue will be open for subscription from 7th January 2019 to 31st January. The close date for an issue is subject to change, as may be decided by the board of directors or duly constituted committee debt issuance committee-public STFC NCD.
The interest rate proffered by the company is ranging from 9.12% and 9.70% per annum on these bonds.
The interest rate provided by the STFC NCD company is lucrative and hard to resist. It is suggested to go through the company's credit rating and worthiness before investing your hard earned money.
Interested investors who have applied for the same must be all inquisitive to know how to check the allotment status for Shriram transport finance NCD.
Let us learn with the help of this post how to check the allotment status there you go,
Shriram Transport Finance NCD Jan 2019 Issue Details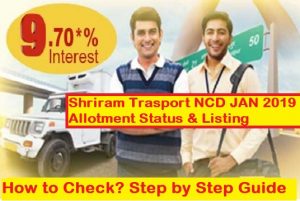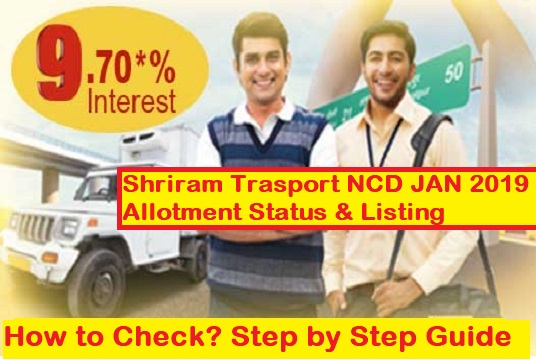 Take a quick look at the issue details
Issuer
Shriram Transport Finance Company Limited (View Report)
Type of instrument/ Nature/ Name
of the security/ Seniority
Secured Redeemable Non-Convertible Debentures
Issue Size
Public Issue of secured, redeemable non-convertible debentures of face value of Rs 1,000 each, for a number of Rs 200 Crore ("Base Issue Size") with an option to retain oversubscription up to Rs 500 Crore aggregating up to Tranche III Issue Limit of Rs 700 Crore. Minimum subscription Rs.150 Cr.
Issue opening date
Monday, 07th January 2019
Issue closing date**
Thursday, 31st January 2019
Base Issue
Rs 200 Crore
Option to retain Oversubscription
Amount
Up to the Tranche III issue Limit, i.e. up to Rs 700 Crore.
Coupon Rate
Up to 9.70% * ( 0.25% Additional For Sr. Citizens)
Interest type
Fixed
Issuance mode of the instrument
In dematerialized form* only
Redemption Amount
The principal amount of the NCDs along with interest accrued on them, if any, as on the Redemption Date
Face value
Rs 1,000 per NCD
Put/ Call option
Not Applicable
Minimum Application size and in
multiples of NCD thereafter
Rs 10,000 (10 NCDs) collectively across all Series and in multiple of Rs 1,000 (1 NCD) thereafter across all Series
Market Lot/ Trading Lot
 One NCD
Pay-in date
Application Date. The entire Application Amount is payable on Application.
Credit ratings
'CRISIL AA+/Stable' by Crosland 'IND AA+: Outlook Stable' by India Ratings and Research
Listing
NCDs are proposed to be listed on BSE and NSE
Trading mode of the instrument
In dematerialized* form only
How to Check Shriram Transport NCD (STFC) Allotment Status?
All the investors who have poured their money into such NCDs are curious to learn how to check the allotment status of Shriram Transport NCD.
To quench your curiosity I have come to your rescue
Provided below are the links where you can check the Shriram transport finance limited NCD allotment.
Step 1 Visit the given below site to check your allotment status
By following the above links you can check the upcoming allotment status of the Shriram Transport finance company limited NCD.
Here you will find the window labeled with "Bonds Allotment Advice Report"
Click on the arrow button and choose "Shriram Transport NCD Jan 2019".
Now in Next step submit the application no. and Pan no.
That's it your NCD bond status in front of you.
Step 2 Fill in the required mandatory details including application number, PAN details
Step 3 Your result will be displayed on the screen whether the NCD has been allotted or not
Step 4 Take a print out for further use.
The company was set up with an objective to provide the host of product and services to the that would be helpful in his path to success.
over the decades, the company has marked significant success growth and has created a sense of loyalty amongst the clients
The company has a substantial presence in financial services, consumer finance, vehicle finance business, general insurance, stock broking, chit funds and distribution of financial products such as life and general insurance and units of mutual funds.
Final words
Hello Readers,
I hope you had a great time reading about Shriram finance NCD allotment status. If you like it please do the honor of sharing among others through facebook and twitter.
We will highly appreciate your gesture of appreciation. Our agenda is to provide you with quality and helpful information.
Write to us, if have any suggestion or views regarding this post.
You can reach us through the comment section below also, subscribe us.
All the good luck for future endeavors.
Thanks for reading wish you streak of luck!