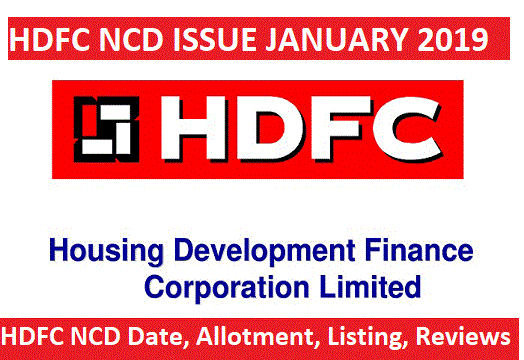 HDFC NCD Issue 2020, Features, Credit Rating, Reasons to Invest, Price, Date, Allotment, Listing, Reviews, Status & How to Apply?
"HDFC NCD Issue 2020"
HDFC to consider raising Rs 45,000 crore via the issuance of NCDs.
Investors who want to pool their funds to maintain liquidity and risk while receiving substantial returns. Debentures are a long-term financial instrument that is issued by the company for a specified tenure with a promise to provide fixed interest to the investor.
Debentures are mainly of two type convertible debentures and non-convertible debentures.
NCD are those debentures which cannot be changed into shares or equities. yes, NCD issuing interest is determined and decided by the company issuing it.
There is a recent breakthrough over the internet that caused much hype among the investors regarding that the HDFC will consider raising Rs 45,000 crores through the issuance of secured redeemable non-convertible debentures NCDs.
So if you too are seeking the latest information pertaining to HDFC NCD then you are the right place.
so, without much ado, let's get started!
About HDFC
HDFC stands for housing development and finance corporation is an Indian banking and financial company. it is the largest private sector lender by assets. it is the largest private bank in the market capitalization.
it was incorporated in the year 1994 whose registered office is in Mumbai, India. HDFC provides a number of product and services which includes Wholesale banking, retail banking, treasury, auto loans, two-wheeler loans, personal loans, loans against property, consumer durable loan, lifestyle loans, and credit loans.
Along with this, various digital products include Payzap and chiller. in 2000, HDFC bank got merged with times bank. this was considered the first merger between the two private banks.
The equity shares of HDFC bank are listed on the BSE and NSE.
The HDFC bank received the award for best Banking performer, India 2016 by global magazine award
so, without much ado, let's take a read a further!
The Hdfc board of directors will consider raising Rs 45,000 crore through issuance of secured redeemable non-convertible debentures(NCD).
The meeting is going to held on January 29, 2020.
The corporation shall consider issuance of secured nonconvertible debentures in various tranches under shelf disclosure document, aggregation Rs 45,000 on a private placement basis in accord with the consent granted by the shareholders of the corporation at the 41st general meeting which was held on 2019.
HDFC NCD Issue Highlights

: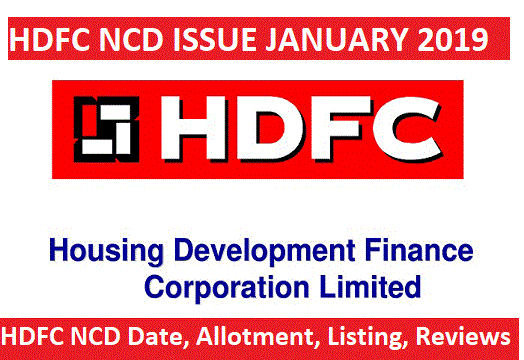 Features of HDFC NCD Issue 2020
The NCD issue start date is January – March 2020
NCD Issue closes on February 2020. However, these are the first-come, first-serve basis.
NCD's are available in 7 options. It offers NCD for 39 months, 5 years and 10 years.
These are secured NCDs.
Interest payable every month or every year or on maturity depending on the option chosen by the investor.
The face value of the NCD bond is Rs 1000.
The minimum investment is for the 10 bonds. Means, you need to invest for a minimum of Rs 10,000. Beyond this, you can invest in multiples of 1 bond.
These NCD bonds would be listed on BSE.
they are considered as liquid investments.
Interest rates of HDFC NCD Issue 2020
*Effective Yield (Per Annum) for HDFC NCD:
| Series | I | II | III | IV | V | VI | VII |
| --- | --- | --- | --- | --- | --- | --- | --- |
| Frequency | Annual | Cumulative | Monthly | Annual | Cumulative | Monthly | Annual |
| Tenure | 39 months | 39 months | 60 months | 60 months | 60 months | 120 months | 120 months |
| Coupon Rate | updated soon | updated soon | updated soon | updated soon | updated soon | updated soon | updated soon |
| Effective Yield | 10.20% | 10.20% | 10.42% | 10.40% | 10.40% | 10.64% | 10.60% |
We will update the information as soon it will release officially
What is the issue break-up?
Below listed is the issue break-up of this NCD (Non-Convertible Debentures).
QIB – 20% of the issue
Corporate – 20% of the issue
HNI – 30% of the issue
Retail – 30% of the issue.
The NCDs are proposed to be listed on BSE and NSE. The NCDs shall be listed within 12 Working Days from the date of NCD issue.
What is the Credit Rating of these NCDs?
1) These Non Convertible Debentures have been rated by CRISIL as 'CRISIL AAA/Stable' which indicates a Profitable outlook.
2) These NCDs have been graded by ICRA as 'ICRA AAA (stable) which reveals a Stable outlook.
How is HDFC doing in terms of profits?
HDFC is India's leading private sector lender on Saturday posted 20.27 percent year-on-year growth in net profit at Rs 35229.28 crore – its highest ever yearly profit-driven by stable asset quality.
the estimated profit it shows 2,467 crores for the quarter.
The HDFC LTD had posted a net profit of Rs 2,467.09 crore for the corresponding quarter last year.
Net interest income (NII) increased 17.70 percent YoY to Rs 38,911.71 crore during the year from Rs 33,159.60 crore a year earlier.
Asset quality remained stable, as the percentage of gross non-performing assets (NPA) came in at 1.30 percent against 1.29 percent on a sequential basis and compared with 1.05 percent a year earlier.
The percentage of net NPAs as of March-end stood at 0.40 percent compared with 0.44 percent at December-end.
as you can figure out that HDFC is doing really well in terms of profit and delivering consistent performance it is hard to resist for an investor to skip the opportunity of investing in HDFC NCD.
Profit & Loss – Housing Development Finance Corporation Ltd.

Rs (in Crores)
Mar'18
Mar'17
Mar'16
Mar'15
Mar'14
12Months
12Months
12Months
12Months
12Months
INCOME:
Sales Turnover
35185.17
33112.79
30905.12
27401.16
24143.01
Excise Duty
.00
.00
.00
.00
.00
NET SALES
35185.17
33112.79
30905.12
27401.16
24143.01
Other Income
0
0
0
0
0
TOTAL INCOME
35229.89
33159.60
30956.57
27470.86
24197.67
Standalone Income Statement
| | | | | |
| --- | --- | --- | --- | --- |
|  STANDALONE | Sep'18 | Jun'18 | Mar'18 | Dec'17 |
| Net Sales | 10,144.49 | 9,883.64 | 9,327.84 | 8,667.15 |
| Other Income | 11.35 | 11.32 | 11.74 | 11.73 |
| PBDIT | 10,535.62 | 9,424.34 | 9,222.55 | 8,360.94 |
| Net Profit | 2,467.08 | 2,190.00 | 2,846.22 | 5,670.21 |
Reasons Why to Invest in HDFC Ltd.?
Below, I have listed a few cherry-picked reasons why you should consider investing in HDFC
Do you know HDFC is seemed to be the most preferred and well-liked stock to own inequity diversified portfolios
consistency performance
The market capitalization of HDFC bank is greater than ICICI and SBI combined
The HDFC continues to register higher profit growths
Besides the fantastic performance of the stock, valuation is fair
the bank has delivered consistent earning from two decades
HDFC Bank was the top holding in 73 funds and three years ago it featured as the top holding in 68 schemes among diversified equity categories.
The financial trend score is excellent
Yes, consider the reputation of the company before parking your surplus. Risk comes when not knowing what you are doing. Always take well-informed decisions
Why not invest HDFC NCD Issue January 2020?
The company's downturn in capital's adequacy ratio could curb its future business growth.
Other Internal and external factors can be read at the risk factors of the NCD prospectus.
How to Apply for HDFC Finance NCD Issue 2020?
HDFC Board of directors shall consider the Issuance of NCD in 2020 is obtainable in Demat form only.
If you want to apply, then you can apply online for any of the broker websites where you are maintaining a Demat account.
Otherwise, it is suggested to visit the HDFC website for more updated information.
Investors, these HDFC finances are regarded as safe and secure. However, due to recent IL & Fs scams, it seems risky to invest in such non-convertible debentures. HDFC is considered as well preferred option because it has witnessed consistent performance over the years and the financial trend score is excellent for the company.
It is requested to be careful and cautious while making an investment decision.
Final Words
I hope you find the article about HDFC NCD of great assistance. if you like it share it with others.
your gesture of appreciation is highly appreciated.
write to us, if you have any suggestions, doubts or views. We will get back to you shortly
Last, but not least, do not forget to like and subscribe to us.
Thanks for reading:)