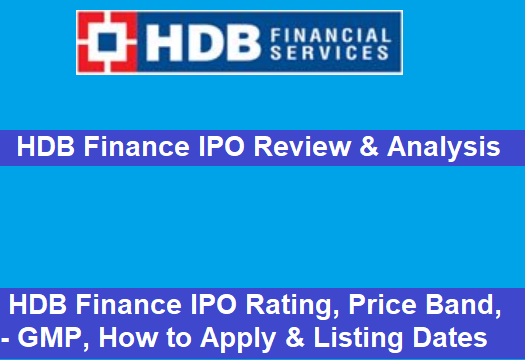 HDB Financial Services IPO from HDFC Bank Analysis, IPO Review, Dates, Price Bands, Market Lot, HDB Finance IPO Grey Market Price Details
Howdy Readers J
HDFC is the largest private sector lender bank which is known for its stellar performance on the streets for years.
The bank's subsidiary that is HDB is swiftly gaining an edge.
Our purpose of today's post is designed to deliver you with information regarding the HDB financial services IPO from the HDFC bank.
The bank is all prepared to raise around 7000-8000 crore or more via IPO.
Though, the IPO is going to be a blend of both primary and secondary share sales.
As of March 31st, the bank occupies 95.53 percent stake in the HDB financial services.
The rest is grasped by employee trusts and individual shareholders.
To know in detail, read us till the end to know more about "HDB Finance IPO".
Overview of HDB Financial Services
The HDB was set up as a non-banking finance company by HDFC bank in June 2007 and commenced operations in the year 2018.
HDB, founded in 2007, offers various products such as personal loans, commercial vehicle loans, gold loans, and loans against property.
HDFC Bank held a 95.53 percent stake in HDB Financial Services as of March 31.
The HDB appeared as one of the substantial contenders in retail financing over the past few years.
It has an existence in the 831 cities through 1,165 branches as of March 31, 2018. It functions independently and serves the client segment different from that of the bank.
?Demat Account Online खोलें Upstox में ?
Sign up now using my custom referral link below and get FREE benefits like,
✔️FREE demat & trading a/c
✔️Zero brokerage* for 30 days
✔️Money Control pro subscription FREE worth ₹1999
✔️FREE Beginner's course on the Stock Market at Elearnmarkets worth ₹999
✔️FREE StockEdge Premium worth ₹999
? REFERAL LINK
?: Direct Account Open Link
What is IPO?
IPO is an acronym of the initial public offering. An initial public offering is a procedure of proposing the shares of the private corporation to the public in a new stock issuance.
The term initial public offering has been a media speak on the wall streets and among the investor for decades.
HDB IPO – Issue Details:
Issuer
HDFC BANK
Issue Type
100% Book Built Issue IPO
Issue Period
Issue Opens: 2021
Issue Closes: 2021
Price Brand
Rs.- 1100 – 1200 per Equity Share (Expected)
Issue Size
Rs.10000* Crores
Face Value
Rs.10 per Equity Share
Bit Lot
X Equity Shares and in multiples thereof
Maximum Bid amount for Retail
Rs. 2 Lakhs
QIB
50% of the issue size
NIB
15% of the issue size
Retail Individual Bidders
35% of the issue size
Employee Reservation
X Equity Shares (Rs. – Crs)
Employee Discount
Rs.- per Equity Share
Listing
NSE & BSE
Registrar
Karvy Fintech Private Limited
Book Running Lead Managers
Bank of America Merrill Lynch and Morgan Stanley 
Grey Market Price
HDB Finance IPO Grey Market Premium
Source: Moneycontrol
HDB's Product Portfolio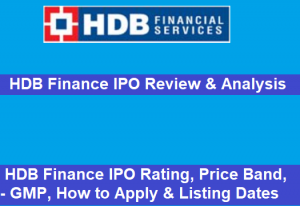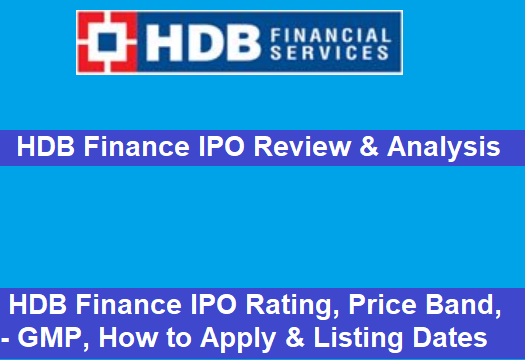 An IPO will make HDB Financial the fifth HDFC group company to be listed on stock exchanges, following the listing of HDFC Asset Management Co in 2018 and the listing of HDFC Life Insurance Co in 2017. HDFC Bank and Housing Development Finance Corporation are the other listed entities of the group.
HDB reported a 25 percent rise in assets under management to Rs 55,425 crore in FY19, up from Rs 44,268 crore in the previous fiscal. Net profit rose to Rs 1,153 crore in FY19 from a profit of Rs 933 crore a year ago.
The HDB's product portfolio maintained at Rs 48,014 crore at September 30, 2018, and has grown at more than 30 percent CAGR in the last four years.
The loan book has been expanded with the augmented presence in the commercial vehicle and construction equipment financing and business loans.
As a result, the share of the loan against property decreased to 38 percent as of September 30, 2018, as compared to the 60 percent as on March 31, 2016.
The unsecured loan segment comprises 21 percent of the overall portfolio as of September 30, 2018.
The company is audaciously heightened into consumer durable financing and widening its capacity to the metros, impelling on from the traditional focus on the self-employed segment in the non-metros.
HDB Financial IPO Dates & Price Band
IPO Open: 2021
IPO Close: 2021
IPO Size: Approx ₹10000 Crore
Face Value: ₹10 Per Equity Share
Price Band: ₹ to ₹ Per Share
Listing on: BSE & NSE
Retail Portion: 35%
Equity: No. Shares
HDB Financial IPO Market Lot
Shares: Apply for Shares (Minimum Lot Size)
Amount: ₹14,—
HDB Financial Services IPO Allotment & Listing
The basis of Allotment: 2021
Refunds: 2021
Credit to Demat accounts: 2021
Listing: 2021
HDB Finance IPO Dates
The opening and the closing date of the HDB IPO is coming 2021.
HDB Financial IPO Subscription
| | | | | | |
| --- | --- | --- | --- | --- | --- |
| Day / Date | QIB | NII | RII | Employee | Total Subscription |
| 1st Day – Apr 5 | x | x | x | x | x |
| 2nd Day – Apr 8 | x | x | x | x | x |
| 3rd Day – Apr 9 | | | | | |
| Shares Offered or Net Issue | | | | | |
The shares subscribed by the public will be updated here.
HDB Finance IPO Allotment Status
Here, you can refer to the table to know the allotment status of this IPO.
| | |
| --- | --- |
| The basis of Allotment Finalization | 2021 |
| Refunds Initiation | 2021 |
| Credit of Shares to Demat Account | 2021 |
| Share Listing Date | 2021 |
HDB's earnings profile and asset quality
The keen investors are very speculative about HDB's earning profile and asset quality.
So, here we have presented the HDB's earning profile.
The return on the asset has been around 2.4 percent in the last three years, supported by the healthy interest margin (NIM) and the low credit cost.
The asset quality of HDB is affordably healthy with gross nonperforming assets at two percent as on September 30, 2018.
| | | | | | | |
| --- | --- | --- | --- | --- | --- | --- |
| Particulars | FY-13 | FY-14 | FY-15 | FY-16 | FY-17 | FY-18 |
| Total revenue | 963.19 | 1,688 | 2,527 | 3,302 | 5,715 | 7062 |
| Profit before tax | 150.13 | 318.07 | 530.28 | 817.81 | 1,058 | 1,158 |
| Profit after tax | 102.45 | 209.24 | 349.45 | 534.41 | 698.77 | 952 |
| Assets under Management | 8,251 | 13,560 | 19,290 | 25,906 | 34,277 | 44469 |
| Shareholders' funds | 873.53 | 1,628 | 3,125 | 3,561 | 5,362 | – |
| Borrowings | 7,153 | 11,075 | 15,277 | 19,612 | 25,287 | – |
| Earnings per share (`) | 2.49 | 4.32 | 6.63 | 7.64 | 9.64 | 12.18 |
| Book value per share (`) | 21.27 | 31.70 | 44.68 | 50.87 | 68.73 | 79.22 |
How can HDB be a value creator for the HDFC bank?
We expect HDB to procure further scale over the medium term due to the tremendous growth potential in the sector and with the sufficient capital support from the bank.
So far, HDFC bank has addition imbued rs 3480 crore in HDB.
The value unbarring through an IPO of HDB will be processed in some time away.
Next in the queue could be HDB financial services (HDB), a subsidiary of HDFC bank (the bank holds 95.9 percent stake in HDB)
If we value HDB on a conservative basis, we see a strong upside (around 17 percent) to HDFC's bank's stock price.
As per the sources, the investors are purchasing the unlisted HDB around 800-900 per share over the counter, valuing the company at Rs 60,000-70,000 crore.
(FY21 estimated price-to-book value of 6-7 times).
If we incorporate this into the valuation, the augment to the HDFC stock enhanced substantially.
Why should one assign a premium valuation to HDB?
The standard valuation methodology may not be implied to the HDFC group entity.
The group has cultivated many flourishing financial services business (GRUH Finance, HDFC Life Insurance Company, HDFC Asset Management Company), all of which are trading at a notable premium.
HDB Finance IPO Review & Ratings
IPO Ratings & Review
Criteria
Ratings
Industry Sentiments
8.5/10
Industry Ranking
9.3/10
Company Background
9.5/10
Company Reputation
9.6/10
Competitive Edge
9.0/10
Financial Statements
8.7/10
Popularity Index
9.0/10
Promoters Reputation
9.0/10
Retail Appetite
8.5/10
Top Brokers Review
9.3/10
Overall Ratings
9.5/10
Star Ratings
★★★★★
What should investors do?
The upcoming management changes are troubling many investors. For the long term investors, HDB Finance IPO is a must buy as the bank savors a competitive advantage on both assets as well as the liabilities side.
As the bank has underperformed the corporate lender (Axis Bank and ICICI bank) during the past 1 year.
The value unlocking oh HDB can significantly add to the stock performance.
Hence, the investor will consider buying the HDFC bank.
Brand value of HDFC Group
One of the important reasons for the HDB to command the great valuation is that it savors strong parentage.
The HDFC Bank has cumulatively imbued rs 3480 crore in HDB.
The HDFC group has cultivated many of the triumphant financial service business Gruh Finance, HDFC Life and HDFC AMC), all of them are trading at a significant premium valuation at more than 8-9 times
The competitive strength of HDFC
Why you should consider applying for HDB Finance IPO?
HDFC bank has been the most congruous performer on the street for years.
The high earning growth is momentum due to a competitive edge
The bank's subsidiary which is HDB is gaining scale.
HDB can imbue meaningful value to the HDFC bank
If you are an ardent investor you should buy HDFC Bank stock to build the portfolio
The bank posted robust profits from 1998 to 2018 with a compounded annual growth rate (CAGR) of 32 percent for 20 years
In the current financial year 2021, the HDFC's bank's profit is likely to surpass the Rs 20000 crore.
The bank return on equity has been more than 15 percent from every single year from 1998 to 2018
The bank is known for stellar performance
The upward journey of the bank's stock price is now more than 20 years old.
How to Apply HDB Finance IPO?
If you have a Demat account, most banks offer the online IPO application. You can also contact the broker to apply for in HDB Finance IPO?
Most banks including the SBI bank, ICICI Bank, Axis, and Kotak bank allow the customer to apply in IPO using the Demat account.
Board Of Directors
Mr. Aditya Puri – Chairman & Non-Executive Director
Mr. Bhavesh Zaveri – Non-Executive Director
Mr. Jimmy Tata – Non-Executive Director
Ms. Smita Affinwalla – Independent Director
Mr. Venkatraman Srinivasan – Independent Director
Mr. Ramesh G. – Managing Director & Chief Executive Officer
HDB Finance Contact Details
Company Address:
Registered Office:
HDB Financial Services Ltd., Radhika, 2nd Floor, Law Garden Road, Navrangpura, Ahmedabad – 380009.
Corporate Office:
HDB Financial Services Limited, Ground Floor, Zenith House, Keshavrao Khadye Marg, Mahalaxmi, Mumbai – 400034.
Tel:-: +91 44 4298 4541
The IPO price and band dates will be added as it will be officially announced.
Final Words
Dear readers J
I hope that the above information about HDB Finance IPO from HDFC Bank has been of great use.
If you find the above information useful please share it with others via Facebook and Twitter.
You can read more investment researched articles on our website investor's academy.
It is important to be financially literate to make a well-informed investment decision.
Stay tuned for more updates
Like, share and subscribe.
Drop your comment, queries or feedback in the given below comment box.
We would love to hear from you.
Thanks and have a nice day.