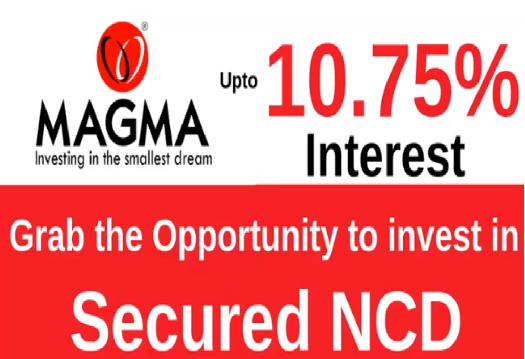 Magma Fincorp NCD, Issue 2019, Features, Credit Rating, Reasons to Invest, Price, Date, Allotment, Listing, Reviews, Status & How to Apply?
Magma Fincorp Limited is a Kolkata based non-financial company which is registered with the reserve bank of India.
The company operates more than 306 branches in 22 states and union territory.
The company is indulged in providing asset-backed financing for new and pre-owned auto and utility vehicles, tractors, cars and commercial vehicles, mortgage financing, financing to SMEs and distribution of general insurance products
Mfls's clients include of first time buyers, self-employed and nonprofessional individual small and medium entrepreneurs and customers with informal income and limited banking and credit history.
There is a cascade of NCD in March and April. There are more than 5 companies aligned for nonconvertible debentures in April 2019 to pull thousands of crores.
Magma is all set to issue non secured debentures. The return is as high as 10.75% per annum and attracting investors now.
The investors are in a dilemma whether or not should they consider investing in Magma Fincorp NCD.
If we look upon the recent scams there are risks associated with the NCDs. Should you invest in Magma Fincorp NCD of April 2019? What are the hidden factors an investor should consider before investing "Magma Fincorp NCD of 2019"
Also one can earn higher interest as compared to the conventional fixed deposit in NCD
If you are keen to fetch details regarding the Magma Fincorp limited NCD Issue details then I would say you are at the right place.
Through this post, I will impart you detailed analysis regarding the Magma Fincorp limited
So, without any further adieu let's get started!
About Magma Fincorp Limited NCD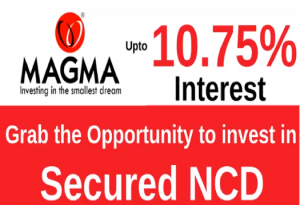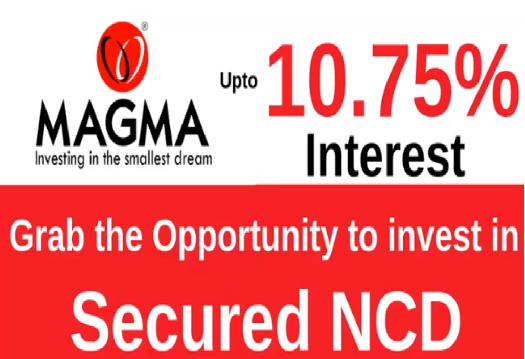 The Magma Fincorp limited incorporated in the year 1978, was a non-banking financing company. Later in the year 1989, it started providing financial services as well.
The company registered as the systematically important non depositing accepting nonbanking financial company with the reserve bank of India under Section 45-IA of the Reserve Bank of India Act, 1934.
Magma Fincorp Limited NCD – Issue Details
Issuer
Magma Fincorp Limited
Issue Type
Secured Redeemable Non-Convertible Debentures
Issue Period
Issue Opens: Monday, April 08, 2019
Issue Closes: Wednesday, May 08, 2019
Coupon Rate
10.75% p.a 

*

Issue Size
Base Issue of Rs.200 Crores with an option to retain oversubscription up to Rs.300 Crores aggregating upto Tranche I Issue Size of Rs.500 Crores
Face Value
Rs.1,000 per NCD
Minimum Application Size
Rs.10,000 (10 NCDs) and in multiples of Rs.1,000 (1 NCD) thereafter across all Series
Credit Rating
"BWRAA (Outlook: Stable)" by Brickworks and "ACUITEAA/Stable" by Acuite
Mode of Allotment & Trading
Traded compulsorily in Dematerialised Form
QIB
20% of the issue size
Corporate
20% of the issue size
HNI
30% of the issue size
Retail Individual
30% of the issue size
Listing
BSE & NSE
Depositories
NSDL & CDSL
Registrar
Karvy Fintech Private Limited (formerly known as Karvy Computershare Pvt Limited)
Book Running Lead Managers
A. K. Capital Services Limited and Edelweiss Financial Services Limited
Interest Rates for 

Magma Fincorp Limited NCD
Coupon Rates for Eash Series
| | Series 1  | Series 2 | Series 3  | Series4 | Series 5 | Series6 | Series7 |
| --- | --- | --- | --- | --- | --- | --- | --- |
| Frequency of Interest Payment | Annually | NA | Monthly | Annually | NA | Monthly | Annually |
| Tenor | 3 year | 3 year | 5 year | 5 year | 5 year | 10 year | 10 year |
| Coupon Rate (Retail) For Category I & II/ for III & IV | 10.25% | NA | 10.04% | 10.50% | NA | 10.27% | 10.75% |
| Amount on Maturity For Category I & II/ for III & IV | ₹1,000 | ₹1,340.10 | ₹1,000 | ₹1,000 | ₹1,648.19 | ₹1,000 | ₹1,000 |
What is the issue break-up?
Institutional Portion – 20%
Non-Institutional Portion – 20%
High Net Worth Individuals – 30%
Retail Investors – 30%
How is the company doing in terms of the financials?
Here I have stated the financials of the company
1) Its revenues are at Rs 2,026 Crores in FY2017 to Rs  2,037 Crores in FY2018.
2) Its profits are at Rs 6.09 Crores in FY2017 to Rs 202.4 Crores in FY2018.
What is the competitive strength of the company?
Rural and semi-urban market understanding
It is issuing secured NCDs which are safe to invest compared to other unsecured NCDs.
The robust risk management  structure
Good credit rating from BWR Ratings and Acuite Ratings as AA/Stable.
Future Aims of the company are:
Why invest in Magma Fincorp Ltd NCD?
Improvise the product portfolio
Fortify effective risk management
make business process improved with technology
Keep on taking cross-selling initiatives
The object of the Magma Fincorp Issue
The company bid to use the funds towards funding the following object
General corporate purpose
For the purpose of onward lending, financing and for repayment/prepayment of interest and principal of the existing borrowings of the company.
Why
invest in Magma Fincorp NCD?
Lucrative interest rate where one can get a yield of 10.75%
The company is issuing secured non-convertible debentures which are safe as compared to the unsecured NCD
Good credit rating from BWR Ratings and Acuite Ratings as AA/Stable.
Why not invest in Magma Fincorp April 2019 Tranche-I NCD?
The revenues of the company are sluggish. Its profit declined in the financial year 2017 significantly. However, reawakened in the financial year 2018
In an event in the future regarding the underperformance of the company or for some reasons profits are reduced, there could be a delay in the interest payment or repayment of capital of NCD. It is advised that one should invest in a company which is growing and making consistent profits.
Any delay in the sources of funding could adversely hamper the liquidity and financial conditions of the Company
as an NBFC, any dissent with the reserve bank of India's observation made during it periodic inspection could expose them to penalties and restrictions.
Any negative developments in the asset-backed financing industry could adversely affect their business and results of operations.
Their business operation consists of dealing with high-risk borrowers. Any delinquency on the part of customers could negative hamper their business, result of an operation and financial condition.
The company's inability to restore the full value of collateral or amounts outstanding under defaulted loans in a timely manner or at all could adversely affect their results of operations.
you can refer all the risk factors in the financial prospectus
How to Apply Magma Fincorp NCD Issue of 2019?
One of the prime concern of the investors is how to apply for Magma Fincorp NCD issue of 2019.
You can apply to these NCD is a demat form only. If you have a demat account, you can log in to your account and go to IPO/NFO/NCD section and apply for the same. The process of applying NCD would be through ABSA (Your amount would be blocked initially and upon allotment, your amount would be deducted and NCD unit allotment would be done, else your amount would be unblocked) You can reach out to any of the lead managers.
How Magma Fincorp April 2019 NCD interest is taxed?
Since you need to apply through the demat form only, there would not be any tax on interest received through these NCD's.
It is irrelevant whether the company would deduct TDS or not, one has to state the interest in their income tax return and pay income tax based on the individual tax bracket.
When this Magma Fincorp NCD of 2019 would get listed on BSE/NSE?
These Magma Fincorp NCD would get listed after 6 working days from the date of closure.
If NCD closed as per the closure date i.e. 8th May 2019, it would get listed after 6 working days i.e. 17th May 2019.
If it is subscribed earlier and subscription closes, it would get listed after 6 days from such early closure date.
Should you invest in Magma Fincorp NCD of April 2019 – Tranche-I?
It solely depends on one's own risk appetite
Though Magma Fincorp limited is coming with unsecured NCD, we are seeing that nonbanking finance company are delaying the interest payment due to the liquidity crunch in the company.
This NCD is for 3 years, 5 years and 10-year duration. Do you feel safe to park your money in such high-risk nonconvertible debentures for such a long duration?
Magma Fincorp NCD offers to yield up to 10.75% interest per annum, however, is high risk. The higher the risk, the greater the return.
Magma Fincorp Ltd Contact Information
Magma Fincorp Limited
Magma House,
24 Park Street, Kolkata 700 016,
West Bengal, India
Phone: +91 33 4401 7350/7200
Email: mflncdpublicissue@magma.co.in
Website:- https://magma.co.in/
Magma Fincorp NCD April 2019 Registrar
Karvy Computershare Private Limited
Karvy Registry House, 8-2-596, St. No. 1,
Banjara Hills, Hyderabad – 500 034
Andhra Pradesh, India
Phone: +91-40-23312454<br />
Email: einward.ris@karvy.com<br />
Website: https://karisma.karvy.com/
Magma Fincorp NCD April 2019 Lead Manager(s)
About A.K.Capital Services Limited
About Catalyst Trusteeship Limited
About Edelweiss Capital Limited
Conclusion
Magma Fincorp Limited comes up with a higher interest rate as compared to the bank fixed deposit hence, investors could feel it could be a great source of the fixed income
If you are someone with high-risk appetite and are willing to pool your money in such nonconvertible debentures even after the financial crunch and scams.
You can consider investing in these NCDs for 3 years or a maximum of 5 years tenure.
Final Words
Dear Readers
Magma Fincorp limited is offering higher returns as compared to the fixed deposit. The interest rate is also lucrative and hard to resist by the investors
Do you find these "Magma Fincorp NCD" worth investing?
If you find the information relatable you can share it among others via Facebook and Twitter.
Also, if you have queries regarding the post then you can seek our assistance. You can connect with us through the comment section below.
All your queries and doubts will be sorted with ease.
We at investor academy consist of a team of quality professionals who aims at delivering quality and useful information.
Thanks for reading and have a nice day.