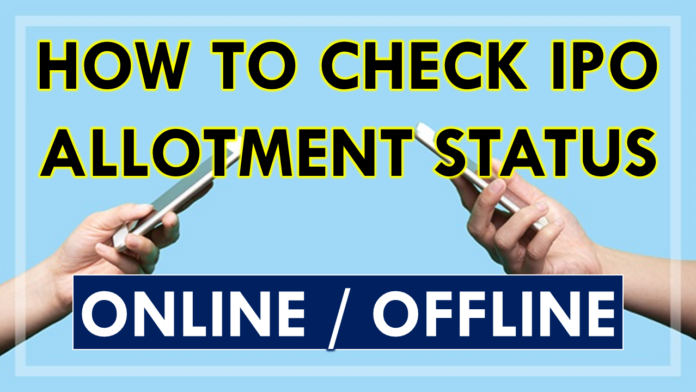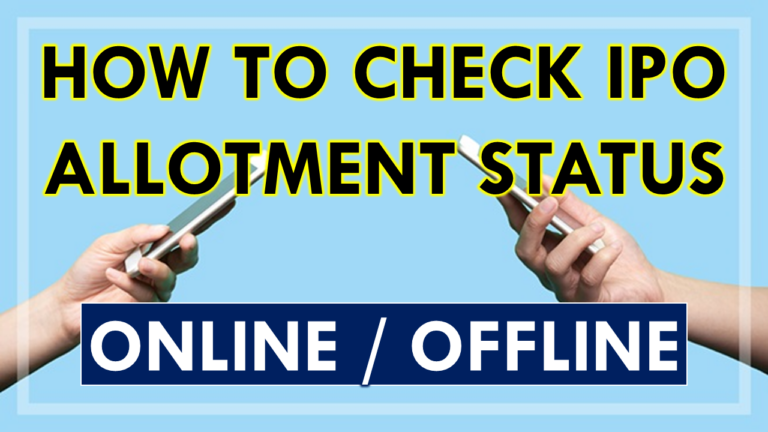 How To Check IPO Allotment Status Online | Easy Step by Step Process how to check allotment status through your PAN card, Application No., DEMAT/Client Id etc.
Sometimes, searching for your IPO allotment status can be a bit hectic task. So here we have brought you simple and quick steps to check your IPO allotment status both online and offline.
According to the latest SEBI rules for the large-cap IPOs, the IPO Allotment will take 1 week which will be released by registrars like Linkintime, Kfinteh within 7 days after IPO close.
You can check the IPO Allotment status via the IPO official registrar i.e., Linkintime, Kfintech/ Karvy. To check the IPO allotment you need to fill in the following details given below and the investors will get the details of the shares under the search button if the shares are allotted on BSE website or official registrar.
The simple and quick steps are as follows:
PAN Card 
IPO Application Number
Demat Account Number/ DP Client ID
The IPO allotment gets available after the IPO registrar finalizes the allotment and is shown under the IPO name which is applied by the investors. The investors receive information regarding allotment via SMS and Email shared by NSE, BSE, NSDL and CDSL.  
Check IPO Allotment Status & Listing Dates 2022:
Top IPO Registrars In India
According to the present scenarios in the market, we have provided here a list of top IPO registrars in India. Looking at the mainline IPO registrars, Linkintime and KFintech are the top leaders while all the listed registrars provide service to SME IPOs. Their role is to calculate the numbers based on the IPO subscription data and then provide the IPO allotment status on their website. Investors then visit their websites on IPO allotment day and check whether they got the allotment or not. 
How To Check IPO Allotment Online or Offline
Check Home First IPO Allotment Here:

OR Log on to https://ris.kfintech.com/ipostatus/ipos.aspx Note: Home First Finance IPO Allotment Status will be available whenever the Registrar of IPO will put on their official sites.
 # Option 1: BSE Website:
Log On to BSE Website
Check box "Equity"
Select IPO Name 
Type Your Application Number & PAN Number
Click on the Search button
# Option 2: Registrar Website:
Log on to the IPO allotment link on the registrar website i.e., Kfintech or Linkintime
Select IPO Name from the option given
Select Option from PAN Number, Application Number or Demat Account Number
As per selection add  PAN Number, Application Number or Demat Account Number
Verify captcha code and then Click on the 'Search' button
# Option 3: In Your Demat Account:
Call Your Broker or Login to Your Demat Account / Trading Account
Check the stock is credited to your account or not
Your shares will appear in the Demat account if alloted
# Option 4:  In Your Bank Account:
Login to your Bank Account
Check the Amount is debited or released.
IPO Allotment Status FAQs:
How to check IPO Allotment status online?
To check ipo allotment status, either log on to BSE website or IPO registrar website. Then, enter your PAN or Application or Demat account numbers to check your IPO Allotment status.  
How to check IPO Allotment status offline?
In order to know your IPO allotment status offline, contact your Demat account broker.
How to check IPO Allotment status via bank?
Just log in to your bank account from which you applied the IPO. If the amount is deducted from the account, then you've got the allotment otherwise if the lien balance is released then better luck next time.
What are the other ways to check IPO allotment status?
The IPO registrar sends a mail to the registered e-mail ids of the investors about the IPO allotment status. So check your inbox for the same.