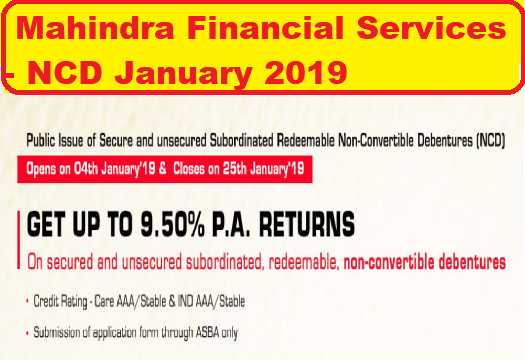 Mahindra Financial Services NCD Jan 2019 Public Issue: Details, Features, Credit Rating, Reasons to Invest, Price, Date, Allotment, Listing, Reviews, Status & How to Apply?
Mahindra financial services are all set to issue NCD for 4th January 2019. The company is issuing both secured and unsecured debentures this time. The rate of return it is offering is 9.5 % per annum.
Mahindra & Mahindra have excellent credit ratings from IND ratings and CARE. If we look upon current scenarios, these NCD proffers high-interest rate as compared to the bank.
Should you invest in Mahindra financial services NCD of JAN, 2019?
stay tuned for this post to know insights to learn insights about Mahindra financial services NCD.
Read us, till the end to know about the issuance of Mahindra financial services NCD.
Mahindra Finance NCD JAN 2019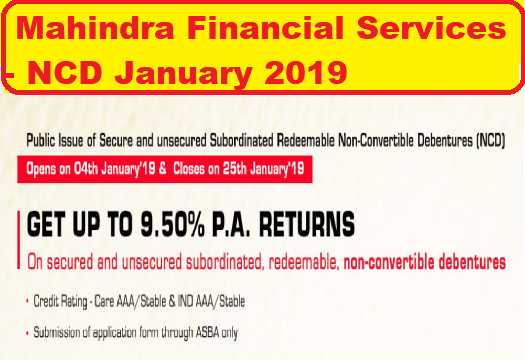 So, without much ado, let's get started!
About Mahindra & Mahindra Financial Services Limited
Mahindra financial services limited (MFSL) is one of the well-known non-banking finance companies NBFC with clients in rural and semi-urban markets in India.
The company is a part of leading Mahindra group, which is indeed one of the largest group in India.
The company is basically engaged in proffering financing for new and pre-owned auto and utility services, tractors, cars, and commercial vehicles.
The company also issue company finance, personal loans, finances to small and medium enterprises, insurance broking and mutual fund distribution services
in addition, the company also provides wholesale inventory financing to dealers and retail financing to clients in the united states for the purchase of Mahindra group products through Mahindra & Mahindra financial services USA, LLC, Its joint venture with a subsidy of Rabobank group.
Mahindra & Mahindra Financial Services NCD Jan 2019
Mahindra financial services are all set to propose secure, un-secured sub-ordinated, redeemable Nonconvertible debentures NCD's for 500 crores with a choice to retain another Rs 3 Crores over subscription totaling to Rs 3,500 crore
it comes with 4 different options, which contains 39 months, 5 years, 8 years and 10 years tenure.
About Mahindra & Mahindra Financial Services Jan 2019 Unsecured NCD
It is to be noted that for unsecured NCD, it is not backed up or supported by for principal and interest.
in an event, if something happens in the company performance and company is shut closed, the investor would be given normal preference in repayment of capital and interest
Features of Mahindra & Mahindra Financial Services NCD of Jan 2019
Let us have a look at the prominent factors of company's NCD
Please check the following
Issue start date: 4-Jan-2019
Issue end date: 25-Jan-2019
NCD's are available in 4 different options.
The interest of these NCDs is payable once a year. It is not giving cumulative NCDs this time.
The face value of the NCD bond is Rs 1,000.
The minimum investment is for 10 bonds means, you need to invest for a minimum of Rs 10,000. Beyond this, you can invest our money in multiples of 1 bond.
These NCD bonds would be listed on BSE. Hence, these are liquid investments.
Non-resident Indians (NRI's) cannot invest in these NCD's.
CARE and IND Ratings rated as "AAA Stable", which indicate that instruments with this rating are considered to have the highest degree of safety regarding timely servicing of financial obligations and carry lowest credit risk.
this means it is safe to invest your funds in the company as the creditworthiness of the company is appreciative
It is significant to pre-check certain factors before investing your hard earned money in such NCD.
Do not get carried away by the lure of high returns, precheck certain factors such as creditworthiness, reputation, past records and ratings, and then take a well-informed decision.
Here are the interest rates on the Jan 2019 NCD's of Mahindra & Mahindra Financial Services.
*Interest Rates for Mahindra Finance NCD:
---
Video Credit:- BlombergQuint.
What is the issue break-up?
---
How is the company doing in terms of Financials?
Revenues of the company have marked an increment it shows an increment from Rs 7,200 Crores in FY17 to Rs 8,573 Crores in FY18.
Profits after interest and taxes have increased from Rs 511 Crores (FY 2017) to Rs 1,023 Crores (FY2018).
Its Gross NPA was 7.4% for FY18 and it increased to 9% for 6 months ended Sep-2018.
Its Net NPA was 3.8% for FY18 and it increased to 6% for 6 months ended Sep-2018.
Why invest in Mahindra Finance NCD?
As an investor, if you struggling regarding why you should consider investing in such shares then I am here for your rescue
Below, are certain valid reasons for why you should consider investing in Mahindra and Mahindra finance limited
The first, and foremost reason behind investing is, it is a leading and well known financial company in India
the second things, it comes with a lucrative interest rate than 9.5% yield
the third is, the company has exemplary credit ratings.
Why not invest in Mahindra & Mahindra Financial Services Jan 2019 NCD?
It is issuing unsecured NCDs, in case if something mishappening occurs, or nonperformance, or company wind-ups, the investors' money will be at stake, as less preference is given to the investors while re-payment
The risk of non-payment, default by the borrowers, may extremely hamper the reputation and result of the operation.
company provisioning requirements are considered are considered insufficient or incapable of covering the existing or future level of underperformance of loans
if future regulation requires them to increase its provisions, such case raising additional capital as well as debt funds as well as its result of the operation could be affected
subsidiaries and promoters are involved in certain legal and other proceedings. any adverse outcome in such proceedings may lead to an adverse effect on business, the result of an operation and financial condition
The company's vehicle financing business relies largely on the purchase of M&M vehicles, including tractors, any decline in the sale would adversely affect its business
a significant portion of our collection from clients is in cash, exposing a company to certain operation risk
in case of downgrading in company's credit rating could increase borrowing cost and adversely affects access to the capital and lending markets could also affect its interest margins, business results of operation,
Priority sector lending requirements adhered to by scheduled commercial banks may increase its cost of funding and adversely affect company business, results of operations and financial condition
you are required to refer the company prospects to view all the risk factors
How to Apply Mahindra and Mahindra Financial Service NCD 2019?
Dear investors, firstly, I would like to inform you that you can apply to these NCD in demat form only
if you have the demat account, you can log in using your credentials and go to the IPO/NPO/NCD section and apply for the same.
You can reach out to any of the lead managers websites to know the procedure of applying in detail.
How Mahindra Financial Services Jan 2019 NCD are taxed?
You need to apply in the demat form only. There would be no interest in such non-convertible debentures.
It is immaterial whether the company would deduct TDS or not, one has to declare the interest in their income tax returns and pay the tax based on the individual tax bracket.
Should you invest in Mahindra & Mahindra Financial Services NCD of Jan 2019?
The common query among every investor is should you invest in Mahindra & Mahindra financial services NCD of Jan 2019.
As you all know, the company is proposing both secured and unsecured NCD. Investing in unsecured NCD would be high risk, as they are not backed with any asset of the company. In the case of nonperformance, wind-up issue, investors would be given least consideration in repayment of these NCDs. Do you invest in NCD in then?
The tenure of these NCD is too long, from 39 months to 10 years. do you still want to park your money in the high-risk NCD for the long tenure of 5 or 8 or 10 Years? parking money in high-risk option for long-term is not considered, as no one can predict what might happens in the  Mahindra Financial Services NCDs in the long term then?
its NPA is very high as compared to the other companies. it is obvious, in future there can be the delay in the payment of interest if they start writing off money and their profits shrink. are you fine with this?
Note:- For further details write at mmfsl.bonds@mahindra.com
Corporate Office
Mahindra & Mahindra Financial Services Limited NCD helpline numbers.
4th Floor, Mahindra Towers,
Dr. G.M. Bhosale Marg,
P.K. Kurne Chowk, Worli,
Mumbai – 400 018
Tel: 022 – 6652 6000.
Conclusion
Mahindra & Mahindra finance limited is all set to propose NCD. The company is offering both secured and unsecured debentures. In my opinion, secured NCDs are somewhat more preferable than unsecured.
If you are someone who has a high-risk appetite and is willing to invest in such NCDs, then you can consider investing.
It is recommended to stay away from the unsecured NCDs that are for the long term as we are unaware of how the company will perform in the long run
Readers, I hope you find this article about Mahindra & Mahindra finance limited of great assistance.
If you enjoy reading this post, please share it among other friends and peers on Facebook and Twitter.
Thanks for Reading! stay tuned for another post, till then, bye, bye.