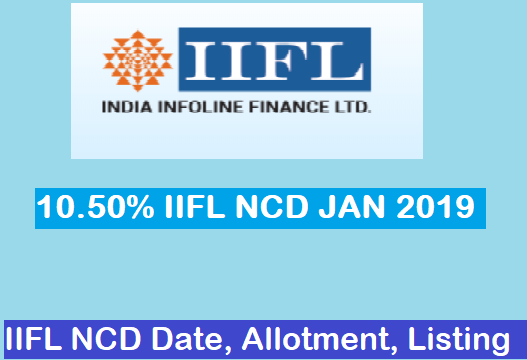 IIFL NCD Jan 2019 Public Issue: Details, Features, Credit Rating, Reasons to Invest, Price, Date, Allotment, Listing, Reviews, Status & How to Apply?
India Infoline Ltd. IIFL finance is a non-depositing accepting non-banking finance company with AUM of 363,734 million. IIFL came into the existence in the year 2004 under the flagship of IIFL holding limited and presently offers 8 small loan ticket products to retail borrowers, delivered through a PAN India branch network of near 1800 branches and digital channels.
India Infoline finance NCD for JAN 29 (IIFL) would open for subscription on 22nd January. The company is issuing secured+unsecured NCD's in this Tranche-1.
The non-convertible debentures will offer the highest yield of 10.50 percent for individual and other categories, and 10.35 percent for an institutional category, for a tenor of 120 months with the frequency of monthly and annual payment, CEO Sumit Bali said.
Yes, IIFL Finance plans to raise 2 crore debentures through a public offer of debentures to fund the business growth and prosperity.
Non-convertible debentures (NCDs) would be issued at face value of Rs 1,000 each and the minimum application size is Rs 10,000 across all categories.
The public issue would be open on January 22 and closes on February 20 with an option of early closure. It is to be noted that the allotment will be made on the first come, first served basis.
The Return is as high as 10.5% per annum. The current credit rating of the company is good from CRISIL and brickworks rating.
As you all know the bank is offering low rates and investors are searching for high rate NCD's
Being n investor, the question that came across your mind is is it worth investing in IIFL NCD 2019? or "Should you invest in IIFL NCD 2019?"
What are the hidden factors an investor should consider while investing India infoline finance NCD of 2019?
Our today's post is specifically prepared to provide you with interesting insights about India infoline finance NCD of 2019.
so, without much ado, let's get started!
India Infoline Finance NCD Jan 2019 Issue details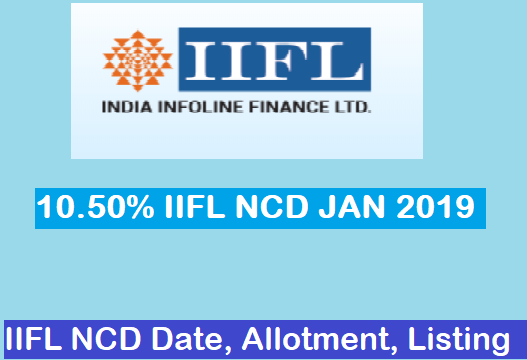 The IIFL is all set to issue secured, unsecured, redeemable Non-convertible debentures NCDs to the tune of 250 crores with an avenue to retain another 1750 Crores over subscription totaling to Rs 2000 crores.
It comes with 6 different option which consists of nine months, 5 years, and 10 years tenure.
IIFL Bonds Issue Highlights:
| Issue Opens | 22nd January, 2019 |
| --- | --- |
| Issue Closes | 20th February 2019 |
| Registrar | Link Intime India Pvt Limited |
| Allotment | First Come First Served Basis |
| Listing On | BSE Limited and National Stock Exchange of India Limited |
| Issue Price | ₹ 1,000 per NCD |
| Face Value | ₹ 1,000 per NCD |
| Minimum Application | ₹ 10,000/‐ only |
About India Infoline Finance Jan 2019 Unsecured NCD
The company is offering both secured and unsecured debentures NCD's now for Jan 2019. For unsecured NCD the assets are not backed up for principal and interest. In any event, if something wrong happened to the company or company is shut down, in such cases, an investor would be given special preference in repayment of capital and interest.
Features of  India Infoline Finance NCD of Jan 2019
Issue start date: 22-January-2019
Issue end date: 20-February-2019
NCD's are available in 6 different options.
The interest of these NCDs is payable monthly, yearly and on maturity.
The face value of the NCD bond is Rs 1,000.
The minimum investment is for 10 bonds means, you need to invest for a minimum of Rs 10,000. Beyond this, you can invest in multiples of 1 bond.
These NCD bonds would be listed on BSE and NSE. Hence, these are liquid investments.
Non-resident Indians (NRI's) cannot invest in these NCD's.
Crisil has rated these NCDs as AA/Stable and Brickworks rated them as AA+/Stable, which signify that instruments with this rating are considered to have the highest degree of safety regarding timely servicing of financial obligations and carry lowest credit risk.
Interest Rate on IIFL NCD Jan 2019
Here are the interest rates on the Jan 2019 NCD's of  India Infoline Finance.
Effective Yield
| | | | | | | |
| --- | --- | --- | --- | --- | --- | --- |
| Series | I | II | III | IV | V | VI |
| Frequency of Interest payment | Annual | Cumulative | Monthly | Annual | Monthly | Annual |
| Tenure (In Months) | 39 months | 39 months | 60 months | 60 months | 120 months | 120 months |
| Nature of Indebtedness | Secured | Secured | Secured | Secured | Unsecured | Unsecured |
| Coupon (% p.a) – Category I | 9.50% | NA | 9.60% | 10.00% | 9.90% | 10.35% |
| Coupon (% p.a) – Category II, III, IV | 9.60% | NA | 9.75% | 10.20% | 10.00% | 10.50% |
| Effective Yield (% p.a) – Category I | 9.50% | 9.50% | 10.03% | 10.00% | 10.36% | 10.35% |
| Effective Yield (% p.a) – Category II,III, IV | 9.60% | 9.60% | 10.20% | 10.20% | 10.47% | 10.50% |
What is the issue break-up?
Institutional Portion – 20% of the issue
Non-Institutional Portion – 20% of the issue
High Net Worth Individuals – 30% of the issue
Retail Investors – 30% of the issue
How is the Company doing in terms of Financials?
Here are the financials:
1) Total income from operations was Rs 3,748 Crores for FY18 as compared to Rs 3,090 Crores for FY17.
2) Net Income from Operations increased from Rs 1,301 Crores for FY17 to Rs 1,784 Crores for FY18.
3) Net profit improved from Rs 423 Crores in FY17 to Rs 554 Crores in FY18.
4) Net NPA has increased from 0.58% as of March 31, 2017, to 0.79% as of March 31, 2018
Why invest in these NCD?
IIFL has steadily grown to emerge as one of India's leading financial services group.
Lucrative Interest rate where one gets 10.5 yields
good Credit rating
Why not invest in India Infoline Finance Jan 2019 NCD?
The company issues unsecured NCD. In an event of a mishap with the company or company terminates its business, the investor would be given least preference in the repayment
any increment in the level of non-performance of an asset on its loan portfolio, for any reason, whatsoever, would adversely affect its business and performance.
any volatility in interest rate, which could cause gross spreads to decline and affects its profitability
Unanticipated turmoil in the interest rate or other rates or prices and performances of the financial and capital markets in India and globally or changes in the value of rupee and other currency can affect the performance of the company
any changes or alteration in the Indian laws and regulations, including tax, accounting, banking, securities, insurance, and other regulation, changes in the competition and pricing environment of India, and regional or general changes in the assets evaluation
The company inability to sustain growth or manage it adequately may affect its growth
The company's inability to diversify its portfolio can hamper the financial performance
any disruption in its sources of funding could lead to slow growth of the company
if the company fails to maintain the statutory regulation or approvals and licensing for business can slow its growth
You can refer all risk factors in the final prospectus of the company
How to Apply India Infoline NCD Issue of 2019?
You can apply for these NCD in demat form only. if you have a demat account, you can log in to your account and go to IPO/NFO/NPO and apply for the same
The process of applying of NCD would be through ASBA (Your amount would be blocked initially and upon allotment, your amount would be deducted and NCD allotment would be done, else your amount would be unblocked) You can reach out to any of the lead managers websites to know more details on how to apply them?
About India Infoline Limited
IIFL is systemically important RBI registered non-deposit nonfinancial company. It is subsidiary of IIFL holdings. The company, no doubt, is the most respected financial company.
The company was incorporated in the year 2004.
Today, IIFL Holdings Limited (Bloomberg Code: IIFL IN, NSE: IIFL, BSE: 532636) is India's leading integrated financial services group with various businesses, mainly, Non Banking and Housing Finance, Wealth and Asset Management, Financial Advisory and Broking, Mutual Funds and Financial Product Distribution, Investment Banking, Institutional Equities, Realty Broking and Advisory Services.
IIFL has a strong distribution network of 1378 branches across India and offers products like the Home loan, Gold loan, Commercial Vehicle loan, Small and Medium Enterprise loan, Capital Market loan, Construction & Real Estate loan, Digital Finance, Loan Against Property and Microfinance. IIFL has 2 subsidiaries viz. IIFL Home Finance Ltd (IIHFL) (100%) and Samasta Microfinance Ltd (97.37%).
IIFL serves more than 4 million satisfied customers across various business segments and is continuously building on its strengths to deliver brilliant services to its expanding base.
The company has leveraged the growing credit demand in the country on the back of the well-diversified product, proffering healthy funding, and capital adequacy.
Let's draw some light on the issue details for the same.
How India Infoline Finance Jan 2019 NCD are taxed?
Since you are required to apply through Demat account, there would not be any interest on the NCD's.
It is inconsequential, whether the company would deduct TDS or not, one has to declare the interest in their income tax returns and pay income tax based on the individual tax bracket.
When this  India Infoline Finance NCD of 2019 would get listed on BSE?
These NCDs would get listed after 6 working days from the date of closure. Means, it would get listed on 1st March 2019 assuming that it would continue till 20th February 2019 i.e the last date of subscription. If it is subscribed earlier and subscription closes, it would get listed after 6 days from such closure.
Should you Invest in IIFL NCD Jan 2019?
Before you invest your money in these NCDs, the following are things to be considered
IIFL offer both secured and unsecured NCDs. Investing in unsecured NCDs would be a risky affair the reason could be that these are not backed by the assets and in an event, the company decides to terminate or wind up, investors would be given least preference in the repayment of these NCD. Do you want to invest in such NCD then?
The duration of the NCDs is for 39 Months, 5 years and 10 years. do you want to park your money in such high-risk unsecured NCD for the long duration of 5 or 10 years? parking your money for the long term in high risk is not recommended as no one can predict what will happens in the long run. You can look for 39 months secured NCDs that gives 8% returns may be one of the investment options
Its NPA are high compared to the others. in future, there might arouse a possibility of delay in the interest
India Infoline Finance NCD offers returns up to 10.5% interest per annum. There are many banks which still offer 7% to 8% on their fixed deposits which carry little lower risk compared to NCDs. If you are a high-risk taker or have a high-risk appetite, then investing in the secured NCDs that give over 8% returns may be one of the best investment options.
Conclusion
IIFL is offering lucrative interest rates which are hard to resist by the investor. i would recommend that secured NCD are somewhat more preferable than unsecured NCDs.
If you have a high-risk appetite even after well aware regarding IL& FS scam, you can consider investing in secured NCD for 39 months.
You should stay away from unsecured NCDs for long term such as 5 or 10 years as we cannot predict how the company will perform in the future.
Final Words
Readers, do you think the post regarding "IIFL NCD issue 2019″ is of great usage, if you find the information useful, please share it among others via facebook and twitter.
also, write to us if you have any queries or suggestion regarding the post.
Thanks for Reading.