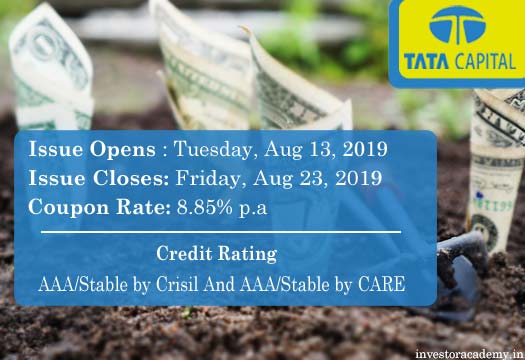 Tata Capital Financial Service Ltd NCD Jan 2020 Public Issue: Tata Capital NCD Details, TCFSL NCD Features, Credit Rating, Reasons to Invest, Price, Date, Allotment Status, Listing, Reviews, Status & How to Apply?
Non-convertible debentures (NCD)are those which cannot be converted into shares or stocks of the company.
Investors who park their money in NCDs enjoy fixed interest rate up to maturity and after that return of the principal just like a fixed deposit.
TATA CAPITAL FINANCIAL SERVICES LIMITED is a Systemically Important Non – Deposit taking Non – Banking Financial Company ("ND – SI – NBFC") focused on providing a broad suite of financing products customized to cater the needs of various segments.
The company is all set to propose NCD on Jan 07, 2020. The company is issuing secured and unsecured non-convertible debentures.
The issue will be closed on Jan 17, 2020.
Stay tuned till the end to earn the latest update on Tata Capital NCD 2020.
About Tata Capital Financial Service
("TCFSL") is a subsidiary of Tata Capital limited. The Company is registered with the Reserve Bank of India as a Systemically Important Non-Deposit Accepting Non-Banking Financial Company (NBFC) and offers fund and fee-based financial services to its customers, under the Tata Capital brand.
A trusted and customer-centric, one-stop financial services provider, TCFSL caters to the diverse needs of retail, corporate and institutional customers, across various areas of business namely the Commercial Finance, Infrastructure Finance, Wealth Management, Consumer Loans and distribution and marketing of Tata Cards.
TCFSL has over 100 branches spanning all critical markets in India.
Tata Capital Financial Services Limited NCD – Issue Details:
Issuer
Tata Capital Financial Services Limited (View Report)
Issue Type
Secured Redeemable and Unsecured Subordinated Redeemable Non-Convertible Debentures
Issue Period
Issue Opens: Tuesday, Aug 13, 2019
Issue Closes: Friday, Aug 23, 2019
Coupon Rate
8.85% p.a 

*

Issue Size
Public issue by the Issuer of Secured NCDs up to Rs. 2,99,790 lakh and Unsecured NCDs up to Rs. 1,12,810 lakh, aggregating up to Rs. 4,12,600 lakh.
Face Value
Rs. 1,000 per NCD
Minimum Application Size
10 NCDs (Rs. 10,000) and in the multiple of One NCD thereafter
Credit Rating
AAA/Stable by Crisil and AAA/Stable by CARE
Mode of Allotment & Trading
In Dematerialised Form
QIB
15% of issue size
Non Institutional
15% of issue size
HNI
35% of issue size
Retail Individual
35% of issue size
Listing
NSE and BSE
Depositories
NSDL & CDSL
Registrar
Karvy Fintech Private Limited
Book Running Lead Managers
Edelweiss Financial Services Limited, A.K. Capital Services Limited and Axis Bank Limited
Interest rates of Tata Capital Finance NCD Tranche II August 2019
 Options/Series
I
II
III
IV
 Frequency of Interest Payment
Annual
Annual
Annual
Annual
 Who can apply
All category of investors can subscribe to all Options of NCDs
 Tenor
 3 Years
 5 Years
 8 Years
 10 Years
Coupon (%) Category I and Category II 
8.35%
8.40%
8.55%
8.75%
Coupon (%) Category III and Category IV
8.45%
8.50%
8.65%
 8.85%
Effective Yield (per annum) Category I and Category II
8.34%
8.39%
8.54%
8.74%
Effective Yield (per annum) Category III and Category IV
8.44%
8.49%
8.64%
8.84%
Redemption amount (Rs per NCD)
Rs 1000
Put and call option
NA
Redemption Date(Years from the deemed date of allotment)
3 Years
5 Years
8 Years
10 Years
Minimum Application
Rs 10,000 (10 NCDs) across all the Options collectively
In multiples of thereafter
Rs 1,000 (1 NCD)
Face Value / IssuePrice (Rs Per NCD)
Rs 1,000 (1 NCD)
Mode of InterestPayment
Through various options available
Nature of indebtedness
Secured
Secured
Secured
Unsecured
How the NCD issue is allocated to various investors?
| | | | |
| --- | --- | --- | --- |
| Institutional Portion | Non-Institutional Portion | High Net Worth Individual Portion | Retail Individual Investor Portion |
| 15% of the Overall Issue Size | 15% of the Overall Issue Size | 35% of the Overall Issue Size | 35% of the Overall Issue Size |
Key Strengths:
» Integrated financial services platform
» Diversified and balanced mix of businesses
» Robust internal processes and risk management framework
» Synergy and parentage of Tata group
» Widespread operational network
» Strong and experienced management team
Key Strategies:
» Consolidate its existing lines of business
» Explore new business opportunities
» Leverage its technology advantage
» Expand client base and geographical presence
» Attain and retain talented professionals
How is the company financial performance?
Its consolidated profits are as below:
Year ended Mar-2017 – Rs 21,598 Lakhs
Year ended Mar-2018 – Rs 26,922 Lakhs
Why invest in Tata Capital NCD 2019?
The company is earning consistent and improving margins in the last few years. This indicates that this company has the ability to consistently pay the interest rates for its creditors or NCD holders.
Attractive interest rates yield up to 8.85% per annum.
Secured NCDs (Other than unsecured NCDs).
Tata Capital Financial Services is part of the Tata group which is a trusted brand.
Why not invest in Tata Capital Financial Services NCD Aug 2019?
TCFSL's operations are susceptible to fluctuations in interest rates
Inability to sustain its growth
They may not be able to successfully diversify its product portfolio
They operate in a highly competitive industry
How to Apply for Tata Capital NCD?
If you have a  Demat account and want to apply under the IPO/NCD section. In case you have applied in the physical form, the procedure is specified in the prospectus.
These NCD would get listed within 12 days from the closure of the NCD subscription.
Company Contact Information
Tata Capital Financial Services Ltd
11th Floor, Tower A,
Peninsula Business Park, Ganpatrao Kadam Marg,
Lower Parel, Mumbai 400 013, Maharashtra
Phone
: (+91 22) 6606 9000
Email
: compliance.ncd@tatacapital.com
Website
: 
https://www.tatacapital.com/
Tata Capital NCD Aug 2019 Lead Manager(s)
A.K. Capital Services Limited
Axis Bank Limited
Edelweiss Capital Limited
Tata Capital NCD Aug 2019 Registrar
Karvy Computershare Private Limited
Karvy Registry House, 8-2-596, St. No. 1,
Banjara Hills, Hyderabad – 500 034
Andhra Pradesh, India
Phone: +91-40-23312454
Email: einward.ris@karvy.com
Website: https://karisma.karvy.com/
I hope the above guide on "Tata Capital Finance NCD Issue 2019″ has been of great use.
Also, if you have any queries or suggestion regarding the same then you can state them below in the reference box.
Thanks for reading and have a great day.