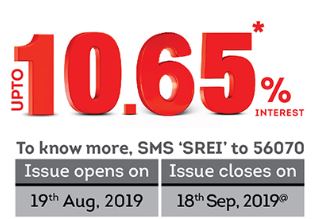 Srei Equipment Finance Ltd NCD Aug 2019 Public Issue: SEFL NCD Details, Srei Equipment Finance NCD Features, Credit Rating, Reasons to Invest, Price, Date, Allotment Status, Listing, Reviews, Status & How to Apply?
Non-convertible debentures (NCD)are those which cannot be converted into shares or stocks of the company.
Investors who park their money in NCDs enjoy fixed interest rate up to maturity and after that return of the principal just like a fixed deposit.
Srei Equipment Finance Ltd. (SEFL) has emerged as one of the major equipment financiers in India.
SEFL enjoys a Pan-India presence with offices in 89 locations. SEFL has an experienced management team having significant expertise in financial services.
It provided financial products and services to companies operating in the Construction & Mining equipment, IT Infra equipment, Healthcare equipment, Farm Equipment, and Pre-owned Construction Equipment.
Financial products offered by SEFL comprise Loans, Leases, Rental and Payper-Use services.
SEFL is a wholly-owned subsidiary of Srei Infrastructure Finance Limited (Srei Infra). Srei Infra is a well-established brand in infrastructure financing domestically.
About Srei Equipment Finance Ltd
Kolkata based Srei Equipment Finance Limited is a leading financier in the Construction, Mining, and allied Equipment (CME) sector. Besides CME, it has also diversified into the financing of IT and allied equipment, Medical and allied equipment, Tippers, Farm equipment, and Other assets.
Srei Infrastructure Finance Limited has been at the forefront of infrastructure financing in India leveraging the strong relationships it enjoys with thousands of corporate, institutional and governmental clients as well as numerous individual investors worldwide.
A tradition of excellence and a legacy of trust has enabled it to achieve noteworthy landmarks such as being accorded the status of Infrastructure Finance Company (IFC) and Public Finance Institution (PFI) by the Government of India, being listed on all major Stock Exchanges in India – BSE, NSE & CSE to name a few.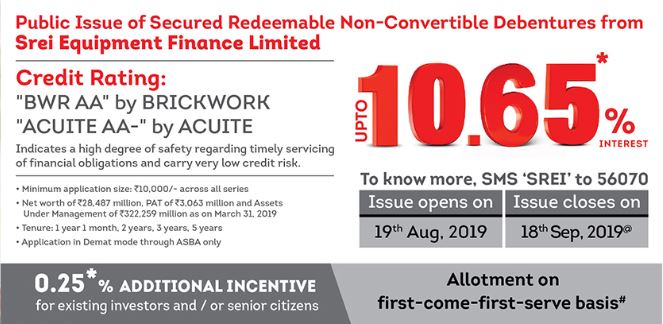 The tranche I issue is of the face value of Rs 1,000 each, amounting up to Rs 100 crore with an option to retain oversubscription up to Rs 400 crore.
Should you invest in SREI Equipment Finance NCD in Aug/Sep 2019? What are the risk factors one should consider before investing in such high-risk NCDs from SREI Equipment Finance Limited? Currently, Tata Capital Financial Services NCD is open that offers up to 8.85%, hence one should compare before making an investment decision.
SREI Equipment Finance Limited NCD – Issue Details:
Issuer
SREI Equipment Finance Limited (View Report)
Issue Type
Secured, Redeemable Non-Convertible Debentures
Issue Period
Issue Opens: Monday, Aug 19, 2019
Issue Closes: Wednesday, Sep 18, 2019
Coupon Rate
10.65% p.a 

*

Issue Size
Base Issue of Rs. 100 crores with an option to retain oversubscription up to Rs. 400 crores aggregating to Rs. 500 crores ("Tranche I Issue Limit") ("Tranche I Issue") which is within the shelf limit of Rs. 1,400 crores
Face Value
Rs. 1,000 per NCD
Minimum Application Size
10 NCDs (Rs. 10,000) and in the multiple of One NCD thereafter
Credit Rating
'BWR AA (BWR Double A)' (Outlook: Negative) by Brickwork and 'ACUITE AA-' (Acuite double A minus)' by ACUITE
Mode of Allotment
In Dematerialised Form
Institutional Investors
20% of issue size
Non Institutional Investors
20% of issue size
Individual Investors
60% of issue size
Listing
NSE and BSE
Depositories
NSDL & CDSL
Registrar
Karvy Fintech Private Limited
Book Running Lead Managers
Karvy Investors Services Limited, SMC Capitals Limited, SREI Capital Markets Limited
Interest rates of Srei Equipment Finance Ltd NCD August 2019
Coupon rates for series 1 to 10
Series
1
2
3
4
5
6
7
8
9
Series 10
Frequency of Interest Payment
NA
Qly
Annual
NA
Monthly
Annual
NA
Monthly
Annual
NA
Nature
Secured
Tenor
1 year 1 month
2 year
3 year
5 year
Coupon Rate For Category I, II and III
NA
9.88%
10.25%
NA
9.95%
10.40%
NA
10.15%
10.65%
NA
Amount on Maturity For Category I & II and III
₹1,109
₹1,000
₹1,000
₹1,216
₹1,000
₹1,000
₹1,346
₹1,000
₹1,000
₹1,660
Objective of SREI Infrastructure Finance Limited NCD:
The objective of SREI Infrastructure Finance Limited NCD is
For the purpose of lending/ repayment of loan – minimum 75% of the Net Proceeds of the Issue.
For General Corporate Purposes – up to 25% of the Net Proceeds of the Issue. The unutilized amount if any will be used for the purpose of lending/ repayment of a loan.
Key Strengths:
» One of the markets leading CME financiers in India with a wide distribution network and strong brand name, making us well-positioned to access customers in the growing Indian infrastructure financing sector.
» Equipment-centric robust and disciplined business model across diverse business verticals
» Strong partnerships with OEMs and SEPs with access to diversified and cost-effective funding sources.
» Effective equipment risk management framework.
» Strong parentage aided by an experienced Board and management team.
Key Business Strategies:
» Continue to maintain a strong market position through end-to-end equipment lifecycle business model to leverage growth opportunities in the Indian equipment financing market.
» Enter into partnerships with new OEMs and vendors and expand in equipment categories and business verticals with attractive growth opportunities.
» Endeavour to optimize borrowings and explore alternate avenues of funding
» Adopt newer technologies to achieve greater operational efficiency and advanced risk management processes.
» Continue to build capability through skill development and training.
» Endeavor to operate a capital & debt light business model.
How the NCD issue is allocated to various investors?
Institutional Portion – 20% of the issue
Non-Institutional Portion – 20% of the issue
Retail – 60% of the issue
How is the company financial performance?
Here are some financials:
Its revenues grew from Rs 3,473.4 Crores in FY2018 to Rs 4,402.8 Crores in FY2019.
Its profits improved from Rs 295.8 Crores in FY2018 to Rs 306.3 Crores in FY2019.
How to Apply for Srei Equipment Finance NCD?
SREI Equipment Finance NCD Issue is available in only in Demat form.
You can apply online or through any of the broker website where you are maintaining a Demat account. For more information on this, you can refer prospectus.
Why to invest?
Attractive interest rates yield up to 10.69% per annum.
The company is earning consistent and improving margins in the last few years.
Why not invest in SREI Equipment Finance NCD Aug 2019?
1) There are outstanding material legal proceedings involving the company, Promoter, Directors and their Group Companies.
As an NBFC, the risk of default or late or non-payment by borrowers and other counter parties may materially and adversely affect their asset quality and profitability.
As an NBFC, non-compliance with the RBI's observations made during its period inspections could expose us to penalties and restrictions which could have a material and adverse effect on them.
They are currently in breach of some financial conditions under certain loan agreements that they are a party to with respect to maintenance of certain financial ratios which have arisen on a change in accounting standards applicable to the company.
Their business requires funds regularly, and any disruption in their funding sources would have a material adverse effect on their business and cash flows.
Other Internal and external factors can be read at the risk factors indicated in the NCD prospectus.
SREI Equipment Finance NCD Aug 2019 Registrar
Karvy Computershare Private Limited
Karvy Registry House, 8-2-596, St. No. 1,
Banjara Hills, Hyderabad – 500 034
Andhra Pradesh, India
Phone: +91-40-23312454
Email: selfncd5.ipo@karvy.com
Website: https://karisma.karvy.com/
Lead Manager of SREI Equipment Finance Limited NCD:
Karvy Investor Services Limited
SMC Capitals Limited
Company Contact Information
Srei Equipment Finance Ltd
Vishwakarma, 86C, Topsia Road (South),
Kolkata – 700 046,
West Bengal, India
Phone: +91 33 6160 7734
Email: connect@sreibonds.com
Website: http://www.sreiequipment.com/
I hope the above guide on "SREI Equipment Finance NCD Issue 2019″ has been of great use.
Also, if you have any queries or suggestion regarding the same then you can state them below in the reference box.
Thanks for reading and have a great day.