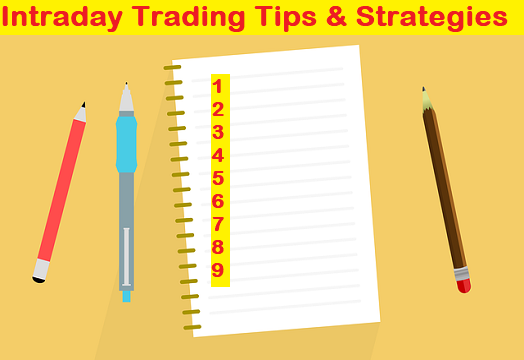 INTRADAY TRADING: Free Stock Market Intraday Tips, Strategies & Basics
Intraday trading is riskier than investing in the regular stock markets.
It is considered perilous and unsafe as compared to the regular stock market investing.
If you are a beginner, you ought to be well versed in the basics of such trading to avoid losses.
Individuals are suggested to invest only the amount they can afford to lose with encountering financial crunch.
Always make yourself remind that "The trick is not to learn to trust your gut feelings, but rather to discipline yourself to ignore them. Stand by your stocks as long as the fundamental story of the company hasn't changed."
Our today's post is designed to impart you with tips for intraday trading in India.
A few intraday trading tips stated below will help the investors in taking the right decision.
So, without any further ado let's get started
Tips for Intraday Trading
Intraday Tips 1: Choose two or three liquid shares
It is recommended that the investor should pick two or three large-cap shares that I highly liquid.
Investing in mid-size or small caps. Investing in mid-size or small-caps can result in the investor having to hold these shares because of low trading volumes.
Intraday Tips 2: Determine Entry and the target prices
As an investor, you must determine your entry level and target prices.
All you need to do is set the entry and exit price before taking a position. This ensures that you have an objective view.
Intraday Tips 3: Always set a stop loss level
You must be wondering why it is important to set a stop loss level.
It is quite possible that the shares you choose might fall on the day you trade instead of rising.
Therefore, it is important that you decide how low the stock can be allowed to fall before you square-off the position.
This acts as a safety and helps to reduce the losses.
Being a beginner, it is ideal for you to adopt the 3:1 risk ratio strategy
What this means is that the stop loss price — the price at which you are ready to exit if you are making losses — should be three times lower than the exit price — the price at which you are willing to book profit.
Intraday Tips 4: Book your profits when the target is reached
It is quite obvious that a trader may feel fear or greed. It is recommended to the traders not just cut down their losses, but also book their profit once the target price is reached.
In case the individual thinks the stock has a further possibility of rising in price, the stop loss trigger must be readjusted to match this expectation.
"Remember that the stock market is a manic depressive."
Equity market swings wildly from day to day, it is important not to get stuck with madness and carry on with your homework.
Intraday Tips 5: Avoid being an investor
Intraday trading, as well as investing, requires individuals to purchase shares. However, factors for both these strategies are distinct. One kind adopts fundamentals while the other considers the technical details.
It is common for day traders to take delivery of shares in case the target price is not fulfilled. He or she then waits for the price to recover to earn back his or her money.
This is not suggested because the stock may not be worthy of investing, as it was purchased only for a shorter duration.
Intraday Tips 6: Research your target companies thoroughly
What investor is advised is to undertake in-depth research. Knowing about corporate events, such as mergers, bonus dates, stock splits, dividend payments, etc., along with their technical levels is important. Using the Internet for finding resistance and support levels will also be beneficial.
Intraday Tips 7: Do not challenge the market
One of the powerful intraday trading strategy I would like to give to you does not challenge the market. As it is impossible to predict what is going to happen.
Do not get married to your analysis. If the market is not supporting the stock sell it as soon as possible as it hit your stop loss level.
Holding onto hopes won't make any sense; it will only increase your losses.
Once again, an intraday trader cannot afford to think like a trader.
Intraday Tips 8: Timing is crucial
One of the useful intraday trade tips is not to take a position within the first hour of trading for the day.
This is because volatility tends to be high during these hours.
Many experts suggest that they take an intraday position between noon and 1 pm.
Intraday Tips 9: Choose the right platform
Such intraday traders make a frequent transactions and accumulate small gains daily.
As such, it is of utmost important to pick the right platform. One that allows for quick decision making, execution, and charges minimal brokerage.
There are many platforms that offers free intraday trading tips and enjoy zero brokerages on intraday trading and zero brokerage on intraday trading and enjoy zero brokerage on intraday trades across sectors.
MAKE PROFIT THROUGH INTRADAY TRADING
The Relative Strength Index (RSI) is another useful tool that can help access which way the stock prices can move. If the RSI of a stock is above 30, it sets off a potential 'buy' signal as it suggests that the stock is undersold. If it is above 70, it indicates that a stock has been overbought and sets off a potential 'sell' signal.
Another strategy is to look for stocks that are not in the spotlight. That's because the price of the stock would decrease when the demand is lower.
Intraday traders should go through historical data and research reports to gauge the demand for a particular stock. If you find that the demand is high, stock prices would be higher in most cases. This is when you can choose to refrain from buying that stock.
INTRADAY TIME ANALYSIS
Some of the popular daily charts used by traders include the hourly charts, 15-minute charts, five-minute charts, and two-minute charts. It all depends on what time period the trader wants to analyze how different stocks are performing on the same day.
Daily charts help traders to figure out short term stock price movements.
Process of Choosing Stocks for Intraday Trading
A stock resistance level is a handy indicator. It is advised to buy a stock when it breaks its resistance levels and moves upward.
Volume is nothing but the number of times a company's stock is traded at a particular time.
One of the popular quotes that are quoted by Warren buffet is
"Games are won by players who focus on the playing field – not by those whose eyes are glued to the scoreboard."
Conclusion
Viewers this is all about "Trading techniques for intraday". The prime objective of any day trader is to prevent losses and protect the profits.
The significant trait of an intraday trader is to follow a disciplined approach. Once a daily target is achieved, one needs to close the trade.
It's quite tempting to earn more profits. It is recommended to have a disciplined approach during intraday trading as the ad-hoc approach may land you in big trouble
Traders who can learn from their mistake can earn profits.
One should only initiate an intraday trade only if you identify stock with strong trade. There are some indicators that will help you determine the stocks. Any error in the judgment means huge losses. Also, remember in the volatile market trend is short lived.
Queries Solved:- 
best trading tools for beginners,
intraday trading for beginners,
A trading tool you must use,
FREE Trading Tool for Intraday Trading,
Best tool for Intraday Trading,
beginner day trading strategies,
Intraday trading,
intraday trading hindi,
intraday trading tools,
intraday trading tools hindi,
tools for intraday trading hindi,
trading tools,
trading tools hindi,
tools for trading in hindi,
intraday trading ke liye tools,
trading strategies for beginners 2022,
stock market in hindi,
Share market strategies,
share market strategy in hindi,
share market strategy for intraday trading,
stock market trading tips and tricks,
stock market daily trading tips,
stock market trading tips for beginners,
share market trading tips in hindi
Frequently Asked Question
Q. Is Intraday Trading Safe?
Intraday trading involves buying and selling of the financial securities within the same trading day.
It has very high returns on investment, but along with the high returns comes the high risk
Q How do I choose the best intraday stock?
Tips to Choose the Right Intraday Trading Stocks:
Trade Only in Liquid Stocks.
Stay Away from Volatile Stocks.
Trade in Good Correlation Stocks.
Follow the Market Trend before deciding the Right Stock.
Pick the Stock you are most confident in after Research.
Final Words
Dear Readers
I hope you find the above post on tips on share trading useful.
Always remember that the intelligent investor is a realist who sells to optimists and buys from pessimists."
If you have any queries regarding best tips for intraday trading then you can seek our assistance through the comment section mentioned below.
The purpose of this blog is to create financial awareness.
If you feel enthralled by reading the post do write to us. We will be obliged to solve your queries and clarify your doubts.
"On the other hand, investing is a unique kind of casino — one where you cannot lose in the end, so long as you play only by the rules that put the odds squarely in your favor."
Stay tuned for another update, Last, but not, least do not forget to like and subscribe to us.
Thanks for reading and have a nice day.