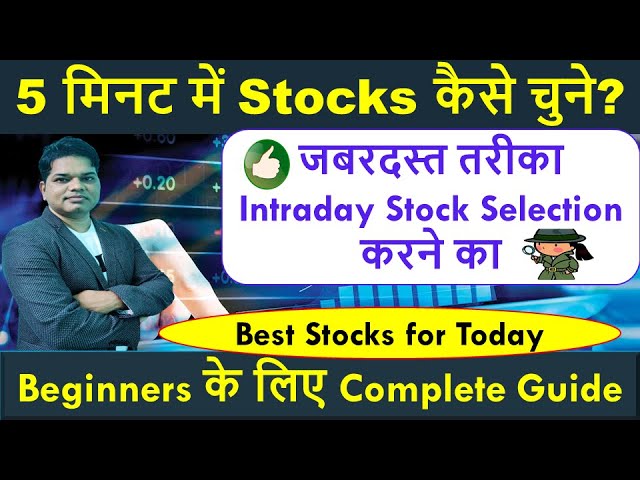 HOW TO CHOOSE STOCKS FOR INTRADAY TRADING?
One of the real struggles encountered by the trader is "How to select intraday stocks"? Isn't it?
Today's post will tell you how to pick stocks for intraday trading?
Out of 6000 listed companies on BSE and 1500 in NSE and many more in the queue, it has become a daunting task to pick the few promising stocks and invest in it.
Moreover, it has become even more arduous to scan and select a few stocks for a day.
To make the complicated procedure become uncomplicated, in this post, I am going to elaborate you with few intraday trading tips for how to select stocks for intraday trading that can be helpful as well prove to be profitable.
Do you know, to succeed as a day trader, it is pertinent to know how to pick stocks for day trading in India?
People failed to fetch gains due to lack of selection of faulty stocks in the share market.
Selecting appropriating stocks during a trading day is of utmost importance.
So, without any further ado, let's get started!
Let us learn what are those tips that will prove to be helpful in picking the best stocks for intraday trading.
Tips to Choose the Right Intraday Trading Stocks
?Demat Account Online खोलें Upstox में ?
Sign up now using my custom referral link below and get FREE benefits like,
✔️FREE demat & trading a/c
✔️Zero brokerage* for 30 days
✔️Money Control pro subscription FREE worth ₹1999
✔️FREE Beginner's course on the Stock Market at Elearnmarkets worth ₹999
✔️FREE StockEdge Premium worth ₹999
? REFERAL LINK
?: Direct Account Open Link
Trades only in the Liquid Stocks
Liquid stocks have greater volume, whereby larger quantities can be purchased and sold without significantly affecting the price.
Remember choosing the right stocks is the most important thing for intraday trading.
Liquidity is the most important quality you should consider while choosing which stock is good for intraday trading.
A larger quantity of liquid stocks is bought and sold every day.
Prices of the liquid stocks do not get impacted by buying and selling pressure.
Zerodha Intraday Trading Demo for Beginners
Stay away from volatile stocks
Intraday trading is more about the stocks scanning and getting well versed with the technical analysis.
Before actually doing intraday trading I would recommend you that spend a few days looking at the live daily charts of your top shares for intraday during the market hour and analyses how the stocks react at various price points.
Traders are recommended to avoid intraday trading in such stocks. A few volatile stocks are in the mid-size segment while most stocks traded in the low-cap categories like S, T, and Z are highly chaotic. In addition to being volatile, these stocks have low daily volumes, making them illiquid. How to trade with shares?
Follow the trend
I would like to share one golden rule of intraday trade is ride with the trend.
There are intraday charts that are the best ways to identify stocks for intraday for trading.
During the Bull Run in the market, a trader should identify which stocks have the potential to rise.
On the other hand, during a bear run, finding stocks that are likely to decline is advisable.
Pick After Research
Being an intraday trader one should be vigilant in undertaking intraday research.
Unfortunately, most of the traders avoid performing research.
Firstly, identify the index and then finding sectors that are of interest is recommended.
The next step is to create a list of several stocks with these sectors.
Technical analysis and determining the support and resistance levels along with studying the fundamentals of these stocks will help traders find the right stocks to profit through intraday trading.
Intraday trading is all about initiating and closing out your trades on the same day. For example, if you buy 500 shares of Reliance in the morning at Rs.920 and sell it by an evening at Rs.928, then you can book a profit of Rs.4000 (500×8) intraday. This trade does not result in any delivery as your net position at the end of the day is zero.
You can also sell the stock in the morning and buy it back in the evening if you believe that the stock is likely to go down. In fact, if you want to short sell stocks (without delivery), then the only way you can do it in rolling settlements mode is intraday.
Here are six factors trader should consider while selecting stocks for intraday trading.
Is the stock liquid enough?
As stated earlier, market liquidity is the most important consideration when looking at stock for intraday trading.
Liquidity = Average daily volumes / Market capitalization.
Can u buy and sell the stocks with low impact cost
Is the stock widely owned
As an intraday trader, always pick the stocks that are highly liquid because the market operators will be able to easily corner these stocks quite easily that is not widely owned
Does the stock sustain narrow tick spreads?
Since we are talking about intraday trading, the tick becomes very important.
The tick is the minimum gap between the two orders.
There must be enough volumes on each tick to qualify them for an intraday trade.
Hence the tick gap becomes a key consideration for intraday stock selection. Smaller the tick gap, the better it is for you.
Does it show clear and Readable chart patterns?
Being an intraday trader, you need to rely heavily on the technical charts.
One must develop the ability to read the charts on your own.
It is not possible to trade in the stock that does carry a sufficient history or which does not depict a clear pattern.
What is the price sensitivity to the news?
As an intraday trader, you are required to rely on two factors to trade viz, chart patterns and sensitivity to the news flows.
You cannot look upon the stocks that do not react to the news. Basically, you must consider the stocks that are extremely sensitive to the news.
That is the reason your strategy of buying on expectation and selling on the announcement can actually come in practice.
Keep your stock universe limited so that you can do justice tracking these stocks in terms of fundamentals, technical and news flows.
After all, the key to successful intraday trading is picking the right stock.
There is a number of factors that should be taken into consideration at the time of the stock selection.
Let's have a look at a few tips that are stated below
Price Based Stock Selection
The price of each stock fluctuates daily, giving daily open, close, high and low prices.
Out of these prices, high and low prices can be beneficial for the stock.
When prices rise 52 weeks high or fall below 52 weeks low there are chances of increase or decrease of prices respectively. Such a signal can be helpful to know
Whether to trade in a particular stock or not.
Step to Find Out 52 Week High – Low Prices of Stock :
Go to NSEINDIA.COM
Select LIVE MARKET
Under LIVE MARKET ANALYSIS, select NEW 52 WEEK HIGH-LOW.
Direct URL:
https://nseindia.com/products/content/equities/equities/eq_new_high_low.htm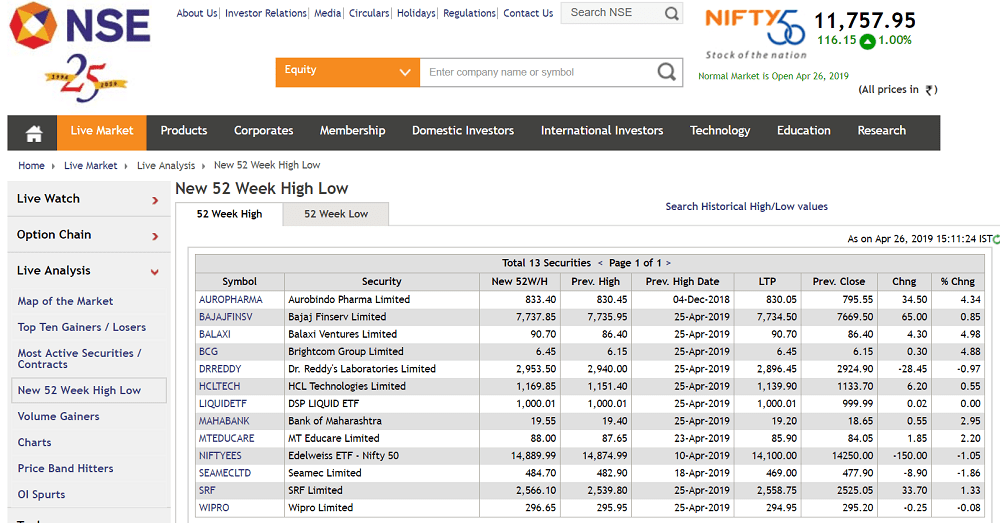 Shares volume
One of the prime criteria for intraday trading is the volume of the stocks.
The total number of the shares that are traded in a particular market at given reflect time reflect volume. It is most recommended to purchase stocks that are of high volume.
Stocks of the day
Depending on the great news, a few stocks are expected to perform well.
Such stocks are anticipated to move in either direction with good volume.
Week's Movement
It is very important to study the movement that is closely closing in negative and positive for the previous week.
An analysis of this movement will help you to identify the stocks for intraday trading.
Resistance level
Some of the stocks that have broken the resistance level and which move in an upward direction.
Such stocks are one of their favorite choices.
Trading in few stock lists
One of the key strategies followed by the intraday traders is to keep themselves involved in trading in some stocks list.
The reason for the same is they engage in a detailed study of share movement
Top gainers and losers
While some shares fall under profitable category whereas, others come under the top losers. Such shares may provide fairly good movements.
However, keep a close watch on them in order to begin trading.
Using Market Price Trend For Stock Selection
STEPS :
Observe and Compare the current market price of NSE and BSE for 5 minutes continuously.
If CMP (current Market Price) of
NSE > than BSE, Short term trend is up, prices are expected to rise only till NSE is higher than BSE.
NSE  < than BSE, Short term trend is down and prices are expected to fall only till NSE is smaller than BSE.
NSE = BSE, Short term trend is neutral and the price is expected to fluctuate.
THROUGH THE ABOVE STEPS WE CAN FIND MARKET TREND. BASED ON THIS WE CAN SELECT THE STOCKS FOR DAY TRADING.
NOTE: IT IS BENEFICIAL TO SELECT STOCK OF REPUTED COMPANIES HAVING HIGH VOLUMES.
Gap up or Down Strategy
Gap up is generally a break between prices in the chart that occur due to the sharp up or down movement of prices with no trading in between.
Such a gap up or down creates two opportunity
Buying– The opportunity of buying is generated when stocks open by the margin gap of 1% to 2 % of the previous close and touch previous day close after the gap up opening but then bouncing back and again breaks the day opening price with a stop loss set at day 's loss.
Selling Opportunity– It is generated when the stocks open by the gap up to 5-10 %of previous close and breaks below its opening price with day's high as to stop loss and target of previous day's high and previous day's close.
Disclaimer- The above blog is for informational purpose. The techniques should be properly studied first and then put into the application.
Final Words
I hope you find the above information on "How to select stocks for intraday trading useful.
We at investor's academy aim at spreading financial awareness among our viewers.
If you have any doubts or queries regarding which stocks are good for intraday trading?
I have envisaged above in the stocks how to find intraday stocks for you.
If you find the information hand please do share it among others via Facebook and Twitter.
Have a great day ahead!