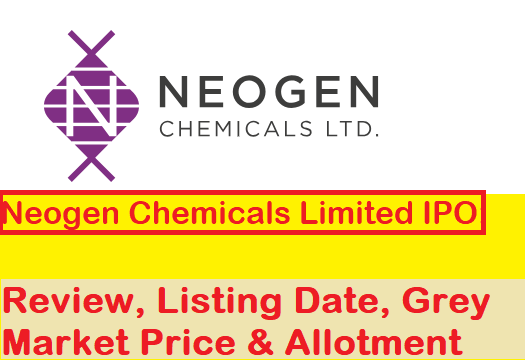 Neogen Chemicals Limited IPO Analysis, IPO Review, Dates, Price Bands, Market Lot Details
Neogen chemicals limited is incorporated in the year 1991. The company is a manufacturer of a bromine-based and lithium-based specialty chemicals in India.
Neogen produces both organic and inorganic chemical compounds.
These specialized chemicals are used in pharmaceuticals intermediaries, agrochemical intermediaries, engineering fluids, electronic chemicals, polymers additives, water treatment chemicals, construction chemicals, and flavors and fragrances.
The Initial public offering IPO will open for subscription from Apr 24-26. Through the IPO the company is all set to raise about 70 crore funds by issuing fresh equity shares.
With promoters offloading 29 lakh shares. The price band of the IPO is at Rs 212-215 per share.
Our today's post is about "Neogen Chemical limited IPO 2019".
Neogen Chemicals IPO Issue Details
Issue Open
Apr 24, 2019 – Apr 26, 2019
Issue Type
Book Built Issue IPO
Issue Size
[.] Eq Shares of Rs 10
(aggregating up to Rs 132.35 Cr)
Fresh Issue
[.] Eq Shares of Rs 10
(aggregating up to Rs 70.00 Cr)
Offer for Sale
2,900,000 Eq Shares of Rs 10
(aggregating up to Rs [.] Cr)
Face Value
Rs 10 Per Equity Share
Issue Price
Rs 212 – Rs 215 Per Equity Share
Market Lot
65 Shares
Min Order Quantity
65 Shares
Listing At
BSE, NSE
Neogen Chemicals IPO Tentative Date / Timetable
| | |
| --- | --- |
| Bid/Offer Opens On | Apr 24, 2019 |
| Bid/Offer Closes On | Apr 26, 2019 |
| Finalization of Basis of Allotment | May 3, 2019 |
| Initiation of Refunds | May 6, 2019 |
| The credit of Shares to Demat Acct: | May 7, 2019 |
| IPO Shares Listing Date: | May 8, 2019 |
Neogen Chemicals IPO Promoter Holding
| | |
| --- | --- |
| Pre Issue Share Holding | 79.68% |
| Post Issue Share Holding | |
Important dates for Neogen Chemicals Limited Allotment
Neogen Chemicals Limited IPO allotment status would be obtainable soon after the IPO closure date. Usually, the allotment comes within a week from the closing date which in this IPO yet to be announced. Important Tentative dates for Neogen Chemicals Limited IPO are:
The Allotment date for Neogen Chemicals Limited IPO issue is expected on May 2, 2019.
The amount will get unblocked on May 3, 2019.
The Shares are expected to credit in DP accounts on May 3, 2019.
The Shares of Neogen Chemicals Limited is likely to get listed on the stock market on May 4, 2019 . on both BSE and NSE.
Source: Bloomberg
About the Neogen Chemical Limited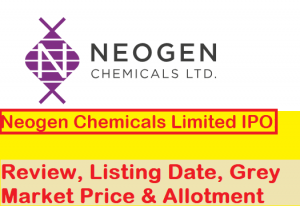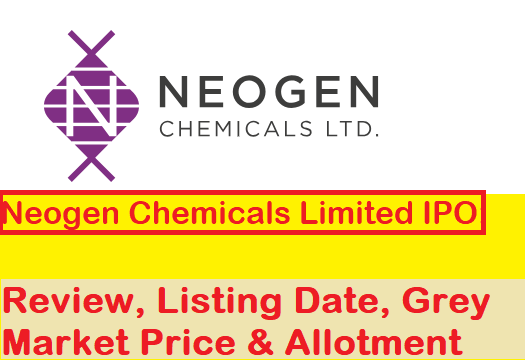 The Neogen chemical limited is a 27-year-old manufacturing company of bromine-based and lithium-based specialty chemicals.
The company is a leading manufacturer of these products for a pharmaceutical, and other specialty agrochemicals, and any other specialty chemicals companies in India, Europe and Japan.
The company is also emphasizing on custom and contract manufacturing. The work has already started in the new area with customers in Japan and Europe.
Following are the firm's chemical products
1.Organic Chemicals-
Under such chemicals, the firm includes carbon in combination with hydrogen, and, or, other elements with a covalent bond (i.e. a chemical bond atoms sharing at least one pair of electrons between them).
2. Inorganic Chemicals:- These chemicals consist of an ionic bond and Lithium Compounds.
Lithium compounds are used in eco-friendly Vapor Absorption Machines (VAM) for cooling air/water/process equipment and find application in industries like heating ventilation and air-conditioning (HVAC) and refrigeration, construction chemicals, pharmaceutical, and specialty polymer.
What is IPO?
IPO is an acronym of the initial public offering. Prior to, an IPO the company is considered to be private, with a relatively small number of shareholder made up primarily for early investors such as founder, their families, and friends.
The attempt of offering shares in a private corporation to the public for the first time it is called initial public offerings.
There are growing companies which requires capital will use IPO to raise funds. The Perk of an IPO includes ease in raising and accessing funds and conducting M&A activity.
What are the Financial Highlights of the Neogen chemical limited?
Financials of Neogen Chemicals Limited IPO
Summary of Financial Information (Restated)
Particulars
For the year/period ended (in Rs. 10 Lakhs)
31-Dec-18
31-Mar-18
31-Mar-17
31-Mar-16
31-Mar-15
31-Mar-14
Total Assets
2,374.06
1,800.53
1,523.15
804.82
687.56
629.33
Total Revenue
1592.31
1,640.12
1,214.67
1,088.85
914.84
799.04
Profit After Tax
122.21
104.97
76.83
51.80
50.85
36.43
Comparison With Peers:
Particulars(Cr)
Neogen Chemicals
Aarti Industries
Navin Fluorine
Paushak Limited
Balance Sheet Item
Share Capital
20
40.65
9.87
3.21
FV
10
5
2
10
Net Worth
50
1515
969
113
Book Value
3
194.00
196.00
352.02
Long-Term Debt
38.50
897.00
0.00
0.00
Short-Term Debt
41.20
986.00
0.00
0.57
D/E
1.59
1.24
0.00
0.01
P/L Items
Revenue
164.00
3701.00
966.00
106.00
Revenue Growth in 3 years
22.89%
16.52%
20.98%
15.1%
EBITDA
29.7
661
304
32.08
EBITDA Growth in 3 years
44.12%
10.54%
46.32%
29.78%
EBITDA Margins
18.0%
17.9%
31.5%
30.3%
PAT
10.532
316
178
21.47
PAT Growth in 3 years
43.49%
11.98%
43.87%
32.29%
PAT Margins
6.4%
8.5%
18.4%
20.3%
EPS
4.51
38.92
36.24
66.00
Key Ratios and Valuation
RONW
21.0%
20.9%
18.4%
19.0%
P/E
47.67
41.00
19.56
33.33
P/B
8.6
8.35
3.59
6.25
Mcap
501 Cr
14040 Cr
3510 Cr
678 Cr
Mcap/Sales
3.15
3.79
3.63
6.40
EV
612 Cr
15860 Cr
3489 Cr
678 Cr
EV/EBITDA
16.63
23.99
11.48
21.19
How to Apply for Neogen Chemical IPO
?
If you have a demat account, the most bank provides the online IPO application. You can also approach the broker to apply in Neogen Chemical IPO.
Most banks including the ICICI bank, Axis and Kotak bank allow the customer to apply in IPO using the demat account.
The object of the Neogen chemical Issue
General corporate purpose
Long term working capital
early redemption of 9.8 FRCPs
Prepayment or repayment of all or a portion of certain borrowing availed by the company
Who are the Promoters Of The Company
Haridas Thakarshi Kanani
Harin Haridas Kanani.
Neogen Chemicals IPO Review & Ratings
IPO Ratings & Review
Criteria
Ratings
Industry Sentiments
8.5/10
Industry Ranking
7.8/10
Company Background
7.9/10
Company Reputation
7.9/10
Competitive Edge
7.7/10
Financial Statements
7.8/10
Popularity Index
8.4/10
Promoters Reputation
7.7/10
Retail Appetite
7.9/10
Top Brokers Review
7.9/10
Overall Ratings
8.1/10
Star Ratings
★★★★☆
Should you subscribe to Neogen Chemicals IPO?
Brokerage Anand Rathi has assigned a "subscribe" rating to the Neogen Chemicals IPO. "At the higher end of the issue price, the stock is valued at around 20.1 times FY18EV/EBITDA and around 47.8x P/E," Anand Rathi said in a note. The higher multiple is justified given the company's ability to grow profitably and command better return ratios, according to the brokerage.
Neogen chemical Contact Details
Registered Office Details:-
1002, 10th Floor, Dev Corpora Bldg,
Opp. Cadbury Junction, Off Pokhran Road No. 2,
Khopat, Thane – 400 601,
Maharashtra, India;
Tel: +91 22 2549 7300;
Fax: +91 22 2549 7399;
Corporate Identity Number: U24200MH1989PLC050919;
Email: investor@neogenchem.com;
Website: www.neogenchem.com;
Contact Person: Lalit Ashok Karne, Company Secretary, and Compliance Officer;
Tel: +91 22 2549 7300;
Fax: +91 22 2549 7399;
Email: investor@neogenchem.com
Registrar To The Issue:-
LINK INTIME INDIA PRIVATE LIMITED
C-101,1st Floor, 247 Park, L.B.S. Marg,
Vikhroli (West), 400 083,
Mumbai, Maharashtra, India
Fax: +91 22 4918 6195
E-mail: neogenchem.ipo@linkintime.co.in
Investor Grievance E-mail: neogenchem.ipo@linkintime.co.in
Website: www.linkintime.co.in
Contact Person: Shanti Gopalkrishnan
SEBI Registration No.: INR000004058
Neogen Chemicals Limited IPO Allotment Status
Neogen chemical limited IPO allotment status would be available after the IPO closure date. Usually, the allotment launched within a week from the closing date which in this IPO yet to be announced.
one can check the allotment on the provided link below with PAN number or application number or DP client
Follow the given steps
To check the neogen chemical limited status
Step 1-Go to Application status
Step 2-Select IPO a Neogen chemical Limited
Step 3 Enter Your Pan number or Application ID or DP client ID
Neogen Chemicals Pvt Ltd- Should you Invest?
Positive Outlook of the Firm:-
certified and experienced promoters,
The various and diversified offering of products,
Consistent and strong customer base,
Track Record of profit after continuous investment in R&D,
Eccentric and robust business model following high entry barriers,
Prolong strong relationship with suppliers.
Final Words
Dear Readers
I hope you had a great time reading the information "Neogen Chemical Limited IPO". If you find the information regarding Neogen IPO review does share it among the others via Facebook, Twitter, etc.
We at investor's academy aims at spreading financial awareness of our readers.
Write to us in case you have any query, doubt with you. Feel free to approach us via the comment section.
Our team consists of experts and professionals who will extend every possible help.
Also, do not forget to share and subscribe.
Your gesture of appreciation is much needed for the post.
Thanks for reading