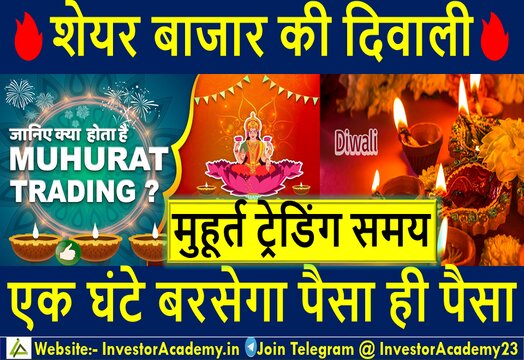 What is Muhurat Trading? Diwali Muhurat Trading 2020 | Online share trading time on Diwali 2020 | Muhurat Trading Timing 2020 (NSE, BSE & MCX)
Share Market which trades in hundreds and thousands of rupees everyday have kept its traditions protected from many years. Among these, the most important tradition is the special trading session on diwali which is called "Muhurat Trading".
Goddess Laxmi comes on Diwali. Laxmi pujan is performed to welcome here. The festival of Diwali is also very special for share market. On the evening of Diwali, when all the people prepare for the festival, then investors and market giants from all over the country invest money in the market at a particular time it is called "मुहूर्त ट्रेडिंग".
This particular time, they do not worry about profits. Nobody tries to withdraw their money. They simply stay in the market to follow a tradition.
Although its holiday of share market on this day, but the market trades for 1 hour only for Muhurat Trading. In this 1 hour, investors make their small investment and follow the tradition.
What is Muhurat Trading?
Muhurat Trading meaning:- New year begins with Diwali. This time with Diwali, Samvat 2077 is going to start. According to Indian tradition, Diwali also marks the beginning of a new financial year in many parts of the country. On this auspicious time, the stock market traders do special stock trading, hence it is also called Muhurat Trading.
Muhurat Trading Timings 2020
On the occasion of Diwali on 14 November 2020, the stock market BSE and NSE will have a special Muhurat trading for 1 hour from 6.15 onwards. According to both exchanges, Muhurat Trading will take place from  6.15 and 7.15 p.m. on diwali.
Muhurat Trading session on account of Diwali
Muhurat trading in 2020 for Equities, Equity F&O, Currency F&O, and Commodities will be conducted on Saturday, November 14, 2020.
As a thank you for the continued support from all of you for the last Samvat (Hindu calendar year), we will be waiving off all brokerage charges on this day. Zero brokerage on all Intraday, F&O, and commodity trades.
| Muhurat Trading Time Schedule | Start Time | End Time |
| --- | --- | --- |
| Muhurat Trading Block deal session | 5:45 pm | 6:00 pm |
| Muhurat Trading Pre Open * | 6:00 pm | 6:08 pm |
| Mahurat Trading Normal Market | 6:15 pm | 7:15 pm |
| Call Auction Illiquid session * | 6:20 pm | 7:05 pm |
| Mahurat Trading Closing Session | 7:25 pm | 7:35 pm |
*Random closure in last one minute
All MIS, BO, CO positions will be squared off 15 minutes prior to market closing. After Market Orders(AMO) will be collected until 5:57 pm for Equities and 6:10 pm for F&O on November 14th to be placed in the Muhurat trading session.
Special Trading Session
If you an investor, you will be able to trade from 6.15 am to 7.15 pm. The BSE will honor the top volume performance from 4.00 pm. After this, there will be Lakshmi Pujan in the market. Trading will start after this. Both exchanges will have a special trading session on saturday. BSE and NSE have shared this information.
MCX's Mahurat Trading Session For Diwali 2020
The market timings for MCX Muhurat Trading session on 14 November 2020:
MCX (Multi Commodity Exchange of India) has announced that it will hold a special Muhurat Trading on Saturday 14 November 2020 on the occasion of Diwali (Laxmi Poojan Day). Contracts of all commodities will be available for Muhurat Trading on the day, the exchange said.
Special Session: 6:00 pm to 6:14 pm
Trading Session: 6:15 pm to 7:15 pm
Client Code Modification Session: 7:15 pm to 7:30 pm
A Chance to make money
Experts say that investing money in the stock market on the day of Muhurat Trading is considered auspicious. Especially rich people definitely invest on this day. Thus, they earn millions of rupees on small investment.
Investors wish for a good financial year by starting trading on a special Muhurat on Diwali. Experts point out that Muhurat Trading is completely tied to tradition. Most people buy shares on this day. However, this investment is quite small and symbolic.
?Demat Account Online खोलें Upstox में ?
Sign up now using my custom referral link below and get FREE benefits like,
✔️FREE demat & trading a/c
✔️Zero brokerage* for 30 days
✔️Money Control pro subscription FREE worth ₹1999
✔️FREE Beginner's course on the Stock Market at Elearnmarkets worth ₹999
✔️FREE StockEdge Premium worth ₹999
? REFERAL LINK
?: Direct Account Open Link
Reasons for Muhurat Trading
It is believed that the investment made during the Muhurat is auspicious. According to market experts, on the day of Muhurat Trading, traders enter the market with the idea of investment.
Traders often place the first order for a purchase. If you look at the performance of the market during this period, on most occasions, the stock market has remained within the scope. At the same time, there is also a boom in the market.
Hope you liked the article and found it useful. If you still have doubts regarding the above topic, you can ask in the comments section below.
INVESTOR ACADEMY ? is now on Telegram. Click here to join our channel and stay updated with the Latest Dividends, IPOs news and stock market updates.
Happy Learning!
Muhurat Trading FAQs
What is Muhurat Trading?
Exchanges in India, including NSE and BSE, hold special trading on the occasion of Diwali and this is called the Mahurat Trading session. The session, which lasts for an hour, is considered auspicious to make purchases and begin the traditional Hindu accounting year, called Samvat.
When will be Diwali Muhurat Trading Session?
NSE, BSE & MCX To Hold Special One-Hour Muhurat Trading Session On November 14.
When is Muhurat Trading Session start?
Muhurat Trading Session start at 6:15 pm to 7:15 pm
What is MCX's Muhurat Trading Session Timing?
The market timings for MCX Muhurat Trading session on 14 November 2020:
Special Session: 6:00 pm to 6:14 pm
Trading Session: 6:15 pm to 7:15 pm
Client Code Modification Session: 7:15 pm to 7:30 pm