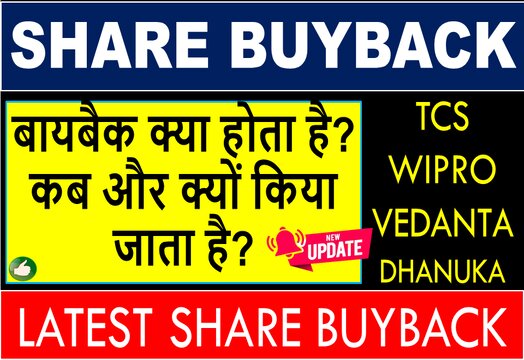 BUY BACK LIST OF NSE BSE SHARES | BUYBACK OF SHARES 2023
A buyback is also known as a share purchase, which is when the company buys its own shares from the shareholders. The company funds its buyback with surplus cash. The cash is available because the company may find no other profitable alternative to use the money.
Buyback improves various financial ratios.
The company often utilizes buyback as an alternative to dividends.
Being an investor are you curious to know what does a buyback of shares means. How does stock buyback benefit the investor? Or how does a stock buyback work?
Stay tuned for this post to fetch the details regarding buyback of shares in 2023.
What is Share Buyback Meaning?
Stock buyback means publicly traded companies buying back their own shares from the shareholders. Company funds their buyback with surplus cash.
A buyback is also known as repurchase is purchased by the company of its outstanding shares that decreases the number of shares in the open market.
It is the re-acquisition by the company of its own stock
In most of the countries, a company can repurchase its share by dispersing the cash to existing shareholders in exchange of company's fraction of equity that is cash is exchanged for a reduction in the number of outstanding shares.
What is Buyback of Shares?
LIVE BUYBACK OF SHARES 2023
INVESTOR ACADEMY ? is now on Telegram. Click here to join our channel and stay updated with the Latest Dividends, IPOs news and stock market updates.
Company
Buyback Price
Record Date
Open Date
Close Date
Avonmore Capital & Management Services Ltd
₹95

Jun 15, 2022

 
 
Birlasoft
₹500

Jun 03, 2022

 
 
Zydus Lifesciences Ltd
₹650

Jun 02, 2022

Jun 23, 2022
Jul 06, 2022
Asahi Songwon Colors Ltd
₹400

Jun 03, 2022

Jun 22, 2022
Jul 05, 2022
Motilal Oswal Financial Services Ltd
₹1100

May 27, 2022

Jun 24, 2022
Jul 07, 2022
Matrimony.com Ltd
₹1150

 
 
Indiamart Intermesh
₹6250

May 11, 2022

Jun 02, 2022
Jun 15, 2022
Sinclairs Hotels Ltd
₹143
May 13, 2022
Jun 03, 2022
Jun 16, 2022
Sarda Energy & Minerals
₹1500
May 06, 2022
Jun 02, 2022
Jun 15, 2022
UPL Ltd
₹875
 
Apr 07, 2022
Oct 06, 2022
GAIL(India) Ltd
₹190
Apr 22, 2022
May 25, 2022
Jun 07,2022
Filatex Ltd
₹140
Apr 08, 2022
May 09, 2022
May 23, 2022
Emami Ltd
₹550
 
Feb 09, 2022
Aug 08, 2022
Mayur Uniquoters Ltd 
₹650
FEB 23, 2022
Mar 24, 2022
Apr 06, 2022
Gulf Oil Lubricants India 
₹600
FEB 21, 2022
Mar 25, 2022
Apr 07, 2022
FDC Ltd 
₹475
FEB 19, 2022
Apr 12, 2022
Apr 27,2022
KPR Mill Ltd
₹805
FEB 19, 2022
Mar 25, 2022
Apr 07, 2022
Tata Consultancy Services
₹4500
FEB 23, 2022
Mar 09, 2022
Mar 23, 2022
James Warren Tea Ltd
₹295
JAN 14, 2022
Feb 23, 2022
Mar 09, 2022
Ajanta Buyback
₹2550
JAN 14, 2022
Feb 03, 2022
Feb 16, 2022
Weizmann Buyback
₹60
DEC 10, 2021
Jan 13, 2022
Jan 27, 2022
Cheviot Buyback
₹1725
DEC 17, 2021
Jan 10, 2022
Jan 21, 2022
MOIL Buyback
₹205
DEC 31, 2021
Jan 28, 2022
Feb 10, 2022
SH Kelkar & Company Buyback
₹210
NOV 12, 2021
Dec 15, 2021
Dec 28, 2021

Aksharchem India Ltd

₹590
NOV 12,2021
Dec 08, 2021
Dec 21, 2021
MPS Buyback
₹900
Dec 17, 2021
Jan 14, 2022
Jan 28, 2022
Nucleus Software Buyback
₹700
Nov 27, 2021
Jan 03, 2022
Jan 14, 2022
Goldiam International Ltd Buyback
₹1200
Oct 27, 2021
Nov 26, 2021
Dec 09, 2021
Rishiroop Ltd. Buyback
₹125
SEP 09, 2021
 
Kaveri Seed Company Buyback
₹850
 
 
eClerkx Services Buyback
₹2850
SEP 30, 2021
18.10.2021
Star Cement Buyback
₹150
AUG 26, 2021
22.09.2021
 
NALCO Buyback
₹57.50
JAN 27
08.02.2021
 
GAIL Buyback
₹150
JAN 15
28.01.2021
NIIT Ltd Buyback
₹240
 DEC 24
01.2021
Engineers India Buyback
₹84
 DEC 22
01.01.2021
WIPRO Buyback
₹400
 Oct 13
11.12.2020
TCS Buyback
₹3000
 Oct 7
28.11.2020
IIFL Securities Buyback
₹54
 Nov 20
2020
NMDC Buyback
₹105
NOV 10, 2020
NOV 23, 2020
NTPC Buyback
₹115
NOV 2, 2020
NOV 13, 2020
HPCL Buyback
₹250
NOV 4, 2020
NOV 21, 2020
Ajanta Pharma Buyback
₹1850
NOV 3, 2020
Nov 13, 2020
JB Chemicals
₹330
12 Nov 19
22 Nov 19
How to Apply for Buybacks?
Now, you must be pondering that what the share buyback benefits are
Let us proceed further to unveil what are those benefits
What are the benefits?
Since the buyback shares are overwhelming, the earning per share will rise by default.
It is to be noted that, usually a buyback is done at a price higher than the prevailing market price, shareholder get lucrative exit option, especially when the shares are thinly traded.
It is also tax efficient isn't that enticing. Yes, as a way to reward the shareholders.
Now, the quite obvious query among you
How does the buyback of shares work?
Buyback is performed in the following two ways. Let's check them out?
The process is typically the reverse of the right issue. Here the corporation takes back its share from the shares, extinguishes the shares, and gives them cash.
Shareholders or investors might be presented with a tender offer, where they have to submit, or tender, all portions of shares within a given time frame at an exceptional rate superior to the market price.
The tender offer is an offer to buy shareholder shares.
Companies go for buyback of shares in an open market over an extended period of time or may even have outline repurchase share program
Example of a Buyback
A company's stock price has underperformed its competitor's stock even though it has had a successful year financially. To reward investors and provide a return to them, the company announces a share buyback program to repurchase 10 percent of its outstanding shares at the current market price.
The company had $1 million in earnings and 1 million outstanding shares before the buyback, equating to earnings per share (EPS) of $1. Trading at a $20 per share stock price, its P/E ratio is 20.
All else equal, 100,000 shares would be repurchased and the new EPS would be $1.11, or $1 million in earnings spread out over 900,000 shares. To keep the same P/E ratio of 20, shares would need to trade up 11 percent, to $22.22.
Why does a company buyback?
Below listed are a few reasons why a company buys back shares. Let's read what those reasons are
Dear investors, there could be much reason for why a company buys back shares but here in this post, I have mentioned a few cherry-picked relevant reasons for you
To give a boost to the share price-
By buying back shares, the number of outstanding shares decreases, causing a shorter supply for the existing demand, thereby increasing the price of the stock.
To Manage a controlling stake
Sometimes a company wants to manage/ maintain a controlling stake; the company has to buy back the outstanding shares.
Buyback is taxed as capital gains which are 10% if kept for more than a year.
On the other hand, the dividend is taxed as per the dividend distribution tax at 28.84%. it is a tax benefitted way to reward shareholders with great returns on their investment.
One of the obvious reasons is excess cash. Yes, at times when the company holds surplus cash and decides to invest in the company itself via the buyback instead of any alternative investment.
Does a Stock Buyback Affect the Share Price?
Do you know that a buyback would reduce the number of shares held by the public? Because every share of the stock is the partial share of the company, that fraction of the company that each of the shareholders holds increases.
Coming to the main point, in the near future, the stock price may rise because the shareholders know the buyback will forthwith boost earning per share. It is not beneficial for the long term
Let us understand this with the help of an example
In the year 2013, McDonald's bought back 18.7 million shares for $1.8 billion dollars — an average price of $96.96. Without the share buyback, McDonald's would have finished the year with 1,008.7 million shares outstanding. Each shareholder thus ended that year owning a 1.8% greater share of the company than they would have otherwise.
With fewer shares out there, earnings per share increased. Book value per share decreased — while each shareholder got a bigger share of the pie, the pie itself became smaller when McDonald's spent a lot of money on the buybacks.
What happens when a company buy back shares?
When this happens, the relative ownership stake of each investor increase because there are fewer shares, claims, on the earnings of the company.
BREAKING DOWN Buyback
Let's have a quick recap of what we have read so far
Buyback of shares or stock buyback refers to the corporate action in which a company repurchases its own shares from the existing shareholders.
During the buyback of shares, the price of shares is usually premium than the market price.
Buyback of shares can be done via the open market or through tender offer route.
So what are you waiting for, avail the opportunity to earn premium with buyback of shares?
Final words
Dear Readers,
I hope you had a great time reading about the buyback of shares. I wish that this post has been of great assistance.
Through this post I hoped your queries pertaining to the why would a company buybacks its own stock, how does a share buyback work is sorted up to now.
WHAT IS BUYBACK OF SHARES?
It is the process, where companies decide to purchase their own share from their existing shareholders either through a tender offer or through an open market. In such a situation, the price of concerning shares is higher than the prevailing market price.
What is Reasons for Share Buyback?
When there is excess cash but not enough projects to invest in.
It is a tax-effective rewarding option.
To consolidate hold over the company.
Needs of Money for business expansion.
To signal that the stock is undervalued
What is Impact of Share Buyback?
Effect on earnings per share (EPS)
Effect on financial statement
Effect on the company's portfolio
Effect on increasing shareholder value
How to offer shares for buyback?
In the tender offer for buyback, shareholders are required to tender the shares to participate. You can offer shares for buyback through your online trading account or alternatively by call n trade.
What are the steps and dates in a Buyback Process?
Board Meeting approves the proposal of buyback
Public announcement for Buyback
Record Date for determining the Buyback Entitlement and the names of Eligible Shareholders
Date of Opening of the Buyback Offer
Date of Closing of the Buyback Offer
When to invest in buyback Offer?
When the company announces buy back offer, that is the best time to start accumulating shares in your demat account. The buyback price is predetermined at the time of announcement. If the buyback price is 10 to 15% higher than the market price, then only it makes sense to invest money in buyback offers.
How long will it take to receive the money in my account after submitting the buyback application?
It takes up to 4-6 weeks to receive money in your account. First, you will get a confirmation email from the registrar regarding the acceptance of shares for buyback before receiving money.
Is there any brokerage charges I have to pay for tendering the shares for buyback?
Unlike IPOs, there are brokerage charges applied on the shares brought back by the company. Also, there will be demat charges for outgoing of shares from your demat account.
However, there is no brokerage charge for tendering the shares, but if your shares are brought back by the company then the brokerage charges will be applied on the number shares brought back by the company. You will receive the money in your account minus the brokerage charges and other tax.