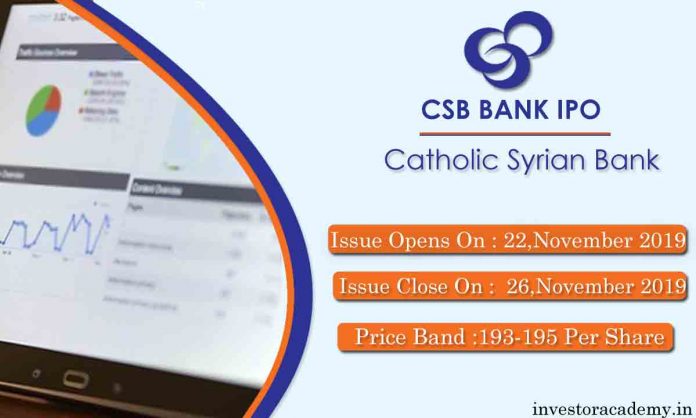 CSB Bank IPO Analysis, IPO Review, Dates, Price Bands, Market Lot, Catholic Syrian Bank IPO Grey Market Price Details
Kerala-based private sector lender CSB Bank Limited (formerly known as Catholic Syrian Bank Limited) said that it will launch its initial public offering (IPO) between 22 to 26 November at a price band of Rs 193-195. The Rs 410 crore IPO will take bids for a lot size of 75 shares and its multiples.
The proposed initial share sale will see the company raise fresh capital worth ₹24 crore, while its existing shareholders, including ICICI Lombard General Insurance, HDFC Life Insurance, ICICI Prudential Life Insurance, The Federal Bank, Bridge India Fund, Satellite Multicomm, Way2Wealth Securities and Edelweiss Tokio Life Insurance, will sell 19.78 million shares for ₹385.71 crores via the offer for sale route.
The book running lead managers for the issue are Axis Capital and IIFL Securities.
CSB Bank is one of the oldest private lenders in India, having a strong presence in Kerala, Tamil Nadu, Maharashtra, and Karnataka.
For the six months ended September 30, the bank reported revenue of ₹817 crores. Its profit, for the first half of FY20, stood at ₹44.3 crores, reversing the loss of ₹65.7 crore reported in FY19.
CSB Bank IPO Issue Details:
CSB Bank IPO details
Subscription Dates
22 – 26 November 2019
Price Band
INR 193 – 195 per share
Fresh issue
INR 24 crore
Offer For Sale
19,778,298 shares (INR381.72 – 385.68 crore)
Total IPO size
INR 405.72 – 409.68 crore
Minimum bid (lot size)
75 shares
Face Value 
INR 10 per share
Retail Allocation
10%
Listing On
NSE, BSE
Overview of CBC Bank LTD.
CSB Bank is one of the oldest private sector banks in India with a history of over 98 years, and a strong base in Kerala along with a significant presence in Tamil Nadu, Karnataka, and Maharashtra.
It offers a wide range of products and services to our overall customer base of 1.3 million as of March 31, 2019, with a particular focus on SME, retail, and NRI customers. Bank deliver their products and services through multiple channels, including 414 branches (excluding three service branches and two asset recovery branches) and 277 ATMs spread across 16 states and four union territories as on March 31, 2019, and various alternate channels such as micro ATMs, debit cards, internet banking, mobile banking, point of sale services, and UPI.
The CSB Bank believe with their focus on the quality of service and nurturing long term relationship with our customers, we have developed a well-recognized and trusted brand in south India, particularly in the states of Kerala and Tamil Nadu.
CSB Bank's financial performance (in INR crore)
 
FY2017
FY2018
FY2019
H1 FY2020
Revenue
1,617.5
1,422.2
1,483.4
816.7
Expenses
1,465.8
1,347.9
1,470.1
713.1
Net income
-58.0
-127.1
-65.7
44.3
Net margin (%)
-3.6
-8.9
-4.4
5.4
In terms of asset quality, the bank's gross non-performing assets (NPA) were 2.86% of its total advances, declining from 4.87% as of March 31. The bank's total NPA provisioning and write-offs stood at ₹271 crore for the six month period ended September 30, against ₹ 1,131 crore provisioning and write-offs between FY17-19.
CSB Bank Financials
CSB Bank reported a profit of Rs 44.27 crore in the six-month period ended September 2019 while it had posted a loss of Rs 65.69 crore in FY19 against loss of Rs 127.09 crore in FY18.
Net interest income for the first half of FY20 stood at Rs 279.52 crore while the same in FY19 was at Rs 439.95 crore, increased from Rs 384.81 crore in FY18.
The asset quality of the bank improved with gross non-performing assets (NPA) as a percentage of gross advances declining to 2.86 percent at the end of September 2019, from 4.87 percent in March 2019.
Net NPA also decreased to 1.96 percent at the end of September this year, from 2.27 percent in March 2019.
The provisioning coverage ratio, too, improved to 79.45 percent in September, from 78.16 percent in March 2019.
The net interest margin stood at 3.43 percent during the April-September period this year and the same was at 2.80 percent in FY19 primarily on account of reduction in the cost of funds and an increase in credit to deposit ratio.
Video Source:- Chanakya Ni Pothi
CSB Bank IPO Dates & Price Band: (Tentative)
IPO Open: 22-November-2019
IPO Close: 26-November-2019
IPO Size: Approx ₹400 Crore (Approx)
Face Value: ₹10 Per Equity Share
Price Band: ₹193 to ₹195 Per Share
Listing on: BSE & NSE
Equity: 19,778,298 Shares
Discount: ₹10 for Retail & Employees
Allocation: QIB: 75%, HNI: 15%, Retail: 10%
CSB Bank IPO Market Lot:
Shares: Apply for 75 Shares (Minimum Lot Size)
Minimum Amount: ₹14625 for Retail 
Maximum Amount: ₹190125
CSB Bank IPO Allotment & Listing:
Basis of Allotment: Maximum Amount:
Refunds: 03 December 2019
Credit to Demat accounts:03 December 2019
Listing: 04 December 2019
CSB Bank IPO Grey Market Premium
CSB Bank Grey market premium as on today is ₹55-60, Kostak ₹160-170 & Subject to Sauda is ₹N/A
How to Apply for CSB Bank IPO?
If you have a Demat account, most banks offer the online IPO application. You can also contact the broker to apply for in CSB Bank IPO?
Most banks including the SBI bank, ICICI Bank, Axis, and Kotak bank allow the customer to apply in IPO using the Demat account.
CSB Bank IPO should you invest or not?
Competitive Strengths
> Strong channel network and trusted brand in South India
> Capital position has been significantly strengthened post FIHMs investment in the bank.
> It has well established SME business
> Its retail offering is driven by a strong gold loan portfolio: Gold loan book has grown by 23 percent from Rs 2,026.3 crore in FY17 to Rs 2,483.6 crore in FY18 and by 34 percent to Rs 3,333.1 crore in FY19.
> It has a stable and granular deposit base.
> It has professional and experienced management with a strong and independent board.
> It has instituted prudent risk management controls, policies, and procedures that are critical for the long-term sustainable development of business.
Business Strategies
> Accelerate transformation as new age private bank
> Grow asset business with focus on SME, agricultural and retail customers by leveraging capital position.
> Continue to leverage strong deposits franchise
> Grow and diversify distribution infrastructure in key geographical locations.
> Maximizing non-interest income by widening products and services for corporates as well as retail customers.
> Invest in technology to improve operational efficiency, scalability and customer experience.
> Strengthening risk management
> Focus on NPA recovery and improve asset quality
CSB Bank IPO Registrar:
Link Intime India Private Limited
C-101, 1st Floor, 247 Park
L.B.S Marg, Vikhroli (West)
Mumbai 400 083
Telephone no.: +91 22 4918 6200
E-mail: csb.ipo@linkintime.co.in
Investor Grievance e-mail: csb.ipo@linkintime.co.in
Website: www.linkintime.co.in
Contact Person: Mr. Shanti Gopalkrishnan
SEBI Registration No.: INR000004058
Note: Check CSB Bank IPO allotment status on Linkintime website allotment URL. Click Here
CSB Bank IPO Lead Managers:
Axis Capital Ltd
IIFL Securities Ltd
Company Address:
CSB Bank Limited
'CSB Bhavan',
Post Box No. 502,
St. Mary's College Road,
Thrissur 680 020, Kerala
Contact Person: Mr. Sijo Varghese
Company Secretary and Compliance Officer
Telephone no.: +91 487 2333 020, +91 487 2338 764
Facsimile: +91 487 2333 170
E-mail: investors@csb.co.in
Website: www.csb.co.in.
I hope that the above information about Catholic Syrian Bank IPO ("CSB Bank IPO") has been of great use.
If you find the above information useful please share it with others via Facebook and Twitter.
You can read more investment researched articles on our website investor's academy.
It is important to be financially literate to make a well-informed investment decision.
Stay tuned for more updates. Like, share and subscribe.
Drop your comment, queries or feedback in the given below comment box.
We would love to hear from you.
Thanks and have a nice day.
CSB Bank IPO FAQs:
What is CSB Bank IPO?
CSB Bank IPO is a main-board initial public offering of [.] equity shares of the face value of ₹10 aggregating up to ₹409.68 Crores.
The issue price of the IPO is ₹193 to ₹195 Per Equity Share. The minimum order quantity is 75 Shares per application and the offer type is Book Built Issue.
The IPO opens on Nov 22, 2019 and closes on Nov 26, 2019.
Link Intime India Private Ltd is the registrar for the IPO. The shares are proposed to be listed on BSE, NSE.
When CSB Bank IPO will open for QIB, NII, and Retail?
The IPO to open on 22nd November 2019 for QIB, NII, and Retail Investors and closes on Nov 26, 2019.
How to apply for CSB Bank IPO?
CSB Bank IPO application can be done through banks using ASBA online or through stock brokers trading account using UPI. All popular banks i.e. HDFC, ICICI, and SBI offer online IPO applications. An investor can also apply directly through their broker (i.e. Zerodha, Sharekhan) using UPI as a payment method.
When CSB Bank IPO will open for Anchor Investors?
The Anchor Investors bidding will be on 21st November 2019.
When CSB Bank IPO allotment?
The finalization of Basis of Allotment for CSB Bank IPO will be done on Dec 2, 2019, and the allotted shares will be credited to your demat account by Dec 3, 2019. Check the CSB Bank IPO allotment status.
When is CSB Bank IPO listing date?
The CSB Bank IPO listing date is not yet announced. The tentative date of CSB Bank IPO listing is Dec 4, 2019.
What is the lot size of CSB Bank IPO?
CSB Bank IPO lot size is 75 Shares and the minimum order quantity is 75 Shares.