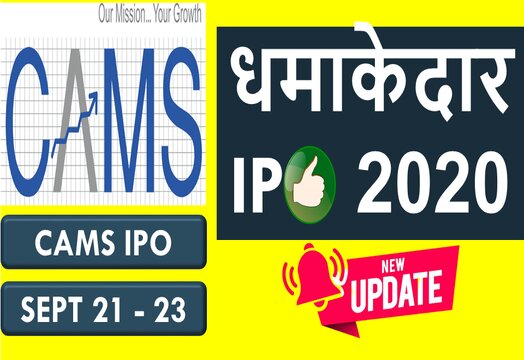 CAMS IPO Review, Dates, Price Bands, Market Lot, Computer Age Management Services IPO Grey Market Price Details
Computer Age Management Services (CAMS), backed by Warburg Pincus and National Stock Exchange, is likely to launch its initial public offering (IPO) on September 21, 2020.
CAMS is a technology-driven financial infrastructure and services provider to mutual funds and other financial institutions. "The maiden public offer of CAMS is expected to hit Dalal Street on September 21 and close on September 23.
The company is likely to raise around Rs 1,500 crore via this public issue which consists of an offer for sale by promoters and investors
About CAMS
According to CRISIL, CAMS (Computer Age Management Services) is India's largest registrar and transfer agent of mutual funds, with an aggregate market share of 69.4 percent based on mutual fund average assets under management (AAUM) managed by its clients and serviced by itself during November 2019.
CAMS has been a part of the Indian Financial services segment for over two decades and has built good reputation as Registrar and Transfer Agency to the Asset Management Industry of India and as a technology enabled service solutions partner to Private Life Insurance, Private Equity Funds, Banks, Non-Banking Finance Companies.
Besides serving as B2B solutions partner, CAMS brings the ability of a B2C to serve the end customers through a variety touch points such as pan India network of Service centres, White Label Call centre, Online, Mobile app and Chatbot Services.
CAMS has three back office delivery centres in Chennai and one BCP site at Coimbatore, about 500 Kms from Chennai and a Pan India network of 278 customer service centres. Our front, middle and back offices are powered by a talent pool of 4,314 permanent resources as at 30th Sept 2019.
CAMS IPO – Issue Details:
Issuer
Computer Age Management Services
Issue Type
Book Built Issue IPO
Issue Period
Issue Opens: Sep 21, 2020
Issue Closes: Sep 23, 2020
Price Brand
₹1229 –₹1230 Per Share
Issue Size
₹2240 – ₹2244 Crores (Approx)
Face Value
Rs.10 per Equity Share
Market Lot
12 Shares and in multiples thereof
Maximum Bid amount for Retail
Rs. 2 Lakhs
QIB
50% of the issue size
NIB
15% of the issue size
Retail Individual Bidders
35% of the issue size
Offer for Sale
 
Employee Discount:
₹122
Listing at
NSE & BSE
Registrar
 
Book Running Lead Managers
 
Grey Market Price
CAMS IPO Grey Market Premium
How to Sell CAMS IPO Shares?
CAMS IPO LISTING DAY
CAMS IPO Listing ? (Listing Gain, Date & Time)
CAMS IPO GMP & ALLOTMENT
CAMS IPO Review
CAMS IPO Dates & Price Band
| | |
| --- | --- |
|  IPO Open: |  21 September 2020 |
|  IPO Close: |  23 September 2020 |
|  IPO Size: | ₹2,244.33 Cr (Approx) |
|  Face Value: |  ₹10 Per Equity Share |
|  Price Band: | ₹1229 to ₹1230 per equity share |
|  Listing on: |  BSE & NSE |
|  Retail Portion: |  35% |
|  Equity: |  12,164,400 Shares |
CAMS IPO Market Lot:
| | |
| --- | --- |
|  Lot Size: |  Minimum 12 Shares & Maximum 156 Shares |
|  Minimum Amount: |  ₹15,000 |
|  Maximum Amount: |  ₹1,95,000 |
CAMS IPO Allotment & Listing:
| | |
| --- | --- |
|  Basis of Allotment: |  28 September 2020 |
|  Refunds: |  29 September 2020 |
|  Credit to Demat Account: |  30 September 2020 |
|  Listing Date: |  01 October 2020 |
Objects of the Issue:
The objects of the Offer are: 1. To carry out the Offer for Sale of up to 12,164,400 Equity Shares by the Selling Shareholders; and 2. Achieve the benefits of listing the Equity Shares on the BSE.
Computer Age Management Services (CAMS) Financial
Company Financials:
Summary of financial Information (Restated)
Particulars
For the year/period ended (₹ in Million)
 
30-Sept-19
31-Mar-19
31-Mar-18
31-Mar-17
Total Assets
8,871.15
7,363.24
6,978.48
5,848.49
Total Revenue
3,600.29
7,114.96
6,614.52
5,026.38
Profit After Tax
827.49
1,308.95
1,463.05
1,242.16
How to Apply for CAMS IPO?
If you have a Demat account, most banks offer the online IPO application. You can also contact the broker to apply for in Computer Age Management Services (CAMS) IPO? Most banks including the SBI bank, ICICI Bank, Axis, and Kotak bank allow the customer to apply in IPO using the Demat account.
How to Apply CAMS IPO With Kotak bank Internet banking?
Company Contact Info:
Computer Age Management Services Ltd New No. 10, Old No. 178, M.G.R. Salai, Nungambakkam, Chennai 600 034, Phone: +91 44 2843 2770 Email: secretarial@camsonline.com Website: http://www.camsonline.com/
Computer Age Management Services IPO Registrar:
Link Intime India Private Limited C-101, 1st Floor, 247 Park, Lal Bhadur Shastri Marg, Vikhroli (West) Mumbai 400 083 Maharashtra, India Tel: +91 22 4918 6200 E-mail: cams.ipo@linkintime.co.in Investor grievance e-mail: cams.ipo@linkintime.co.in Website: www.linkintime.co.in Contact Person: Shanti Gopalkrishnan SEBI Registration No.: INR000004058
Computer Age Management Services (CAMS) IPO allotment status
Link Intime Website (Click on the below Link)
Final Words Dear readers, I hope that the above information about Computer Age Management Services (CAMS) IPO has been of great use. If you find the above information useful please share it with others via Facebook and Twitter. You can check more investment researched videos on our YouTube Channel.
It is important to be financially literate to make a well-informed investment decision. Stay tuned for more updates. Like, share and subscribe. Drop your comment, queries or feedback in the given below comment box. We would love to hear from you. Thanks and have a nice day.
CAMS IPO FAQs
When CAMS IPO will open?
The CAMS IPO opens on Sep 21, 2020 and closes on Sep 23, 2020.
What is CAMS IPO Listing Date?
CAMS IPO listing date is 05 October 2020. The IPO to list on NSE and BSE.
How to Apply CAMS IPO?
You can apply CAMS IPO via ASBA online via your bank account. You can apply ASBA online via UPI through your stock brokers. You can also apply via your stock brokers by filling up the offline form.
Steps to apply in CAMS IPO through Zerodha
Visit the Zerodha website and login to Console. Go to Portfolio and click the IPOs link. Go to the 'CAMS IPO' row and click the 'Bid' button. Enter your UPI ID, Quantity, and Price. 'Submit' IPO application form. Visit the UPI App (net banking or BHIM) to approve the mandate. Visit Zerodha IPO Application Process for more detail.