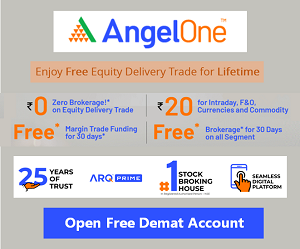 Angel One IPO Review, Dates, Price Bands, Market Lot, Angel One IPO Grey Market Price Details
The market is abuzz with IPO offerings this week. After the Chemcon IPO that got fully subscribed within two hours on Monday, brokerage firm Angel One is all set to hit Dalal Street on Tuesday, 22 September.
The company will be selling 1,96,72,130 shares through the issue in order to raise Rs 601.96 crore from the primary market. At the upper end of the price band of Rs 305-Rs 306, the issue is asking for a valuation of 26.84 times FY20 earnings.
About Angel One
Angel One Limited (formerly known as Angel One Private Limited) is a member of the Bombay Stock Exchange (BSE), National Stock Exchange (NSE), Metropolitan Stock Exchange of India (MSEI), NCDEX & MCX. Angel One Limited (formerly known as Angel One Private Limited) is also registered as a Depository Participant with CDSL.
Angel is one of the largest retail broking houses in India in terms of active clients on NSE as of June 30, 2020 (Source: CRISIL Report). We are a technology-led financial services company providing broking and advisory services, margin funding, loans against shares (through one of our Subsidiaries, AFPL) and financial products distribution to our clients under the brand "Angel One".
Angel One and allied services are offered through (i) our online and digital platforms, and (ii) our network of over 11,000 Authorised Persons (the "Authorised Persons"), as of June 30, 2020. We have had more than 4.39 million downloads of our Angel One mobile application and nearly 1 million downloads of our Angel BEE mobile application as of June 30, 2020, which enable our clients to avail our services digitally. Digital marketing has enabled our Company to garner 398 million digital impressions in June, 2020 on its various online and digital platforms.
Angel customer outreach, spans across approximately 96.87% or 18,649 pin codes in India as of June 30, 2020. We manage ₹ 132,540 million in client assets and over 2.15 million operational broking accounts as of June 30, 2020.
Angel One IPO – Issue Details:
Issuer
Angel One LTD
Issue Type
Book Built Issue IPO
Issue Period
Issue Opens: Sep 22, 2020
Issue Closes: Sep 24, 2020
Price Brand
₹305 to ₹306 per equity share
Issue Size
₹600 Crores (Approx)
Face Value
Rs.10 per Equity Share
Market Lot
12 Shares and in multiples thereof
Maximum Bid amount for Retail
Rs. 2 Lakhs
QIB
50% of the issue size
NIB
15% of the issue size
Retail Individual Bidders
35% of the issue size
Offer for Sale
₹300.00 Cr
Fresh Issue
₹300.00 Cr
Listing at
NSE & BSE
DEMAT
OPEN Free Angel One DEMAT Account
Book Running Lead Managers
 
Grey Market Price
IPO Grey Market Premium
Angel One IPO Listing Date & Time
Angel One IPO GMP Today
Angel One IPO Dates & Price Band
| | |
| --- | --- |
|  IPO Open: |  22 September 2020 |
|  IPO Close: |  24 September 2020 |
|  IPO Size: |  Approx ₹600 Crore (Approx) |
|  Face Value: |  ₹10 Per Equity Share |
|  Price Band: | ₹305 – ₹306  Per Share |
|  Listing on: |  BSE & NSE |
|  Retail Portion: |  35% |
|  Equity: | 1,96,07,842 Shares |
Angel IPO Market Lot:
| | |
| --- | --- |
|  Lot Size: | Minimum 49 Shares & Maximum 637 Shares |
|  Minimum Amount: |  ₹14,994 |
|  Maximum Amount: | ₹194,922 |
Angel IPO Allotment & Listing:
| | |
| --- | --- |
|  Basis of Allotment: | 29 September 2020 |
|  Refunds: | 30 September 2020 |
|  Credit to Demat Account: | 01 October 2020 |
|  Listing Date: | 05 October 2020 |
Objects of the Issue:
The Net Proceeds from the fresh Issue will be utilised towards the following objects:
To meet working capital requirements; and
General corporate purposes
Angel One Financial
Company Financials:
Summary of financial Information (Restated)
Particulars
For the year/period ended (₹ in Million)
30 June 2020
31 March 2020
31 March 2019
31 March 2018
Total Assets
29,731.02
21,592.05
21,690.56
22,828.67
Total Revenue
2,440.86
7,427.79
7,626.47
7,536.55
Profit After Tax
381.83
866.24
766.94
1,010.52
How to Apply for Angel One IPO?
If you have a Demat account, most banks offer the online IPO application. You can also contact the broker to apply for in Angel One ltd IPO? Most banks including the SBI bank, ICICI Bank, Axis, and Kotak bank allow the customer to apply in IPO using the Demat account.
How to Apply Angel IPO With Kotak bank Internet banking?
Company Contact Info:
Angel One Ltd G-1, Ground Floor, Akruti Trade Centre, Road No. 7, MIDC, Andheri (East), Mumbai 400 093 Phone: +91 22 4000 3600 Email: investors@angelbroking.com Website: https://www.angelbroking.com/
Angel One IPO Registrar:
Link Intime India Private Ltd Link Intime India Private Ltd C 101, 247 Park, L.B.S.Marg, Vikhroli (West), Mumbai – 400083 Phone: +91-22-4918 6270 Email: angel.ipo@linkintime.co.in Website: http://www.linkintime.co.in
Angel One IPO Allotment status
Link Intime Website (Click on the below Link)
Final Words
Dear readers, I hope that the above information about Angel One IPO has been of great use. If you find the above information useful please share it with others via Facebook and Twitter. You can check more investment researched videos on our YouTube Channel.
It is important to be financially literate to make a well-informed investment decision. Stay tuned for more updates. Like, share and subscribe. Drop your comment, queries or feedback in the given below comment box. We would love to hear from you. Thanks and have a nice day.
Angel One IPO FAQs
When Angel One IPO will open?
The Angel One IPO opens on Sep 21, 2020 and closes on Sep 23, 2020.
What is Angel One IPO Listing Date?
Angel One IPO listing date is 05 October 2020. The IPO to list on NSE and BSE.
How to Apply Angel One IPO?
You can apply Angel IPO via ASBA online via your bank account. You can apply ASBA online via UPI through your stock brokers. How to apply IPO through ASBA?
Steps to apply in Angel IPO through Zerodha
Visit the Zerodha website and login to Console. Go to Portfolio and click the IPOs link. Go to the 'Angel IPO' row and click the 'Bid' button. Enter your UPI ID, Quantity, and Price. 'Submit' IPO application form. Visit the UPI App (net banking or BHIM) to approve the mandate. Visit Zerodha IPO Application Process for more detail.