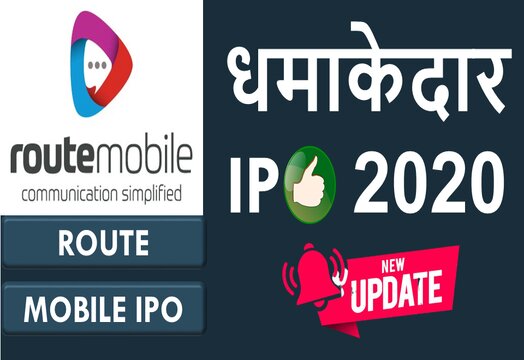 Route Mobile IPO Review, Dates, Price Bands, Market Lot, Route Mobile IPO Grey Market Price Details
The Rs 600 crore Route Mobile initial public offer (IPO) is all set to hit the primary market on Wednesday. The omnichannel cloud communication service provider has fixed the price band for the issue at Rs 345-Rs 350 per share. At the higher end of the price band, the company is seeking 25.3 times PE on FY20 basis.
The issue would comprise of a fresh issue of up to Rs 240 crore. In addition, existing promoters would offer shares aggregating up to Rs 360 crore in an offer for sale (OFS). This would include shares of up to Rs 180 crore by Sandipkumar Gupta and up to Rs 180 crore by Rajdipkumar Gupta.
Investors could bid for a minimum bid lot of 40 shares and in multiples of 40 shares, thereafter. The issue will close on September 11, Friday.
About Route Mobile
Route Mobile is a leading Cloud Communication Platform provider, catering to enterprises, over-the-top (OTT) players and mobile network operators (MNO). Our range of enterprise communication services includes smart solutions in Messaging, Voice, Email, and SMS Filtering, Analytics & Monetization.
Route Mobile IPO – Issue Details:
Issuer
Route Mobile
Issue Type
Book Built Issue IPO
Issue Period
Issue Opens: Sep 9, 2020
Issue Closes: Sep 11, 2020
Price Brand
₹345 to ₹350 per equity share
Issue Size
₹600 Cr
Face Value
Rs.2 per Equity Share
Market Lot
40 Shares and in multiples thereof
Maximum Bid amount for Retail
Rs. 2 Lakhs
QIB
50% of the issue size
NIB
15% of the issue size
Retail Individual Bidders
35% of the issue size
Fresh Issue
₹240.00 Cr
Offer for Sale
₹360 Cr
Listing at
NSE & BSE
Registrar
KFin Technologies Private Limited
Book Running Lead Managers
 
Grey Market Price
Route Mobile IPO Grey Market Premium
Route Mobile IPO Listing Gain
Route Mobile IPO GMP Today
Route Mobile IPO Dates & Price Band
| | |
| --- | --- |
|  IPO Open: |  09 September 2020 |
|  IPO Close: |  11 September 2020 |
|  IPO Size: |  Approx ₹600 Crore (Approx) |
|  Face Value: |  ₹10 Per Equity Share |
|  Price Band: |  ₹345-₹350 Per Share |
|  Listing on: |  BSE & NSE |
|  Retail Portion: |  35% |
|  Equity: | 1,71,42,856 Shares |
Route Mobile IPO Market Lot:
| | |
| --- | --- |
|  Lot Size: |  Minimum 40 Shares & Maximum 560 Shares |
|  Minimum Amount: |  ₹14,000 |
|  Maximum Amount: |  ₹1,96,000 |
Route Mobile IPO Allotment & Listing:
| | |
| --- | --- |
|  Basis of Allotment: |  16 September 2020 |
|  Refunds: |  17 September 2020 |
|  Credit to Demat Account: |  18 September 2020 |
|  Listing Date: |  21 September 2020 |
Objects of the Issue:
The company proposes to utilise the Net Proceeds towards funding the following objects: 1. Repayment or pre-payment, in full or part, of certain borrowings of our Company; 2. Acquisitions and other strategic initiatives; 3. Purchase of office premises in Mumbai; and 4. General corporate purposes.
Route Mobile Financial 
Company Financials:
Summary of financial Information (Restated Consolidated)
Particulars
For the year/period ended (₹ in Million)
 
30-June-20
31-Mar-20
31-Mar-19
31-Mar-18
Total Assets
6,348.31
6,265.48
5,057.81
4,473.66
Total Revenue
3,122.95
9,681.02
8,523.77
5,094.85
Profit After Tax
269.34
691.02
545.32
466.77
Route Mobile IPO Review:
Subscribe for Short Term and Long Term View
How to Apply for Route Mobile IPO?
If you have a Demat account, most banks offer the online IPO application. You can also contact the broker to apply for in route mobile IPO? Most banks including the SBI bank, ICICI Bank, Axis, and Kotak bank allow the customer to apply in IPO using the Demat account.
How to Apply Route Mobile IPO With Kotak Internet banking?
Route Mobile IPO Registrar:
KFintech Private Limited
Selenium Tower B, Plot 31-32
Gachibowli, Financial District, Nanakramguda
Hyderabad 500 032, Telangana, India
Tel: +91 40 6716 2222
Fax: +91 40 2343 1551
Email: einward.ris@karvy.com
Investor grievance email: routemobile.ipo@karvy.com
Website: www.karisma.karvy.com
Contact Person: M Murali Krishna
SEBI Registration No: INR000000221
Company Contact Info:
Route Mobile Limited
4th Dimension, 3rd Floor, Mind Space, Malad (West),
Mumbai 400 064 Phone: +91 22 4033 7676
Email: investors@routemobile.com
Website: www.routemobile.com
Check IPO Allotment Status:
KfinTech Website (Click on the below Link)
Final Words
Dear readers, I hope that the above information about Route Mobile IPO has been of great use. If you find the above information useful please share it with others via Facebook and Twitter.
You can check more investment researched videos on our YouTube Channel.
It is important to be financially literate to make a well-informed investment decision. Stay tuned for more updates. Like, share and subscribe. Drop your comment, queries or feedback in the given below comment box. We would love to hear from you. Thanks and have a nice day.
Route Mobile IPO FAQs
When Route Mobile IPO will open?
The Route Mobile IPO opens on Sep 9, 2020 and closes on Sep 11, 2020.
What is Route Mobile IPO Listing Date?
Route Mobile IPO listing date is 21 September 2020. The IPO to list on NSE and BSE.
How to Apply Route Mobile IPO?
You can apply Route Mobile IPO via ASBA online via your bank account. You can apply ASBA online via UPI through your stock brokers. You can also apply via your stock brokers by filling up the offline form.
Steps to apply in Route Mobile IPO through Zerodha
Visit the Zerodha website and login to Console.
Go to Portfolio and click the IPOs link.
Go to the 'Route Mobile IPO' row and click the 'Bid' button.
Enter your UPI ID, Quantity, and Price.
'Submit' IPO application form.
Visit the UPI App (net banking or BHIM) to approve the mandate.
Visit Zerodha IPO Application Process for more detail.