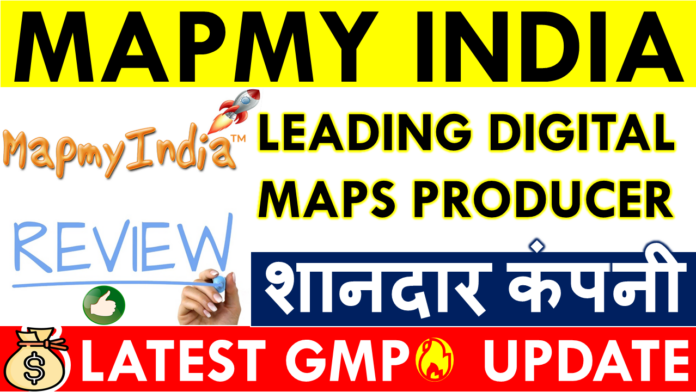 MapmyIndia IPO GMP Today, MapmyIndia IPO Grey Market Premium Updates | Tega Industries IPO Listing Gain, Latest target, Opening gain
MapmyIndia IPO date fixed, the initial public offer (IPO) to hit the market on December 09, 2021. MapmyIndia IPO to raise ₹1040 crores via IPO. The retail quota is 35% with QIB 50% and HNI 15%.
MapmyIndia is a leading provider of advanced digital maps, geospatial software, and location-based IoT technologies in India. The company is a data and technology products and platforms company, offering proprietary digital maps as a service (MaaS), software as a service (SaaS), and platform as a service (PaaS).
The company provides products, platforms, application programming interfaces (APIs), and solutions across a range of digital map data, software, and IoT for the Indian market under the (MapmyIndia) brand, and for the international market under the (Mappls) brand.
The digital maps offered by the company cover 6.29 Mn Km of roads in India, representing 98.50% of India's road network. The company's digital map data provides location, navigation, analytics, and other information for 7,933 towns, 6,37,472 villages, 17.79 Mn places across many categories.
Check out MapmyIndia IPO grey market premium, Kostak rates, and subject to sauda rates as of today.
MapmyIndia IPO Details:
Issuer
C.E. Info Systems Limited (MapmyIndia)
Issue Type
Book Built Issue IPO
Issue Period
Issue Opens: Dec 09, 2021
Issue Closes: Dec 13, 2021
Price Brand
₹1000 to ₹1033 Per Share
Issue Size
₹1040 Crores
Face Value
Rs.2 per Equity Share
Market Lot
14 Shares
Maximum Bid amount for Retail
Rs. 1,88,006
QIB
50% of the issue size
NIB
15% of the issue size
Retail Individual Bidders
35% of the issue size
Offer for Sale
₹1040 Cr
Listing at
NSE & BSE
Apply With
Upstox Free DEMAT Account
Equity
10,063,945 Shares
Grey Market Price
MapmyIndia IPO GMP Today
MapmyIndia IPO GMP Rates day by day
MapmyIndia IPO Grey market premium as of today
Date
GMP (in INR)
Kostak (in INR)
Subject to Sauda
HNI COST
₹716
22 DEC 2021
21 DEC 2021
₹705
₹9000
20 DEC 2021
₹600
₹9000
19 DEC 2021
₹700
18 DEC 2021
₹820
₹9000
17 DEC 2021
₹940
₹950
₹11500
16 DEC 2021
₹925
₹950
₹11500
15 DEC 2021
₹1010
₹950
₹11500
14 DEC 2021
₹1050
₹1050
₹10500
13 DEC 2021
₹1085
₹950
₹10000
12 DEC 2021
₹1050
₹950
₹10000
11 DEC 2021
₹1010
₹850
₹10000
10 DEC 2021
₹985
₹850
₹10000
09 DEC 2021
₹800
₹700
₹8000
08 DEC 2021
₹800
₹700
₹8000
07 DEC 2021
₹700
₹600
₹6500
06 DEC 2021
₹750
₹600
₹5000
MapmyIndia IPO Market Lot:
| | |
| --- | --- |
|  Lot Size: |  Minimum 14 Shares & Maximum 182 Shares |
|  Minimum Amount: |  ₹14,462 |
|  Maximum Amount: | ₹188,006 |
MapmyIndia IPO Allotment & Listing:
| | |
| --- | --- |
|  Basis of Allotment: | Dec 16, 2021 |
|  Refunds: | Dec 17, 2021 |
|  Credit to Demat Account: | Dec 20, 2021 |
|  Listing Date: | Dec 21, 2021 |
How to Apply for MapmyIndia IPO?
If you're a new investor Open DEMAT Account for free with Angel Broking and build wealth with the best stock choices. Join 1 million+ family of happy customers.
How to Apply the MapmyIndia IPO through Zerodha?
Log in to Console in Zerodha Website or in Application. Go to Portfolio and Click on IPO. You will see the IPO Name "MapmyIndia". Click on Bid Button. Enter your UPI ID, Quantity and Price. Submit IPO Application Form. Now go to your UPI App on Net Banking or BHIM App to Approve the mandate. Open Demat Account with Zerodha.
How to Apply the MapmyIndia IPO through Upstox?
Log in to Upstox Application with your credentials. Select the IPO. You will see the IPO Name "MapmyIndia". Click on Bid Button. Confirm your application. Now go to your UPI App on Net Banking or BHIM App to Approve – mandate. Open Demat Account with Upstox.
In case you have not been allotted or for any partial allotment of IPO shares, the blocked amount, if any, will be unblocked/released on or before UPI mandate expiry date. Please reach out to your bank in case funds are not unblocked/released post the mandate expiry date.
PARENT COMPANY FOR SHAREHOLDER QUOTA
IPO ALLOTMENT TIPS & TRICKS
Check:- MapmyIndia IPO Allotment Status
Disclaimer:
– IPO Grey Market Premium (IPO GMP) mention is valid for the specific date as mentioned in the header.
– We are not buying and selling IPO forms on IPO Grey Market.
– Kostak Rate is the premium one gets by selling his/her IPO application (in an off-market transaction) to someone else even before allotment or listing of the issue.
– Do not subscribe for IPO by just seeing premium Price as it may change anytime before listing. Subscribe only considering Fundamental of the companies.
– This is only coverage of News related to Grey Market . We don't deal in Grey market premium, nor we recommend dealing in Grey Market. Investment decision based on Grey Market trends can be faulty.
IPO GMP rates are provided as sourced from market intelligence. Please note these IPO GMP rates may be different depending on geographies and markets.
We don't trade into grey market nor do we facilitate buying or selling of IPO forms.
What is Grey Market?
Grey Market is the term used to describe unregulated over-the-counter market for trading IPO applications and IPO shares before the stock is listed at a stock market. This is a way for dealers to support their customers who may want to exit before listing.
This is also a way to boost the listing price and support the issue before listing happens. There are two kinds of transactions that happen in thee IPO grey market:
Trade of IPO shares at a grey market premium
Trade of IPO application at a kostak.
What is Grey Market Premium?
GMP or Grey Market Premium is the premium at which equity shares from the IPO are being traded in the grey market.
This could either be a positive or negative – meaning the trading price in the grey market is either higher or lower than issue price respectively, based on demand and supply for the shares.
Typically, investors who do not want to take the risk of allocation not happening through IPO will buy shares in the gray market and hope to flip the shares on listing to make a good profit.
What is Kostak?
Kostak is the premium at which IPO application is being traded in the grey market. Applications are typically traded after the application window is closed but the allotment has not yet been finished.
It is rare for someone to trade IPO application post-allocation. This is a way for investors to increase their chance of shares being allotted as the allocation process treats each retail application equally. An example (indicative) for kostak is:
Example:
IGL Limited
Issue Price: Rs 306 Per Equity Share (Maximum Bid price)
Lot Size: 45
Grey Market Premium: Rs 220 to Rs 230
Kostak (Rs 13770): Rs 680 to Rs 720
This means IGL IPO applications of Rs 13500 are being traded in IPO Grey Market at Rs 695 to Rs 720.
Despite the fact that this IPO's Grey Market Premium is roughly 75% of the issue price, the 'Kostak' is just 5% of the application value.
As can be seen the Kostak is at a much lower %age than GMP. This indicates that the grey market expects the issue to be oversubscribed and expects on an average only one lot to be allocated per application.
Kostak rate is the amount an investor gets by selling his/her IPO application in grey market. This is the amount an investor stands to gain, irrespective of allotment status.
Subject to Sauda simply reflects the amount which an investor stands to get by selling his/her application for firm allotment. The key operative word here is firm allotment. In case of no allotment to the applicant, the sauda stands cancelled.
In case of 'Subject to Sauda' deal, while selling IPO application in the grey market, buyer and seller agree that deal is only valid if the seller will get the allotment. If the seller doesn't get any shares in IPO process, the deal gets avoid.
FAQs