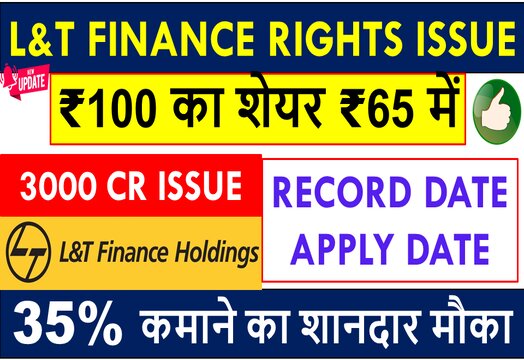 L&T Finance Holding Rights Issue Date, Review, Price, Entitlement Ratio, LT Finance Rights Issue Important Dates, How to Apply? Complete Details
L&T Finance Holdings to launch Rs 2,998.61-crore rights issue on Feb 1.
The company will issue up to 46,13,25,021 equity shares for cash, at a price of Rs 65 per equity share (including a premium of Rs 55 per equity share) not exceeding Rs. 2,998.61 crore on a rights basis to eligible equity shareholders.
The equity shares will be offered in the ratio of 17 equity share for every 74 equity share held by the eligible equity shareholders of the L&T Finance Holdings as on the record of January 22, 2021.
The issue will close on February 15, 2021.
L&T Finance Rights Issue Details:
Issuer
L&T Finance Holdings Ltd
Security Type
Equity
Issue Period
Issue Opens: 01 Feb 2021
Issue Closes: 15 Feb 2021
Price (Inclusive of Premium)
₹65.00
Entitlement RATIO
17:74
Issue Size – No.of Shares
46,13,25,021
Face Value
Rs.10 per Equity Share
Market Lot
1
Registrar
LINK INTIME INDIA PRIVATE LIMITED
Book Running Lead Manager

AXIS CAPITAL LIMITED
BOB Capital Markets Limited
Citigroup Global Markets India Private Limited
Credit Suisse Securities(India) Private Ltd
HSBC Securities and Capital Markets (India) Private Limited
ICICI Securities Limited
Motilal Oswal Investment Advisors Limited
SBI Capital Markets Limited
UBS Securities India Private Limited

Letter of offer
Click Here
Application form
Click Here
Premium
35%
Investor Query registration
lntfinance.rights@linkintime.co.in
Phone
022-49186200
Apply With
Upstox Free DEMAT Account
L&T Finance Rights Issue
Important Dates
In this section we have covered all important dates related to "L&T Finance Rights Issue". Dates are updated as they are announced. The most noted dates are Engineers India record date and L&T Finance Holdings Rights Issue open and close dates, which one should use to participate in buyback.
L&T Finance Holdings Ltd. Rights Issue Dates

| Rights Issue Activity | Date |
| --- | --- |
| L&T Finance Rights Issue Bid/Offer Opens | 01/02/2021 |
| L&T Finance Rights Issue Bid/Offer Close | 15/02/2021 |
| L&T Finance Rights Issue Record Date | 22/01/2021 |
| LT Finance Rights Issue Deemed Date of Allotment | 23/02/2021 |
| LT Finance Rights Issue Listing Date | 26/02/2021 |
INVESTOR ACADEMY ? is now on Telegram. Click here to join our channel and stay updated with the Latest Dividends, IPOs news and stock market updates.
How to Apply for L&T Finance Rights Issue?
How to participate in the Rights Issue for Non-Institutional / Retail Investors?
1. ASBA facility – Application form can be submitted in physical mode at bank branches or through Net Banking (most large banks incl. Axis, HDFC, ICICI, SBI, Kotak) have enabled application through net banking platform just like IPO application)
2. R-WAP – Registrar's web based application platform at https://web.linkintime.co.in/RIGHTSISSUE/rightsissues-Knowyourapplication.aspx. Investors can submit the online Application Form and make online payment using their internet banking or UPI facility.
? L&T Finance Application Form Kink (Complete Details) https://web.linkintime.co.in/Template/L&T%20FINANCE%20HOLDINGS%20LIMITED_Applicattion_Form.pdf
UPCOMING IPO IN FEBRUARY 2021
Registered Office of L&T Finance Holdings Limited
Brindavan, Plot No.177,
C.S.T Road, Kalina, Santacruz (East),
Mumbai 400 098
L&T Finance Rights Issue Letter of Offer
https://www.bseindia.com/downloads/ipo/Letter%20of%20Offer_280120210841.pdf
About L&T Finance Holding
Incorporated in 2008, L&T Finance Holdings Limited is a leading NBFC in India. It conducts its financial services businesses through various subsidiaries. L&T Financial Services is the brand name of L&T Finance Holdings Ltd.
L&T Finance is backed by a strong promoter, Larsen & Toubro Limited , one of the leading business conglomerates in India, with a presence across sectors like infrastructure, power, heavy engineering, electrical and automation, IT, and technology services, financial services, power development, realty, shipbuilding, construction, mining, industrial machinery and much more.
The company has specialised in following products:
Two Wheeler Finance, Farm Equipment Finance, Micro Loans, Housing Finance, Real Estate, Finance, Infra Finance, Mutual Fund.
For more study : https://www.ltfs.com/