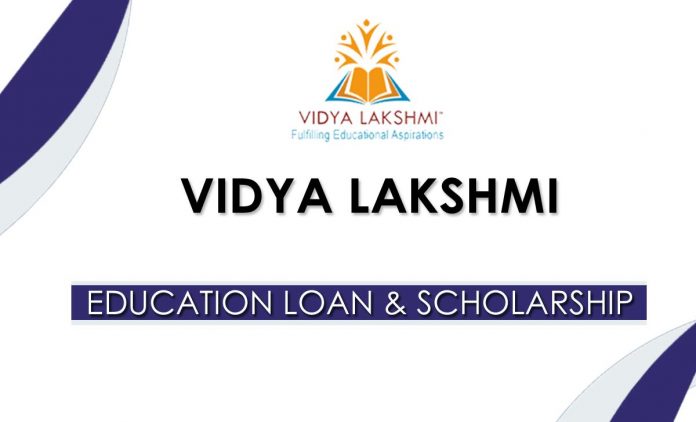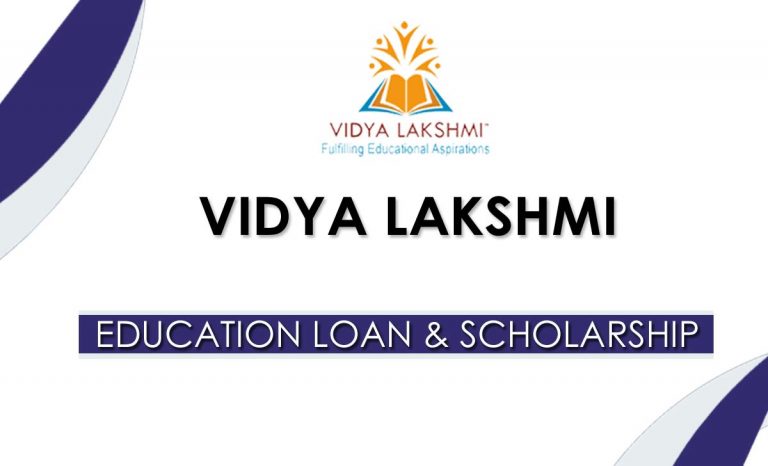 Vidya Lakshmi Portal for Educational Loans & Scholarships
Vidya Lakshmi is a whole IT-based student financial aid authority that is proposed by the 'Pradhan Mantri Vidya Lakshmi Karyakram' an education loan scheme by Narendra Modi.
It is one of its kind portals for the students providing a single window for students to access information and also makes an application for education loans provided by banks.
The objective of the vidyalakshmi loan scheme is to provide an easy and effective system of getting educational loans so that no students leave their education mid-way due to lack of funds.
It is a web-based portal called vidyalakshmi education loan portal (https://www.vidyalakshmi.co.in) has been incorporated by the union government on the event of Independence Day i.e. 15 August 2015 for the benefits of students seeking educational loans.
The Vidyalaxmi portal has been developed and managed by the NSDL-e-governance infrastructure limited under the department of financial services, ministry of finance, department of higher education, ministry of finance, department of higher education, minister of human resource development and Indian bank association.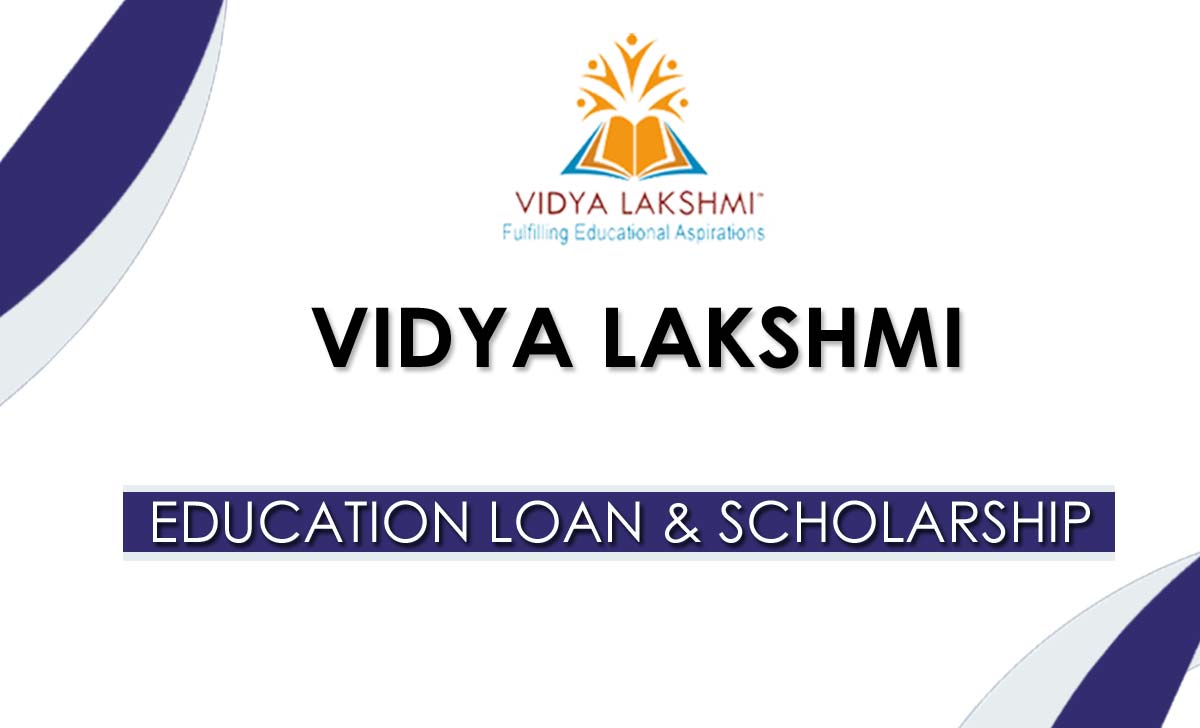 The post is specifically prepared you to impart knowledge about what is Vidya Lakshmi portal? & Vidyalakshmi scholarship.
Stay tuned with us till the end to learn in-depth about Vidya Lakshmi Portal for education loan.
So, without any further ado let's get started
What are the features of Vidyalakshmi Education Portal?
The Vidya laxmi portal will give you information regarding the educational loan schemes offered by the registered banks.
The common education loan form (CELAF) for Students.
Facility to apply for multiple banks for education loans.
Facility for a bank to download the education applications
Dashboard facility for students to view the status of their application
Facility to bank to upload vidyalaxmi loan processing status.
Linkage to National Scholarship Portal for information and application for Government Scholarships.
What are the benefits of Vidyalakshmi portal education loan scheme?
The students can attain information about education loans schemes of the banks.
Common education loan application form is available to the students
There is a provision to apply for the various bank for educational loans through a single form.
Bank can also download student loan applications.
Bank can also upload loan processing status.
Student can view the status of their vidya Lakshmi application of loan at any time and at any place with hassle-free access to dashboard facility of the website.
The site is linked to the national scholarship portal for information and apply for a government scholarship.
How to apply for an educational loan through the Vidya Laxmi portal?
Register yourself on the Vidyalaxmi portal.
Fill up the common vidya lakshmi portal application form for a scholarship which is referred to as common education loan application form CELAF. This form is prescribed by Indian bank association and is accepted by all the banks
The Vidyalaxmi portal itself suggest that various schemes for which the student is eligible
The applicant can now choose the education as per his/her eligibility, requirements and convenience.
Once the vidyalakshmi portal registration is done and CELAF is filled, you will be updated regarding the approval or disapproval on the vidyalakshmi portal.

Website address:

 www.vidyalakshmi.co.in.
In case you are application is not approved it is suggested to contact the respective bank.
What are the guidelines for registration on Vidya Lakshmi portal?
GUIDELINES FOR REGISTRATION ON VIDYA LAKSHMI PORTAL
Name – Please enter student name as mentioned on the 10th standard mark sheet or the mark sheet attached with your loan application.
Mobile Number – Enter a valid mobile number. Student can provide mobile number of parent/guardian.
Email ID – Enter a valid email ID. Email ID is not allowed to be changed later. All necessary communications will be sent on this email ID.
Various other unique measures have been taken to augment the quality and reach of education:
Vidyalakshmi Banks List
Vidyalakshmi Education Loan Schemes (Each Bank)
Abhyudaya Cooperative Bank Limited
Educational Loan Under The Scheme Of Abhyudaya Gyan Vardhini
Allahabad Bank
Education Loan
Andhra Bank
Dr. Pattabhi Vidya Jyothi Scheme
Axis Bank
Axis Bank Education Loan Scheme
Bank Of Baroda
Baroda Gyan
Baroda Scholar
Baroda Education Loan To Students Of Premier Institutions
Baroda Vidya
Baroda Education Loan For Executive Development Programmes (India)
Baroda Education Loan For Executive Development Programmes (Abroad)
Skill Loan Scheme
Bank Of India
BOI Star Education Loan Scheme
Bank Of Maharashtra
Model Educational Loan Scheme
Canara Bank
IBAS Model Education Loan Scheme For Study In India And Abroad
IBA Skill Loan Scheme
Central Bank Of India
Cent Vidyarthi
Corporation Bank
Corp Vidya Loan Scheme
Dena Bank
Skill Loan Scheme ( Kaushal Wrin Yojana)
Dena Vidya Laxmi Education Loan Scheme For Pursuing Higher Education In India And Abroad
Dombivli Nagari Sahakari Bank Limited
Vidyavardhini Education Loan Scheme
Suvidya Education Loan Scheme
Federal Bank
Federal Special Vidya Loan Scheme
Fed Scholars
GP Parsik Bank Ltd
Vidya Siddhi
HDFC Bank
Education Loan
ICICI Bank
Education Loan
IDBI Bank
Education Loan For Vocational Courses
Education Loan Scheme For Other Management Quota Students
Education Loans For Students Studying In Premier Education Institutes
Education Loan For Courses Offered By ICAI
Education Loan For Special Courses
Education Loan To Physically Challenged Persons Under NHFDC Scheme
Education Loan For Non-Vocational Courses
Indian Bank
Revised IBA Educational Loan Scheme – 2011
IB Skill Development
IB Educational Loan Prime Nit
IB Educational Loan Prime
Non- IBA Educational Loan
Indian Overseas Bank
Vidya Jyothi Educational Loan
IOB Scholar
IOB Vidya Suraksha
Vidya Jyothi Educational Loan Scheme
IOB Career Dream
IOB Vidya Shrest
Skill Loan Scheme
Karnataka Bank Limited
KBL Vidyanidhi Scheme
Skill Loan Scheme
Karur Vysya Bank
KVB Educational Loan
Kotak Mahindra Bank Limited
Kotak Mahindra Bank Ltd
New India Cooperative Bank Limited
Vidya Vikas Loan Scheme
Oriental Bank Of Commerce
Oriental Bank Of Commerce
Pragathi Krishna Gramin Bank
Vidya Sagar Education Loan
Punjab And Sind Bank
Model Education Loan Scheme For Pursuing Higher Education In India And Abroad
Skill Loan Scheme
Psb Excellence- Education Loan Scheme For Premier Institutions (i.e. IITs/IIMs And ISB Hyderabad)
Punjab National Bank
PNB Kaushal
PNB Saraswati
PNB Pratibha
PNB Udaan
RBL Bank Limited
Education Loan
State Bank Of India
SBI Student Loan Scheme
SBI Global Ed-Vantage Scheme
SBI Scholar Loan Scheme
SBI Skill Loan Scheme
Syndicate Bank
Skill Loan
Syndvidya
Syndsupervidya
Tamilnad Mercantile Bank Limited
TMB Education Loan
TMB-Skill Development Loan
TMB-Super Education Loan Scheme
UCO Bank
UCO Education Loan
UCO Super Premier Educational Loan
UCO Premier Educational Loan Scheme
Union Bank Of India
Union Education
United Bank Of India
United Education Loan
United Superb Education Loan
United Education Loan Under Management Quota
Vijaya Bank
Education Loan To Students Admitted Under Management Quota (Non-IBA)
Skill Loan Scheme
IBA Model Education Loan – Top Rated Institutions – India
IBA Model Education Loan – Other Institutions – India
IBA Model Education Loan -Abroad
Yes Bank
Yes Education Loan
Vidyalakshmi Education Loan Interest Rate
For Male Students:
Up to Rs. 7.5 Lacs – 12.75% p.a. as on 01.01.2018
Above Rs. 7.5 lacs – 11.50% p.a. as on 01.01.2018
For Female Students:
Up to Rs. 7.5 Lacs – 12.25% p.a. as on 01.01.2018
Above Rs. 7.5 lacs – 11.00% p.a. as on 01.01.2018
Note: The interest rate varies on each bank providing the loan.
Frequently Asked Question on Vidya Lakshmi portal
Q What should I do if my loan is rejected?
If in case your loan is objected or rejected, that means, as per the norms and guideline you are not eligible to avail the loan facility.
You can contact the selected banks for further details and information.
Q What does on hold status means?
The bank can mark your loan application status on hold when the bank requires further information or documents to be submitted by you.
Q How many applications can be sent by the student?
One student can apply to a maximum of three banks through Vidya Lakshmi portal using CELAF
Q How is the money/educational loan disbursed?
Approved educational loan of the applicant will be disbursed directly by the bank outside the Vidyalakshmi portal. You are required to contact the respective bank for the details.
Q Various other unique measures have been taken to augment the quality and reach of education:
Q  What is NSDL e-Gov?
NSDL e-governance infrastructure limited was originally set up as depository in 1995 and has over the years used its inherent strengths, project management capabilities and technology expertise to deliver the state of the e-governance solutions which has helped the government to clearly gauge the bottlenecks, and encourage transparency, reduce service delivery cost and deliver public services efficiently.
The solution has actually made use of information and communication technologies as a tool for delivering the public services and benefits to society at large.
Below I have listed key e-governance projects that are undertaken by the NSDL e-gov are
Tax information network (TIN)
Central record keeping agency CRA for a national pension system
Electronic accounting system in excise and service tax easiest
GST pilot project
Registrar for Aadhaar enrolment and Ekyc/authentication services
National judicial services
NSDL works closely with various government agencies for the purpose of designing, maintaining, and implementing e-governance projects.
Visit www.egov-nsdl.co.in for more information
Q. What are Names of banks which have integrated their system with the online portal?
Please take a look at the following
SBI
IDBI
Bank of India
Canara Bank
Union Bank of India
Corporation Bank
Dena Bank
Punjab National Bank
Punjab and Sindh Bank
Oriental Bank of Commerce
Central Bank of India
Kotak Mahindra Bank
Vijaya Bank
Punjab and Sind Bank
Bank of Baroda
Andhra Bank
Federal Bank
HDFC Bank
ICICI Bank
Axis Bank
UCO Bank
Indian Bank
Bank of Maharashtra
Indian Overseas Bank
RBL Bank
Syndicate Bank
Abhyudaya Co-operative Bank Limited
DNS bank
Karur Vysya Bank
Tamilnad Mercantile Bank Ltd
The student can apply to the above-stated banks and the interest rate may differ from bank to bank.
Q What are the contact details of the Vidya Lakshmi education loan scheme portal?
For further queries at the vidyalakshmi portal contact number.
Tel – (022) 2499 4200
Fax – (022) 2497 6351
E-mail ID: vidyalakshmi@nsdl.co.in
Q What is the national scholarship portal all about?
Government has launched a website- scholarships.gov.in which is a one-stop solution through which various service beginning from student application, application receipt, processing, sanction and disbursal of various scholarship provided by the government of India are enabled.
Benefits of national scholarships portals are mentioned as below
One time registration
Common application form for all scholarships
Based on eligibility criteria, the system itself suggests the schemes for which student is eligible.
Elimination of duplicate scholarship applications
Release of scholarship amount directly to the bank account of the students through direct benefit transfer.
Vidyalakshmi portal was formed to bring all the banks on board. It is expected and assumed that student throughout the country will get benefited from it.
It is a single window for access to various educational loan schemes of the bank.
There are 39 banks and 70 education schemes on the Vidya Lakshmi portal and integrated their system with the portal for providing loan processing status to the students.
Final Words
Dear readers
I hope you find the above information regarding "Vidya Lakshmi Portal for Educational Loans & Scholarships"
If you like it please do share it among others who are seeking financial aid to pursue their education.
If you like us don't forget to subscribe to us.
Stay tuned for another update. Till then, Bubye and take care.
Thanks for reading!
General FAQ
How to get registered on vidyalakshmi Portal?
To get yourself register one need to visit  https://www.vidyalakshmi.co.in
Click on register and create your vidya Lakshmi portal student login id.
How to apply for an educational loan through Vidya Lakshmi?
Follow the below-given steps to apply for the
The user is required to log in using their Id and password
You then have to fill up the common education loan application form by providing all the necessary details.
After completing and submitting the loan application form, you can search for education loan schemes offered by banks that are registered on the vidyalakshmi portal.
What is the Common Educational Loan Application Form (CELAF)?
The common education loan application form through which student can apply for the education loans to the multiple banks.
CELAF application is the application form prescribed by the Indian bank association and accepted by all the banks.
How to track the status of application form?
To view the status of an application form
Login to the website
Go to the application status to check the loan status
The respective bank will update the status of the application on vidya Lakshmi portal.
What are the banks on which I can apply for a loan through the vidya Lakshmi portal?
As of now, there are 13 banks registered, namely- state bank of India, ), IDBI Bank, Canara Bank, Union Bank, Bank of India, Vijaya Bank, Central Bank of India, Corporation Bank, Dena Bank, Kotak Bank, Oriental Bank of Commerce and Punjab National Bank.
These above-listed banks are giving 22 educational schemes. The initiative of the government aims to bring on board all the banks which are providing several educational loan schemes.
What will be the rate of interest for the educational loans?
The interest rate will be varying from bank to bank and scheme to scheme. Normally it will be between 11% to 13%.