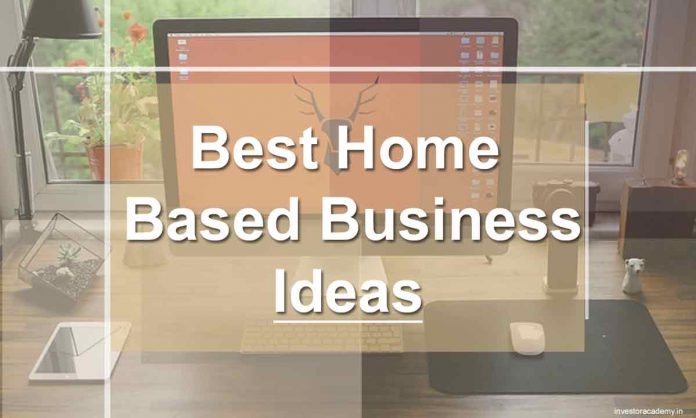 Home Based Business Ideas: How to Start Home-based Business in India for Moms, Students, Women with Low Investment in India 2021
Warm regards Readers J
Who doesn't wants to have passive income? Who doesn't wants' enhance the living standard to lead a luxurious life? If you are seeking home-based business ideas then this article will help you some way.
In this post, I will elaborate on your home based business opportunities that you might interesting.
How cool is that when your passion turns into the profession and helps you in earning some bucks.
There are ample Profitable home based ideas that you may interesting
What are those home based business ideas in India?
Let's take a read what are those & How to start a business?
Personal Trainer
Are you someone, who is a fitness enthusiast, love doing exercise, you can offer fitness training to clients out of your own gym.
It is indeed a great idea to earn some bucks or make passive income.
E-book Author
There is an online platform where you can publish your writing. If you have a flair for writing then E-book author is a great idea to start upon.
Dance Instructor
If you are from a dance background and love to choreograph? Then what's stopping you. You can earn some money through it by imparting your skills to others.
It's a great home-based business idea to make money.
Baker
If you are extremely good at baking mouthwatering cookies then you can opt for opening storefront online. You can even sell your baked goodies to the local baker's shop.
The baking idea of business is a great idea if you make delicious bakes at an effective price.
Chocolate making business
If you love making chocolates then this idea will work well. All you need is little investment. You can sell your handmade chocolates to the local confectionery or gift stores.
Everybody is fond of chocolates so, it's a great business idea to execute.
Blogging
You all must be well versed in blogging in today's technology-driven world.
Bloggers can make great money through ads and affiliate marketing.
If you are good at something such as cooking, writing or any other niche you can go blogging.
Blogging will not only let you earn but also make you popular.
Tutoring
Are you housewives and want to earn some money by sitting at home, then private tutoring is a great option. If you are good at giving lectures go for tutoring.
Nowadays, online lecture/learning is also very much in the trend.
Handmade gifts and stationery
If you have a knack for creativity and artistic quality then you can cash it to make money online both offline and online.
There is a huge craze among people to buy homemade products. Also, there is a certain platform such as Instagram, Wall-mart, and WhatsApp where you can establish your business.
You can promote your business both offline and online. You can be a part of the local flea market and festive trade fairs and exhibitions.
Fellas, there is no dearth of avenues to showcase your creativity.
Montessori and crèches
As per today's competitive world lays huge demand for a quality educational environment. If you love children, you can identify the location and start a pre-school. You can even set up an existing franchisee or start off your own.
Hobby Classes
If you are good at certain skills such as painting, music or dance then go ahead and impart those skills to interested learners. You can great income out of that.
There is a growing demand for hobby classes as parents are more concerned about their child's overall growth besides just education.
Well, this can be a great idea to execute as a business plan.
Photography
If you are a skilled photographer who takes perfect pictures then it's a great business to pursue. You can even give classes to other enthusiasts.
The scope in this business is huge, as you can sell your photographs or participate in exhibitions and sell your photographs on various platforms.
Mini Library
Are you fond of reading books?  Starting a library could be a great idea. It's also possible to make some money through it by a token membership plan.
You can even organize events, host activities, and meetups. Isn't sound cool?
Home Made Jams and Condiments
If you are housewives and wish to earn some bucks sitting at home. You can cash your skills by selling relishes, preserved pickles, and jams.
Sell some goodies and watch your business take-off. Pickles and jams are extremely popular and there is something extra special about homemade.
Hand-printed and embroidered dupattas, sarees, and garments
Do you have a flair for prints? or good at embroidery?  If you are a knack for designs and transform a plain piece of cloths into
You can begin with a small clientele and also expand your business further.
Handmade accessory and jewelry
If you too good with accessory makings and have artistic instinct within you. If you know how to set a trend from earrings to neckpieces, then you are well on your ways to be an entrepreneur.
You can even set your own store online as well as offline. You can participate in exhibitions and give your jewelry. The cope is great if you were consistent with great design and economical price.
Financial Advisor
If you have done majors in finance or economics or you belong to a finance background then you can work as a financial advisor and extend to your services to the client. In return, you can generate greater revenue in the form of commission.
A setting home-based business is perhaps the most economical idea whereas other business needs hefty expenses. Renting a premise to start a venture is quite expensive.
Heavy security deposits and extravagant rentals are common to cities and towns.
"Success usually comes to those who are too busy to be looking for it."
Final Words
Dear readers J
I hope you had a gala time reading the above article, if you love reading about "home based business ideas", please let us know.
If you have any doubts, queries you can reach us through the comment section below.
"The way to get started is to quit talking and begin doing."
All the best for future endeavors' J cheers.
General FAQ
Most successful home-based businesses available today?
Buy products in bulk to sell.
Sell homemade products you make yourself.
Start a dropshipping store.
Start a print-on-demand store.
Sell your service or expertise.
Productize your service or expertise.
Grow an audience you can monetize.
Buy an existing eCommerce business.
Which home-based business is the most profitable?
Tax Preparation and Bookkeeping
Online Tutoring, Real Estate Brokering, IT Support, Personal Training, Marketing Services, Catering Services, Website Design, Personal Training, Business Consulting, Courier Services, Cleaning Services, Logo Design, Warehouse Storage etc.
Home Based Business Ideas You Can Start With No Money
Blogger
Freelance Writer
Ebook Author
Affiliate Marketer.
Social Media Manager.
YouTuber etc.