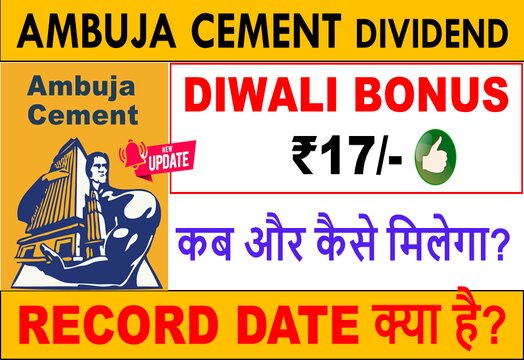 Ambuja Cement Dividend 2020: Ambuja Cement Dividend Record Date, History, Payment Date, Payment Date, Payout Date, dividend history, Interim & Final Dividend per share
Ambuja Cement share price touched 52-week high of Rs 256 in the opening trade on October 23 after the company came out with its September quarter earnings. However, the share price witnessed profit booking and slipped 2 percent intraday.
The company has posted 87.8 percent YoY jump in its standalone net profit at Rs 440.53 crore in the quarter ended September 30, 2020 (Q3CY20) versus Rs 234.61 crore a year ago.
Its revenue was up 8.6% at Rs 2,852.46 crore versus Rs 2,625.78 crore.
The company board has declared an interim dividend of Rs 17 per share on equity shares of Rs 2 each. Ambuja Cements to give Rs 17 per share dividend; sets record date as November 6
The amount of dividends is quite significant as this has come on the back of the expectation of a weak business environment. The record date published by the company is November 6, 2020. If one takes exposure in this scrip, even today, the shares would be eligible for getting dividends. Generally, large size companies do not come with a heavy dividend.
Also Check:- Latest Dividend Paying Stocks
Ambuja Cement Dividend declared
You can view Announcement Date, Effective Date, Dividend Type (Interim, Final and Special), and Percentage of Dividend given information for Ambuja Cement.
| | | | | |
| --- | --- | --- | --- | --- |
| Announcement | Record Date | Dividend Type | Dividend % | Dividend Price |
| 22/10/2020 | 05/11/2020 | Interim | 850% | Rs. 17/share |
| 07/05/2020 | 19/05/2020 | Interim | 75% | Rs. 1.50/share |
| 18/02/2019 | 27/02/2019 | Final | 75% | Rs. 1.50/share |
| 20/02/2018 | 05/04/2018 | Final | 100% | Rs. 2/share |
| 11/07/2017 | 02/08/2017 | Interim | 80% | Rs. 1.60/share |
Latest Dividends 2020
***Related Queries***
Ambuja Cement dividend record date 2020, Ambuja Cement dividend payment date 2020, Ambuja Cement dividend date 2020, Ambuja Cement dividend payout date 2020, Ambuja Cement dividend history 2020, Ambuja Cement dividend per share 2020, Ambuja Cement interim dividend 2020, Ambuja Cement final dividend 2020.
Are you Eligible for Dividend?
To determine whether you should get a dividend, you need to look at two important dates. They are the "record date" or "date of record" and the "ex-dividend date" or "ex-date."
When a company declares a dividend, it sets a record date when you must be on the company's books as a shareholder to receive the dividend.
Once the company sets the record date, the ex-dividend date is set based on stock exchange rules. The ex-dividend date for stocks is usually set one business day before the record date. If you purchase a stock on its ex-dividend date or after, you will not receive the next dividend payment. Instead, the seller gets the dividend. If you purchase before the ex-dividend date, you get the dividend.
What's the Difference Between the Record Date and Ex-Dividend Date?
What Is Record Date?
The record date, or date of record, is the cut-off date established by a company in order to determine which shareholders are eligible to receive a dividend.
The determination of a record date is required to ascertain who exactly a company's shareholders are as of that date, since shareholders of an actively traded stock are continually changing. The shareholders of record as of the record date will be entitled to receive the dividend or distribution, declared by the company.
What is Ex-Dividend Date?
The ex-dividend date (or ex-date) of a stock is dictated by stock exchange rules and is usually set to be one business day before the record date.
In order for an investor to receive a dividend payment on the listed payment date, they would need to have their stock purchase completed by the ex-dividend date. If the stock sale has not been completed by the ex-dividend date, then the seller on record is the one who receives the dividend for that stock.