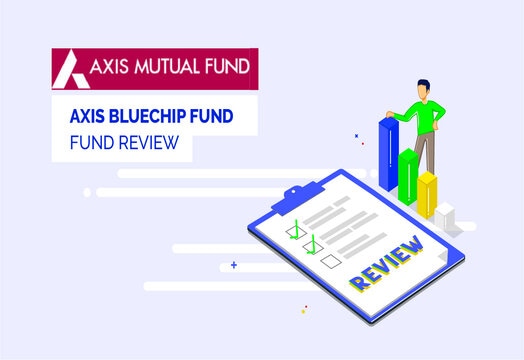 Is Axis Bluechip Fund a good investment?
Investing in mutual funds and equities is quite the move-around at the moment. Going back a few years, these were not the same thing. Most people always chose to save over-investing because investing involved a matter of risk. Saving and investing are both equally important concepts in building a sound financial foundation. But no, they can never be the same thing.
Saving can be the process of putting away some money for the future, but investing involves making more out of what you already have. But, most of them never choose it because the returns are not quite guaranteed.
But what if it could be risk-free?
There are a lot of investments that guarantee a risk-free operation. One of the best ones from there is the Axis Bluechip Fund.
What is the Axis Bluechip Fund?
The Blue-chip Fund mainly invests in major corporations. Large corporations are defined by the capital market regulator as the top 100 firms in terms of total market capitalization. As a result, Bluechip Fund is also known as a 'Large-cap Fund.' A Large-cap Fund is obliged by the rule to invest at least 80% of its assets in large-cap stocks' equity and equity-related products.
Large-cap corporations have stable companies, a larger market share, high managerial quality, a competitive edge, and long-term prospects. Furthermore, these firms have excellent balance sheets, a track record of success, and are often traded (highly liquid and usually less volatile).
A Large-cap Fund's portfolio will consist of equities of firms with strong business models and a lasting competitive edge over their peers. A Large-cap Fund's fund manager typically employs a "buy and hold" strategy, aiming to hold stocks for the long term while keeping portfolio churn to a minimum.
What is the Broader Objective of the Fund?
A Blue-chip Fund's overarching investment goal is capital appreciation (i.e. exceeding its benchmark index) through investing in a diversified portfolio of large-cap company equities and equity-related assets.
The Safety Rank of the Fund:
In comparison to big and mid-cap funds, focused equity funds, small-cap funds, and sector/thematic funds, Bluechip Fund is regarded to be reasonably safe among equities-oriented funds. Because it invests in large-cap firms, Bluechip or Large-cap Fund tends to outperform other equity-oriented mutual funds in terms of market volatility. Furthermore, as previously said, large-cap corporations have an inherent competitive edge. As a result, the fund can withstand economic shocks better and deliver reasonably consistent returns.
This big-cap fund had been investing in marketing for quite a long time now. But how has it gained large popularity in recent years?
Well, young people have been recently indulging in a pile of stocks and equities instead of the risk. It is more of a generational-buying moment. But imagining out the most probable odds of making more returns out of their investments has gotten schemes like this to the forefront in recent years.
Why is the Bluechip Fund Good for Young Investors?
Young investors should understand the significance of defining long-term investment objectives, especially if they want to invest in equity-related investment tools such as mutual funds. Mutual funds are one method for new investors to get a taste of the stock market's ups and downs.
It is because mutual funds primarily invest in equities and equity-related securities and have a greater risk-to-reward ratio (though not promising the same every time). However, just because mutual fund investments are exposed to market volatility does not imply that investors must incur losses regularly.
If you invest in a scheme whose business approach aligns with your investing goals, you may be able to profit from your mutual fund investments. Mutual funds gather money from participants who have a common investment goal and invest it in a variety of assets such as equities, debt, bonds, government securities, and so on. Axis Bluechip Fund is a good option for young individuals looking for financial appreciation through equities exposure.
Investors help in the Capital Growth:
Most of us make investments to improve our existing financial situation. The long-term investing goal of Axis Bluechip Fund is capital appreciation. As a result, youthful investors might anticipate some financial gain from their investments. However, if they want to maximize their chances of profit, they must stay involved for the long term. Axis Bluechip Fund invests primarily in the equity market, and equities investments have historically fared well when held for a lengthy period.
Financial Stability:
Axis Bluechip Fund offers a well-diversified portfolio to investors. This diversification of assets in multiple money market instruments may aid in balancing the potential risk that may develop during volatile market circumstances. In this manner, a bluechip fund investment may be able to provide financial stability to its investors provided they remain invested over time.
Long Term Investment Goal:
Young investors sometimes disregard long-term financial goals such as retirement planning or creating a corpus for their children's further education. That is because we prefer to live in the now and hence are unconcerned about the future. However, you will undoubtedly want more money in the future than you do today, and having a significant corpus will be critical at that time. Axis Bluechip fund can reach long-term goals such as children's education, retirement, or any other long-term growth that requires a wealth-generation strategy.
Along with these supporting factors, there are several benefits that this fund offers to its investors.
The Benefits of the Axis Bluechip Fund:
The Axis Bluechip Fund typically invests in major corporations.
Such firms are often traded, which makes them more liquid and less volatile since these stocks have an established track record, business concepts, and are capable of delivering long-term consistent profits.
The Axis Bluechip Fund seeks to outperform the benchmark while carrying a reduced risk.
The Axis Bluechip Fund enjoys asset class advantages. Equity can outperform inflation and produce long-term wealth.
Axis Bluechip Fund may assist investors in achieving their financial objectives. Long-term goals such as children's education and future, retirement, or any other long-term growth that necessitates a wealth-building strategy can be met through this strategy.
The fund has top holdings in companies like Infosys, Bajaj Finance Ltd, HDFC Bank Ltd, Tata Consultancy, Kotak Mahindra Bank, ICICI Bank, and much more.
Conclusion:
This fund has been a good investment option for varied investors over the years. It continues to be one of the best funds when it comes to the large fund cap category across different parameters. The fund has outperformed the benchmark index in 7 years, at 14.86%. It also has an impressive track record.